Photo: Paul Rudderow
Philadelphia Union
No rest for the Union after Wednesday's home game against LAG. On Saturday, the team is on the road to face Montreal Impact (5 pm, TCN, MLS Live, Direct Kick).
Jim Curtin said on Thursday, "It's a difficult schedule, quick turnaround Wednesday to Saturday, but I think we're confident right now. So it's a good time to get back out on the field…We'll make some decisions to get the most fresh team that can sustain the pressure that we like to play for 90 minutes…It's a tricky one. We're weighing a lot of different, individual, little matchups."
Look for our quick reference and preview later this morning. In the meanwhile, there are these at Philadelphia Union, Delco Times, Brotherly Game, MLSsoccer.com, Montreal Impact, Mount Royal Soccer, Pro Soccer Talk, MLSGB,
Looking around the Eastern Conference, Graham Parker writes at ESPN,
Montreal lead the East and have shown plenty of tenacity in getting there, but then again, they have really needed it because of holes they dug for themselves. Wins over Columbus and Chicago in the middle of April had them looking to gain momentum, only for them to lose their next home game to Toronto. They might be unbeaten in the three subsequent games, but they're also winless. Coming back from 4-1 down in Columbus showed plenty of heart, but the 4-4 draw was another two points dropped. They're still top — but more by default than a manner worthy of much acclaim…Philadelphia look to have stabilized, even if they might still be a year away from being a force beyond their conference.
At Montreal Gazette and Goal.com, articles on Montreal's Dominic Oduro.
At CSN Philly, Dave Zeitlin quotes Jim Curtin on Keegan Rosenberry:
I knew he was a good player. Did I think his success would be this quick? No — probably not as quick as it's come. I knew he was capable of playing in MLS games right away and holding his own. But he's doing more than just holding his own. He's impacting the game, which is the next step in any player's development.
It's one thing to be out there and be unnoticed. That's a good starting point — for a defender not to be noticed. But then to actually leave a mark on the game, whether it's a goal or an assist, or putting out a lot of situations 1v1 defensively, that's really good for him.
Rosenberry is the only Union field player to have played every minute of the season.
More reports from Wednesday night's draw with LAG at Philadelphia Union, Metro, Philly Sports Network, and SBI.
Stateside of Soccer on Tranquillo Barnetta becoming a midfield maestro.
Bethlehem Steel FC
Bethlehem Steel hosts FC Montreal on Sunday at 4 pm (YouTube). Before that game, Lehigh Valley United and Reading United open their PDL season at Goodman Stadium at noon.
At the Bethlehem Steel website, Charlotte Muscroft interviews goalkeeper Samir Badr.
Reading United
Reading United begins its 2016 PDL season on Sunday at noon when it faces Lehigh Valley United Sonic at Lehigh University's Goodman Stadium before Bethlehem hosts FC Montreal. LVU's head coach is Dave Castellanos, who joined the club in December after three years as head coach of Reading United.
Reading Eagle has a good report on Reading United's US Open Cup 2-0 first round win over Atlanta Silverbacks on Wednesday night. The team's first training session was on Monday, with players arriving to join the team as recently as the day of the game. Defender William McConnell said, "Some of us don't even know each other's names yet." More on the win at Reading United and Philly Soccer News.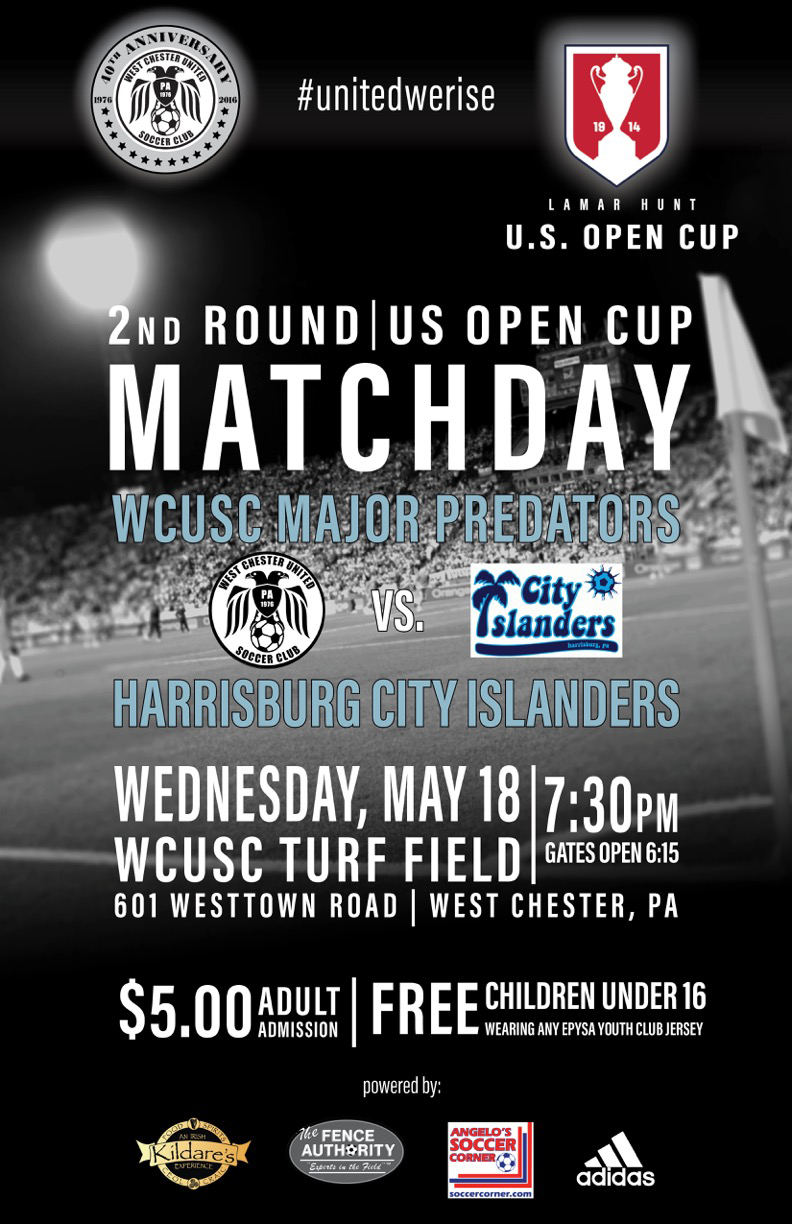 Reading plays Chattanooga FC on the road in the second round of the US Open Cup on Wednesday, May 18. If they win, they host the winner of West Chester United-Harrisburg City Islanders. If the do not win, the winner of WCU-HCI is on the road to face Chattanooga.
Philadelphia Union Academy
The Union U-13/14s host their counterparts from NJCSA on Saturday at YSC at 7 pm.
The Union U-15/16s (1 pm) and U-17/18s (11 am) host their counterparts from Montreal Impact at the Union training grounds on Sunday.
Soccer Wire calls Sunday's games against Montreal among the top matchups of the weekend in US Soccer Development Academy play.
Harrisburg City Islanders
Harrisburg has the weekend off ahead of their US Open Cup second round game versus West Chester United.
Following up on a story he wrote at Penn 97 in the beginning of April, Sean McPherson writes at Brotherly Game about the City Islanders quietly dropping "Harrisburg" from their name to become City Islanders FC. Molly Gilroy, director of marketing and communications with the team explains, "The reason being that we wanted to expand our footprint beyond just Harrisburg. We wanted to be central Pennsylvania's team." Someone should probably tell whoever runs the league website.
Gilroy also affirmed the team's desire to remain in Harrisburg. If the team cannot get a new stadium built there and does have to move, it wants to remain in Central Pennsylvania.
Ocean City Nor'easters
The new Ocean City Nor'easters kit will be unveiled tonight at an event at at Buffalo Wild Wings in Mays Landing. On Saturday, the team will play an intrasquad game at Carey Stadium in Ocean City at 7 pm.
MLS
Vancouver striker Masato Kudo is out with a broken jaw following a collision with Chicago goalkeeper Matt Lampson in Wednesday night's 2-1 win.
At NYCFC, Frank Lampard trained joined the team in full training on Wednesday, albeit for only 30 minutes.
Sky Italia journalist Alessandro Alciato believes there's a 90 percent chance Zlatan Ibrahimovic will sign with the Galaxy this summer. Ibrahimovic and Paris Saint-Germain confirmed today the Swede will leave the club when his contract expires at the end of June.
US
At SI, Brian Straus looks at whose stock is rising and falling on the USMNT's 40-player preliminary roster for the Copa America.
A new poll from Public Policy Polling says that 68 percent of US citizens believe the USWNT should be paid the same as the USMNT. The poll also says only 14 percent of Americans consider themselves fans of MLS.
Elsewhere
Canadian Soccer Association president Victor Montagliani has been elected president of CONCACAF, the confederation's third president this year. In addition to continuing the reforms aimed at addressing the various corruption scandals that have rocked the confederation, Montagliani said he will work to make sure the one of US, Canada, and Mexico, or some combination of the countries, hosts the 2026 World Cup. ""I think that the three countries that have put up their hands are very, very strong in their own right and we will look for a collaborative strategy to bring the World Cup back to CONCACAF in 2026." Montagliani also said he will expand the Gold Cup to 16 teams. More on the election at The Guardian, Goal.com, MLSsoccer.com, Reuters, and the AP.
Alexi Lalas says the US should host the World Cup: "It's not even a battle, it's nothing: it has to be in the United States. Nobody will do it better, it will make the most money in the history of World Cups, it will be coming to a culture that loves soccer and it just makes all the sense in the world." Asked if the US should be a part of a joint bid, Lalas said, "No, why should we share it with Canada or anybody else when we can host it just as well by ourselves? It's nothing against them — we're a benevolent country — but in this case I think it should be the United States and the United States alone."
The AP reports, "The Spanish league is investigating match-fixing involving a game between Rayo Vallecano and Real Sociedad. League president Javier Tebas told Spanish radio Cadena SER on Friday that the league is investigating Rayo's 2-1 loss at Sociedad on Sunday."
ESPN on the information Gianni Infantino is briefing FIFA members with regarding the ongoing corruption investigations.
Checkout the latest Footy on the Telly for listings of live soccer on TV, online, and on satellite radio for the upcoming week.