Featured photo: Earl Gardner

We did it in 2010 and 2011, and now we're doing it again this year. Here are PSP's Best of 2012 awards, as voted on by the PSP team.
Men's player of the year
Amobi Okugo. Okugo finally broke into Philadelphia Union's lineup for good, quickly established himself as one of the league's best center backs, and put himself in the conversation for the U.S. National Team. The question is where the center back/defensive midfielder will play in the future, but as long as part of the answer is Philadelphia, Union fans should be content.
Honorable mention: Carlos Valdes, Jack McInerney. Of all our awards, this one most divided PSP's crack board of voters. Four votes went to Okugo, with three each to Valdes and McInerney. They're all deserving.
Women's player of the year
Alex Morgan. PSP has no rule that we vote for local folks, though we typically do. This is an exception. Alex Morgan could be everyone's player of the year. She came out of nowhere to become an absolute superstar.
Honorable mention: Carli Lloyd. The native of Delran, N.J. seemed headed for obscurity at one point, but she reemerged when it mattered most, scoring both goals in the U.S. Women's National Team's 2-1 win over Japan in the Olympic final to bring home the gold medal.
Rookie/newcomer of the year
Antoine Hoppenot. The Princetonian wasn't just the first local guy to make a splash with the Union on the field. He was one of the league's best rookies. His three goals and four assists in 25 games (817 minutes) as a supersub don't tell the full story. There were the penalty kicks he drew. And the yellow cards. And the reds. And a legion of pissed off opponents left in his wake. Nearly every time he entered a game, he jumpstarted the Union offense by running at tired defenders in ways they couldn't handle. All he lacks is a good nickname. This guy was ridiculously fun to watch all season.
Honorable mention: Ray Gaddis. Few expected much from the unheralded right back, but the Union knew a little something because of his time with Reading United. Gaddis could start right now on many MLS teams.
Amateur player of the year
Steve Neumann. He starred for Council Rock High School in Bucks County, and now the New Hope, Pa. native is a star for Georgetown University, with 31 goals in three years as an undergrad. Still, his breakthrough moment might be his hat trick in the College Cup semifinal against Maryland that put his club in the national title game. It was the tournament's first hat trick in 19 years. As if that's not enough, he's also the Reading United player who stuck a dagger in the heart of rival Ocean City by scoring a goal for a 10-man Reading squad to lead the club to a 2-0 win that clinched a playoff spot in the season's last game. With one year of college eligibility left, Neumann could win this award next year too.
Honorable mention: Ryan Finley and Deshorn Brown. Finley was the runner-up in this category, but you can't ignore Deshorn Brown either. Both will likely be drafted in the MLS amateur draft in January after starring not just for Reading but also their college teams (Notre Dame and Central Florida, respectively). Finley was named one of three finalists for the Hermann Trophy earlier this month.
Coach of the year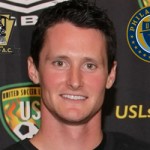 Brendan Burke. The most successful coach in Reading United's history continued his great run with the Union's PDL affiliate, leading them to a second place finish behind an impressive Ocean City club. But that's not the only reason he gets this award, because in comparison to recent seasons, that's actually an off year for Reading. You see, he did that while coaching Philadelphia Union's reserve team and contributing as an assistant coach for the senior team. He has been promoted to full assistant coach for the Union, so time will tell whether he can continue the juggling act. Regardless, it's been impressive, and he is a rising coaching star.
Honorable mention: John Hackworth and Pia Sundhage. Hackworth stabilized a team in complete disarray. Sundhage won the Olympics.
Executive of the year
The PSP crew is divided here. Some want to give it to Union CEO Nick Sakiewicz for firing Peter Nowak. Some say anyone but Sakiewicz because he's the one who empowered Nowak in the first place and waited until after Nowak gave away the store before firing him (and even then, only after Nowak applied for the Hearts managerial job in Scotland). So Sakiewicz is a wash. We can't give it to him.
Art Auchenbach is PSP's executive of the year instead. Auchenbach and his management team have transformed Reading United from just another PDL club with a dumb name (Reading Rage) into an assembly line for future professional players and a model for the league.
Match of the year
The MLS All-Star Game. A sold-out crowd at PPL Park. A comeback. A stoppage time winner. And the All-Stars defeated Chelsea, the European champions. That Union captain Carlos Valdes played such a big role in the game is a major bonus.
Honorable mention: The Union's 4-0 demolition of Sporting Kansas City was the runner-up. Others that received mention include the USMNT win at El Azteca, Reading's last-minute win over Jersey Express in the PDL playoffs, Harrisburg's U.S. Open Cup stunners, and of course the USWNT-Canada match in the Olympics.
Team of the year
La Salle University women's team.  They finished the regular season in first place and went undefeated within the Atlantic-10 conference for the second straight year. They then won the conference postseason tournament in overtime and reached the NCAA tournament. Bravo.
The I-can't-believe-he-just-did-that play of the year
Combine Michael Farfan's ridiculous footwork with Jack McInerney's cheeky backheel and a surprise 2-1 road win over Los Angeles, and you get the play of the year.
Local soccer event of the year
The All-Star Game. This one is no contest. In a season that raised a lot of questions about the Union as a franchise, their ability to pull off such a successful event put many of those questions to rest. Forget the game itself for a moment. Everything around the event was nearly perfect. Major props to MLS and the Union.
(To see PSP photographer Earl Gardner's photo essays of the event, click here for the experience off the field and here for the photos of the game.)
Supporters of the year
The Sons of Ben. We know the knocks against them. And we know they're overexposed. Whatever. In a forgettable season, they showed they weren't fair weather fans by keeping it loud and exciting all year long. They particularly rocked during the All-Star Game.
Honorable mention: The Bearfight Brigade.
Best personnel move
Firing Peter Nowak. Nowak didn't just wreck a playoff team. He didn't just make bad signings. And he didn't just alienate his players and fans. No, he disgraced Philadelphia Union and MLS as a whole. Firing Nowak may have been the best decision Nick Sakiewicz ever made.
Worst personnel move
How do you pick just one? We had a hard time choosing, but the winner has to be the fire sale trade of Sebastien Le Toux to Vancouver. This ripped out the heart of the team, shocked fans, and paved the way for everything bad that happened afterward. At least he's back now.
Soccer moment of the year
Jack McInerney's celebration after his game-winning 90th minute goal against New England. It's one thing to score a game-winner (or to send in the inch-perfect cross, as Sheanon Williams did). But Mac then initiated the best goal celebration in the Union's three-year history. He leaped into the stands and pulled himself up with the help of some Sons of Ben to revel in the moment with the fans. Watch below.
Quote of the year
"Feelings are not really included in my job description."
— Peter Nowak
Rivalry of the year
D.C. United vs. Philadelphia Union. They played four times in 2012, and every match was heated. There were multiple red cards, fights in nearly every match, and close games that went down to the wire. Fans make a big deal out of the Red Bulls matches, but that is largely Philadelphia's anti-New York inferiority complex talking. If you want a great rivalry that fires up not just fans but also players, the D.C.-Union matches are where it's at. As Sheanon Williams said after the Aug. 19 match at RFK Stadium, "It's D.C. vs. Philly. They don't like us, and we don't like them."
Honorable mention: Reading United vs. Ocean City Nor'easters. As PSP's Sean Doyle described it, "This rivalry is officially ugly. In their final meeting of the season, the Ocean City owner took umbrage with the unyielding heckling coming from United's supporters group, the Locos. A dust-up occurred, resulting in the ejection of OCFC's owner. Ocean City won the Mid-Atlantic Division in 2012 but went 0 for 2 against Reading. In both matches, Reading had a man sent off (Ryan Finley in the first match at Ocean City, Stephen Okai in the return match at Reading) and still won the match."
Rival of the year
Ben Olsen. D.C. United's young coach turned around his storied but struggling club, won the All-Star Game as a late replacement, and injected fire and humor into press conferences with hilariously real and unfiltered comments. Add the fact that he's from Pennsylvania and has all sorts of local ties, and it's hard to go with someone else. He understands the Union-United rivalry, respects his rivals, and treats them with class.
Honorable mention: Rafa Marquez, because we can't nominate Darth Vader.
Biggest story of the year
Peter Nowak destroys Philadelphia Union. We've been through this ad nauseum on PSP, but just in case any of you are new here, let's recount his final five months with the Union. He got rid of the team's three most important veterans, including the team's first two captains and best player. He traded the team's first ever draft pick for a guy who couldn't crack the game day roster and was cut less than three months later. He completely alienated his players and fans. And he turned a playoff team into one of the league's worst, all in five months. Then he got fired and sued his former team, with the ensuing legal wranglings laying bare even more disgraceful behavior. Major League Soccer had never seen anything like it before. God willing, it never will again.
Controversy of the year
Well, we can't give every negative award to Peter Nowak, can we? Can we?
Yes, yes we can.
Nowak's lawsuit. Goodness, what was he thinking? Did he need the money that badly? (Or did he just want to pick a fight, as usual?) Didn't he know all those legal filings would be public information? Wow. Now we know he stands accused of abusing his players, possibly profiting off player transfers, and getting a host of seemingly excessive personal benefits. Brilliant!
Honorable mention: Freddy Adu. Did he underperform? Did the Union just fail to make good on the chances he created? Was he a locker room cancer? Did he get a bad rap? Has he gotten a fair shot to play central attacking midfielder? Union fans are still arguing about it.
Disappointment of the year
The entire 2012 season for Philadelphia Union. Hopes were high after 2011's playoff run. A good nucleus appeared to be in place. It seemed that all the team needed was someone to step up as a creative playmaker. You know the rest.
Honorable mention: The collapse of WPS and folding of Philadelphia Independence, MLS referees, and Freddy Adu. Of these, the worst has to be the folding of the Independence. They were a good team, had all sorts of fight in them, and boasted the league's best, most colorful coach in Paul Riley. They would have been a nice pick-me-up this year. Unfortunately, some jerk from Philly (Dan Borislow) had to wreck the league.
Best hope for the future
The Union U-17 academy team winning of the Generation adidas Cup, the club's first piece of silverware.
Fashion statement of the year
Ray Gaddis and his bowties. We're not sure how, but it works.
The Oscar for best (or worst) actor
This is a tough one. So many choices, so many good and bad performances. There was Peter Nowak claiming Danny Califf wanted to be traded to a Los Angeles club, only for Califf's wife to shoot this down on Facebook and basically call Nowak a liar (which, of course, he was). There were Gabriel Farfan's dives, which showed that he won't merely knock opponents to the deck, but he'll knock himself to the deck too.
But, as they said in Highlander, there can only be one.
Freddy Adu is the one. His repeated dives led the way in earning the Union a reputation as a team of divers and even got him sent off at halftime in what had till then been his best game with the Union. If this soccer thing doesn't work out, Adu might have a future in Hollywood. (Or not.)
Best destruction of a career
Peter Nowak. In six months, he went from coach of the year candidate to his current status, which is "will never work again in American soccer." All told, it's pretty impressive. If we ever hand out this award again, it will be known as the Peter Nowak Award.
Best Irish jig
Antoine Hoppenot, with yet another reason to cheer the goofball from Princeton.
Tax evaders of the year
Philadelphia Union. Time to pay Chester those local taxes (or payment in lieu of taxes, to be specific).
Bloopers of the year
Have you seen this video put together by PSP photographer and videographer Daniel Gajdamowicz? If not, take a look.
New term of the year
The Deuce Face. We love it. Happy new year!