Photo: Paul Rudderow
Editor's note: At the end of the 2010 season, we posted a series of season reviews of every Philadelphia Union player. Over the next several weeks PSP continues with a review of the 2011 season.
Faryd Mondragon looked like the answer in 2011. And as everyone knows, Philadelphia Union's biggest question after last season was goalkeeper.
The 40-year-old former Colombian international had spent the previous 10 years playing for Turkish giant Galatasaray and German side Cologne, and he was the first big name player the Union signed. The idea was to stabilize the defense.
Mondragon helped do just that, serving as captain and backstopping a defense that broke the Major League Soccer record for fewest shots on goal allowed. Six weeks into the season, it was clear this was a vastly different team than the one that had all sorts of defensive problems in 2010. They were confident, and Mondragon was a large part of why. He allowed just two goals in his first six matches, with four clean sheets, more than the Union had in all of 2010.
As the season progressed, Mondragon had some big saves, but there were quite a few games where he wasn't even challenged. Once the shots started going on target, questions began to arise about his shot-stopping. He recorded three more clean sheets, but in two of those games (at home against Kansas City and away at New England) he didn't face a single shot.
Had Mondragon never gotten hurt, no one would've questioned whether he should remain in goal, because the 2011 all-star selection seemed the ultimate linchpin for this team. Zac MacMath's surprisingly good play in Mondragon's absence prompted the first questions, and they quietly linger.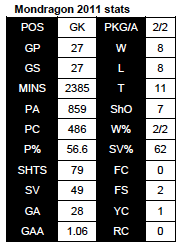 Still, the reality is that Mondragon ended his season having been crucial to the Union's success in 2011. That cannot be questioned, whatever the statistics say.
High point
The opening day 1-0 win against Houston. No, it wasn't his best game of the year. (That might be the 1-1 draw against L.A., when he made two big saves.) But it was probably the most important. The clean sheet set the tempo for the Union, in that the back line was able to play their game and trust that the man behind them would make the saves when he needed to.
Low point
Mondragon's injury layoff in September. And yes, the layoff was worse than the injury itself. After Mondragon injured a finger against Real Salt Lake on Sept. 3, he had to sit on the sidelines and watch his backup play so well that some called for MacMath to keep the starting role. Mondragon played fairly well upon his return, but some of his mystique was lost, as MacMatch proved up to the job.
Strengths
Confidence and communication.
Mondragon's presence helped make the Union one of the league's best defensive teams this year. He's a veteran who knows what he can and can't do, so each misstep isn't necessarily a crisis of confidence for him and his defense, as appeared to be the case last year with former Union goalkeeper Chris Seitz. Mondragon simply gets on with his job and makes the next save.
Beyond that, his understanding of the playing field makes for better communication with teammates. Who can forget that dead ball situation when, after a shaky few minutes by Gabriel Farfan, Mondragon put his hands on Farfan and walked him over to his proper position? In some cases, it could be seen as an insult, but considering everyone knew Farfan was new to the position, it looked like a great veteran play.
Weaknesses
Shot-stopping. Mondragon had the lowest save percentage (62.03) of any MLS goalkeeper to play at least eight games. His save percentage was lower than the 62.39 save rate that Seitz produced last year.
In Mondragon's defense, one could argue his good positioning and communication helped minimize good shots as the Union set a league record for allowing the fewest shots on goal in 2011. On the flip side, one could also argue that Mondragon benefited from the presence of Brian Carroll and the kind of stability on the back line that Seitz never had.
Either way, at 40, Mondragon likely doesn't have the quickness he once had. The question will be whether his veteran presence and smarts will continue to make up for it in 2012.
Outlook
The starting job is likely Mondragon's to lose next season. He's a smart player and a terrific presence on the field. MacMath is probably a season away, and there's little reason to rush him, unless the Union decide to drop salary.
That last point could be key. Mondragon was by far the league's best paid goalkeeper, with $396,667 in guaranteed compensation. For much of the year, he looked to be worth it. But in the end, MacMath and Mondragon had pretty comparable stats, and Mondragon's save percentage was the lowest among regular MLS starters. MacMath had a better save percentage (64 percent), a comparable goals-against average (1.06 GAA for Mondragon to 1.07 for MacMath), and a lower passing percentage (44 to Mondragon's 57). If MacMath truly is ready to be a full-time starter, it's hard to justify so much money for Mondragon.
Realistically though, MacMath would probably be better served with another year apprenticing to Mondragon, for whom stats really don't tell the full story. Expect MacMath to start U.S. Open Cup games, friendlies and possibly some games that take place during hectic stretches of travel (i.e. the three-games-in-eight-days occurrence, with at least one road game among them). Union manager Peter Nowak won't be hesitant to start MacMath if Mondragon is nicked up.
From day one, Mondragon looked like a two-year player who would bridge the gap to the young goalkeeper of the future. Year one was a good one. 2012 is year two. MacMath may be ready in 2013.
Stat chart legend:
POS: Position; GP: Games Played; GS: Games Started; MINS: Minutes; PA: Passes Attempted; PC: Passes Completed; P%: Passing Accuracy Percentage; SHTS: Shots Faced; SV: Saves; GA: Goals Allowed; GAA: Goals Allowed Average; PKG/A: Penalty Goals/Attempted; W; Wins; L: Losses; T: Ties; ShO: Shutouts; W%: Win Percentage; SV%: Save Percentage; FC: Fouls Committed; FS: Fouls Suffered; YC: Yellow Cards; RC: Red Cards