Photo: Nicolae Stoian
Philadelphia Union v Houston
All time record: 2–0–2
At PPL Park: (2 meetings): Union 0–0–2, 2 goals. Dynamo 0–0–2, 2 goals
At Robertson Stadium (2 meetings): Union 2–0–0, 4 goals. Dynamo 0–2–0, 2 goals
In 2010
On May 29, 2010, the Union earned their first-ever win on the road as an expansion team against Houston. Danny Mwanga's stoppage-time goal was the difference in the 3–2 win. Shea Salinas (34′) and Sebastien Le Toux (69′) also scored.
PSP match report and player ratings
On October 2, 2010  Sebastien Le Toux scored the equalizer in the 40th minute in a match at PPL Park that ended as a 1–1 draw. While the draw extended the Union's home unbeaten streak to six games, the result saw them eliminated from playoff contention.
PSP match report and player ratings
In 2011
Regular Season Game One – March 19 , 2011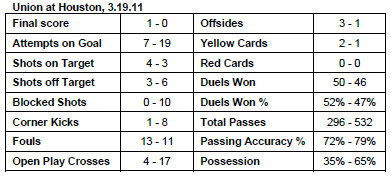 Link to MLS Match Center for Stats, Chalkboard and more.
Result: Houston Dynamo 0–1 Philadelphia Union
Scoring summary: PHI – Danny Califf (unassisted) 5′
Attendance: 19,385
PSP match report highlight:
"It wasn't pretty, but the Philadelphia Union started the season off on the right foot with a 1-0 victory in Houston on Saturday night.
"In a game devoid of many chances, Danny Califf scored his first-ever goal for the Union just five minutes into the game, and Philly held on for the clean sheet. The goal came from a scrum in the box after a terrific Sheanon Williams long throw was allowed to bounce. Sebastien Le Toux blasted the ball off the cross bar from the penalty spot, and it fell to Califf, who tapped into the empty net.
"The goal was one of the few bright spots in a game that, despite the fact that Houston had faced MLS opposition nine times in the preseason while the Union had faced none, was very clearly the first of the season for both teams…It may have been ugly, but, all in all, a great away win to start the season."
PSP analysis and player ratings highlight:
"When pressed for a look into his tactics last week, Peter Nowak claimed the Union would be playing a 'fluid system' this season. That 'fluid system' looked disorganized—and just down right sloppy at times—with no shape and hardly any quality possession. Last season there was a severe lack of width in the team. In the season opener, there was little on display that would make you believe that deficiency had been addressed.
Nowak started three central midfielders in Carroll, Migs, and Nakazawa, with Justin Mapp being far from a traditional winger. Sheanon Williams and Jordan Harvey did not provide the overlapping runs that were needed in a system like this. Amobi Okugo, another holding midfielder, was a late substitution. In sum, the midfield was a very centralized and sloppy mess."
Report from Sons of Ben Member who traveled to Houston highlight:
"Our seats were high up in the corner of the stadium. So, we (about 15 of us) moved towards the field and were able to stay there and sing our songs for 20 minutes. Although a lot of folks laughed at our songs, it seems the Union bench across the field could hear us, at least according to the girlfriend of one of the players.
"Security soon came and sent us back to our 'seats,' which were not really seats, just long aluminum benched with numbers stamped on the back. We continued to sing in our designated area but the songs did not have the same impact because we were too far removed from the bulk of the spectators.
"Still, our seats were along a wall below which the Union team had to walk to get to their lockers at half time and after the game. We could therefore wish them luck and cheered them on. Danny Califf was so impressed after the game that he threw his shirt to us and one of us caught it!
"The Dynamo had three supporters groups spread throughout the stadium but they did not sing one song. Rather, they supported the team—and competed against each other—with drums and trumpets!…
"Based on their reactions when they walked towards their locker room I believe the players (and coach) really appreciated having us there. Traveling to away games is something more of us should do if we want to help the Union to have more wins on the road!!!"
Regular Season Game Two – August , 2011
Link to MLS Match Center for Stats, Chalkboard and more.
Result: Philadelphia Union 1–1 Houston Dynamo
Scoring summary:PHI – Jack McInerney (Sebastien Le Toux) 15′. HOU – Geoff Cameron (unassisted) 84′.
Attendance: 18,524
PSP match report highlight:
"The 2011 Jack McInerney has been passive and tentative, clearly frustrated at himself.
"In front of a packed house at PPL Park on Saturday night, McInerney looked frustrated for a different reason. He wanted the ball. More, more, more. In the fifteenth minute: a goal. Moments later: A brilliant finish called back for offsides.
"In the end, McInerney's first strike of the season was not enough. Geoff Cameron equalized in the 85th and the Union dropped points for the second straight home match, tying the Houston Dynamo 1-1."
PSP analysis and player ratings highlight:
"After the match, John Hackworth said, 'I would get worried if we weren't creating those chances, but we are.'
"For the Union, the chances have been there all season. The problem, of course, is finishing them…
"And it is not just a matter of getting shots on net. The Dynamo midfield charges into the box like a herd of orange giants when the ball hits a wing; Michael Farfan is often staring into a barren eighteen as Jack McInerney weaves amongst leviathans.
"The Union do not have a set method of creating opportunities. Tactically, they are set up to allow many players to pop up all over the field. This movement, when well-coordinated, should produce openings more suited to the team's small stature than a crossing game.
"But with a new lineup every night and very few players in front of Brian Carroll being anything close to consistent performers, the fans have often watched the team resort to long, direct tactics. It is disappointing not because we are a city of soccer purists who lift our nose at long balls, but instead our investment in this team suggests to us that there is a wealth of talent to be unlocked, and thus far it has only been seen sporadically."
PSP's photo essay of the game.