The ball is round. The place is Philly.
Union match reports
The shorthanded Union lost at home for the first time since 2021 after conceding two goals in the first 10 minutes.
For Pete's Sake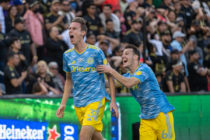 The 2023 MLS season is just days away. Peter Andrews kicks off PSP's season preview by explaining the stakes for this year's Union.
Analysis
Blake Zuschnitt takes a close look at the Union's attack this season and provides insight on if it's a reason for concern.
Photo essays
Marjorie Elzey shares her shots from Saturday evening's frustrating loss for the Union.
Recent Posts