The ball is round. The place is Philly.
Union match reports
Philadelphia Union drew a fourth consecutive match on Wednesday night in Chester.
For Pete's Sake
Peter Andrews assesses a spectacular failure for the Boys in Blue.
Commentary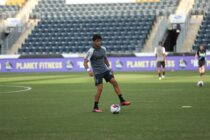 Tim Jones examines the older end of the current Philadelphia Union player development pipeline.
Photo essays
A photo timeline of the game on Saturday, September 23, 2023 between the Philadelphia Union and LAFC at Subaru Park.
Recent Posts