This article was originally posted on December 7, 2017. At the request of PSP commentators, it has been updated to reflect new additions to the Union's wardrobe.
The Union have made lots of memories with their fans over the years. Depending on where we were, who we were with, who we were missing, and any of the innumerable other variables that go into making lasting memories, each of our memories are different.
Part of the fabric of these memories is the literal fabric on the jerseys of the teams for which we cheer. This article takes a moment to review the best and worst moments of every Union game day shirt.
Thanks and Grievances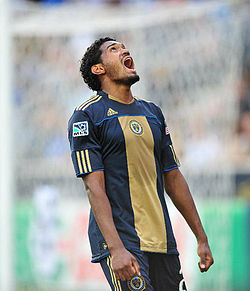 2010 Home
A classic original, unadorned and beloved by all who were "there in the beginning."
Best: The Union blue was best showcased in the team's home opener at the Linc against D.C. United (the Le Toux hat-trick game) or in their PPL Park debut against Seattle Sounders (2010). Both were memorable wins and marked the beginning of the team's golden-bibbed brand.
Worst: A 90th minute winner by San Jose's Arturo Alvarez capped a comeback after the homeside Union took an early lead (2010). Union fans will recognize this feeling of letdown, many will be surprised at how early on in the team's existence that feeling was born.

2010 Away
A tan abomination that somehow grew more charming over time, this shirt was paired with other short combinations, but to little positive effect.
Best: In a come-from-behind win against New England, the Union scored twice after the 80th minute to seal a 2-1 win (2010).
Worst: Finnish footballing legend, Toni Stahl, was sent off in the 39th minute of the very first Union match against Seattle Sounders (2010). His first half cameo represented the only MLS minutes he ever played. Write his name down and update your Union Quizzo scorecards accordingly, fans.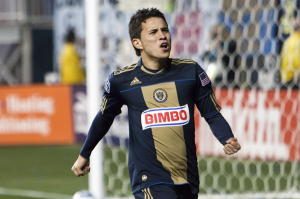 2011 Home
No design updates came to the home shirt in 2011. However, the addition of local sponsor, Bimbo Bakeries, was either a savvy business decision or the worst thing to even happen to the shirt. Either way, the kit agreement brought another revenue stream to the fledgling Union, just in time for a playoff campaign.
Best: Carlos Ruiz's free kick that was, then wasn't, then incredibly was is the best moment of this Union blue (2011). Though there were certainly more entertaining matches (4-4 against New England at home wins that title), this was the most epic.
Worst: The Union were unbeaten at home by the end of July until their worst half of the season saw them down 2-0 against Colorado (2011). Sheanon Williams's red card for dissent midway through the second half was the nail in the coffin.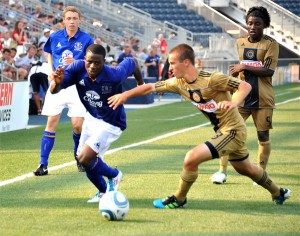 2011 Away
The only thing more offensive than the Union's gold away kit was adding the logo of a local company whose name was as polarizing as it was locally unknown.
Best/Worst: The Union wore white in a 3-0 away win in New England. The team wore blue in a 6-2 away win against Toronto. They wore blue again in a consecutive playoff losses to Houston. Did the team ever wear this particular gold shirt? The archives are unclear for the first team, but this picture exists of a youth side wearing it against Everton in a friendly. That'll have to do.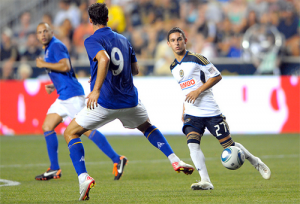 2011/12 Third
Like a $9.99 clearance kit for your Sunday team, the Union's inaugural third jersey was generic and unmemorable. As a result, it was also little-used.
Best: An 87th minute winner by Union youth product, Cristian Hernandez, lead the home side Union to a 1-0 win over visiting Everton FC (2011). It was a shining moment for Hernandez. After leaving the Union for a training stint in La Liga, he's now a member of the New York Cosmos B side.
Worst: Truly, the Union didn't wear this shirt enough to have a bad thing happen in it. The shirt itself was the bad thing.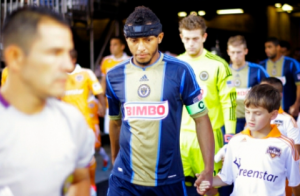 Photo by Nicolae
2012/13 Home
The team's simple original template made way for light blue accents and an unbroken front bib. This wasn't a great home kit, but it did bring in a new color element that was interesting.
Best: John Hackworth's first win as Union head coach came in a 4-0 thumping of Kansas City (2012). Jack McInerny found his scoring boots in the 1st minute and the team never looked back.
Worst: Though the Union dropped a 4-1 result against the LA Galaxy in these Blues, their most heart-wrenching loss in this shirt was a U.S. Open Cup Semifinal loss at home to Kansas City 2-0 (2012). A timid side managed only one first half shot before conceding twice after the intermission.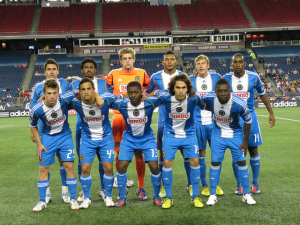 Photo by Barb
2012-14 Away
The baby blue secondary jersey was a great look on the rack of the pro shop, but lost something on TV. Though the kit was certainly recognizable, the shade of blue was odd and the unbroken shorts and socks were a net negative.
Best: Three goals in 26 minutes put the Union up 3-1 heading into half time on the road against D.C. United (2013). A second half tally from former Union man, Lionard Pajoy, was all United could do in their failed attempt at a comeback.
Worst: A goal from Danny Cruz was the only bright spot in a match where Amobi Okugo was sent off and the Union fell 5-1 to New England (2013). It seemed as though Conor Casey had given the team a 2-1 lead when he poked the ball away from goalkeeper Matt Reis, but Allen Chapman disallowed the interference and the team never recovered.
Photo by Paul Rudderow
2013/14 Third
For many Union fans, this homage to Bethlehem Steel and the ghosts of Pennsylvania soccer past will go down as the greatest Union kit ever produced. Not simply a merchandising play for friendlies like many team's third kits, this gem of a design was featured in the home opener, all season long, and the first cup final in which the team ever featured.
Best and Worst: A 3-1 extra time loss to Seattle was as devastating a loss as the team has ever had, but the atmosphere in PPL Park was the best it's ever been (2013). Just like the greatest regret in Mighty Ducks coach Gordon Bombay's fictional life, Vincent Nogueira will lament a goalpost, an inch in one direction, and what might have been (the video hurts just as much today as it did back then, sadly).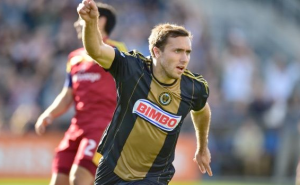 2014/15 Home
The home kit regained many of it's clean lines in 2014, with a seemingly deeper navy and subtle dark, golden piping down the side. It was a unified look that integrated the sponsor better than any kit before.
Best: Danny Cruz and Christian Maidana helped the Boys in Blue, deep in the weeds of a coaching change and the Rais M'Bohli disaster, to a road win against Sporting Kansas City (2014). Good hold up, smart runs, and good old-fashioned Philadelphia hustle earned them points in what has become a chippy little MLS rivalry.
Worst: Andrew Wenger dribbled out of bounds (2015). Or, if that doesn't hurt enough, perhaps the worst mistake in Union on-field history allowed Mike Grella the fastest goal in MLS history (2015). Somehow, things actually got worst for the boys from down I-95 and the team lost the match 4-1.
Photo by Earl Gardener
2015/16 Away
The MLS 2.0 era of "All Teams Wear All White Away" began in boring earnest for the Union with this kit. Despite its subtle bib of stars, this blank canvas is exactly that: devoid of even the beginnings of creativity.
Best: Though a two-goal, super-sub appearance from Conor Casey in a road win against San Jose is an honorable mention (2015), the team's 4-0 annihilation of a decent but underachieving New England Revolution side is the high point (2016). The win was punctuated by Charlie Davies return to the Boston area and a 93rd minute bit of tiki-taka brilliance from the Union attack, finished by a rocket from the left boot of Roland Alberg.
Worst: A huge early season match in Utah had the Union up 3-2 in the 85 minute. Maurice Edu was whistled for the softest penalty ever called, and when Salt Lake converted, the team dropped crucial road points.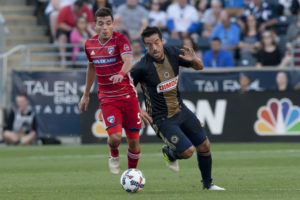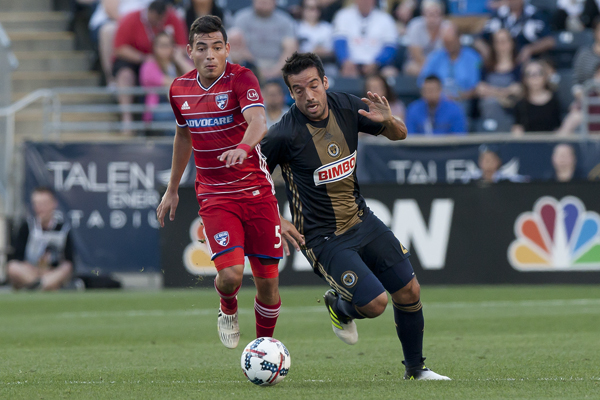 Photo by 215pix
2016/17 Home
The golden piping gave way to Adidas trunk stripes and a snake skin-adorned the bib. The Bimbo logo kept its solid integration, too.
Best: C.J. Sapong's hat trick against the visiting Red Bulls in what looked to be a season-salvaging win is an obvious choice, but the team's 3-1 demolition of Western Conference darlings FC Dallas wins the prize (2017). Two goals from Sapong, including arguably the team's goal of the year, can't be ignored.
Worst: This kit has brought Union fans a substantial amount of heartbreak: Montreal's 3 goal comeback (2017), consecutive home losses to end the 2016 season, and several late-game collapses. Perhaps the most poetic of the choices is the Union's 1-0 loss to Houston (2016). In a winnable game against what was then a mediocre team, the Union looked completely disorganized. Former Philadelphian, Christian Maidana, curled a 95th minute free kick into the top corner to drive a dagger into his old team's heart.
Photo by Mikey Reeves
2017/18 Away
Fans found out several things when the Union released their newest away kit: Mo Edu was alive and well somewhere in the Union facility, and (surprisingly) neither Ilsinho nor Josh Yaro was a particularly great dancer. Those details were neither here not there, and this was the kind of kit that teams love: it's clean, classic, and sold out at the pro shop.
Best: Oguchi Onyewu celebrated his birthday with a goal in Washington, D.C. The rest of the Union followed his lead, putting 3 more exceptional goals past the United defense (2017). Was the best Haris Medujnanin's rocket? Fabian Herbers's shin-credible?
Worst: Chasing the playoffs one listless performance at a time, the Union put in one of their worst of the season in a 3-0 loss at Toronto (2017). Bad defending hurt the Union and a ruthless Toronto attack finished them off.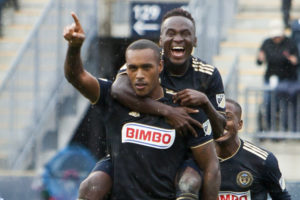 Photo by 215pix
2018 Home
The death of the golden bib was also the birth of #DOOPHoops. For the first time in team history, the Union's stripe was laid horizontal, paired with jeans, and met with a generally approving golf clap.
Best: In a wild match just outside of the Windy City, the Union and Chicago Fire were knotted up going into extra time. Former Fire star and Union winger David Accam came into the match, did a little dance, and sent the visitors home with the spoils.
Worst: The Union lost another U.S. Open Cup final in hot and humid Houston 3-0. Not a single Man in Hoops played well and, despite having won there several weeks prior 3-1, the Union were trounced in the most important game (at that point) in Union history. Relive the magic!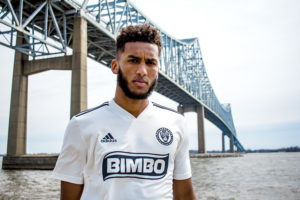 Photo courtesy of Major League Soccer
2018 Parley
Humans make a lot of plastic and that's bad for the environment. Sometimes these plastics aren't worse than the alternative, and are regularly being reused and made into awesome things.
One of those "Awesome Things" is a soccer jersey. On Earth Day in 2018, the Union faced off against FC Dallas in these white shirts made from 100% recycled plastics.
Best/Worst: The irony of the recycled narrative is this shirt was a one-off, and the Union's 2-0 loss to the Texans while wearing was equally as forgettable.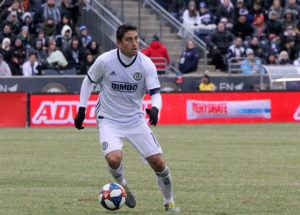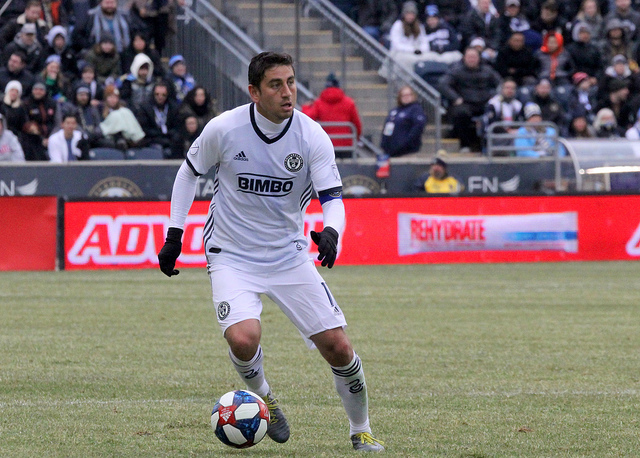 Photo by Paul Rudderow
2019 Away
Speaking of white shirts, the Union introduced a sunburst on their white template in 2019, a 10th anniversary "Inspired Kit."
Best: The Union were road warriors in 2019, taking points all over the country. Their best outing in this shirt was a 5-1 thumping of rivals DC United. This was the "Bedoya grabs a microphone" match, and one in which the team took 26 shots, 61% of possession, and 84% passing accuracy.
Worst: Deep into a midsummer's playoff chase, the Union went north of border for a winnable match against Montreal. The Whites were picked apart on the evening, a 4-0 drubbing that exposed every weakness the team had.
Photo by Marjorie Elzey
2019 Home
In the long, slow arc of getting the Union's long-time shirt sponsor Bimbo to blend into the team's jersey, the Union unveiled a simple, monochromatic update to their 2018 DOOP Hoops template.
Best: An extra time, playoff win against arch nemesis New York Red Bulls, and/or "The Ilsinho Game."
Worst: After dropping consecutive home points to Seattle and Portland, the Union laid their third egg in a row when they let Colorado Rapids find a late equalizer. It was one heck of a summer swoon that was part of what forced the Union to head to Atlanta for the second round of the playoffs rather than stay at home.
Photo by Paul Rudderow
2019 Parley
2019's black and white plastic shirts were eschewed in 2020 for black and the very on-trend "whatever-color-this-is." The shirt was a hit, selling out in minutes online and just as quickly at launch events thereafter.
Best/Worst: Though it was another Earth Day one-off, the Union were victorious on the day 3-0 against the hapless Impact.
2020 Away
The Union became the league's first team to take advantage of new sponsorship rules allowing secondary brands on secondary jerseys. Part of the decision was in response to fan feedback and part of it was likely a simple A/B test to see if fans would put their money where their mouth was. For more, read here.
Best: The Union's late night draw on the road against LAFC, a game that featured both one of the best Union goals of all time and now exists inside an eerie feeling (in light of recent events) that makes one wonder, "Did that actually happen?"
Worst: FC Dallas beat the Union in the preseason, pouncing on Philadelphia's mistakes and making them pay. The same was true in the season opener, when the Union were a step slow, a day late, a dollar short, and other idioms pertaining to not quite measuring up.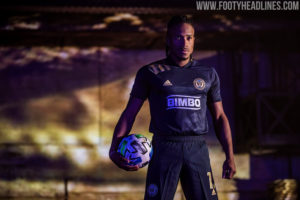 2020 Home
A jersey that's "oh so close" to being really good, and part of the league's 25th Anniversary template. For more, read here.
Best/Worst: The Union have yet to debut this kit, and next February when the author has officially waited out his nondisclosure agreement with the team, he will share with you how this snake-skinned jawn came to be. Until then, keep hoping for soccer in 2020 because there's a small chance fans won't see this kit on a player in a game until 2021.
Share your thoughts
Readers of PSP: Share with us your favorite Union kit and your best or worst memory about those threads. We can't wait to hear about it.