Photo by Sara Griswold
The Union dropped a shocking result in Montreal on Saturday 4-0, making the same mistakes they made in last season's 4-1 thumping by the Impact. It is the third time in four road trips the team have shipped 4 goals, and though they remain top of the East heading into the All Star Break, they are now second in points per game to New York City FC and only a mere seven points from being out of the playoffs entirely.
After a short-handed Union were trounced 4-0 by Real Salt Lake two weeks ago, Jim Curtin said he'd probably burn the tape of the match rather than watch it. The team were short-handed again this time around, with Kai Wagner and Jamiro Monteiro missing out. However, considering Montreal have thoroughly dominated the Union for years (save for the team's 3-0 win earlier in the season), there are three things worth taking away prior to the aforementioned bonfire.
"Can't stop the bum-rush"
The design of the 2019 Union is a side bent on creating chaos through pressure and scoring quickly out of the ensuing dust cloud. The bonus to that winning strategy is that they can often possess the ball as well, able to succeed through chaos and calm as the situation dictates.
Unfortunately, it is the Union who have been taking rather than giving the dictation of late. The downfall of the team as it is currently constructed is that while they are possessing the ball, they have a consistently difficult time stomaching a dose of their own counter attacking medicine.
Thus, while the Union were busy holding 64.2% of possession (and winning all but four of the 5-minute intervals in said statistic), they were doing all but nothing with it: they mustered only three shots on goal in the match. Oddly, the possession was useful in that the Impact were never really expected to score much either, as the GameFlow below shows.
xPG GameFlow: @impactmontreal v @PhilaUnion on 07/27/2019. #IMFC #DOOP #MTLvPHI pic.twitter.com/fE9KuwocOm

— GameFlow (@GameFlowxPG) July 29, 2019
What all this means is the Union continued their maddening streak of not being able to break down a bunkered team and were atrocious in stopping said team's ensuing counter. This is a sentence which has been written before, this year and certainly the year before. What was different about this match was how little the Impact threatened, even when they were truly threatening.
Only Lassi Lappalainen's opener was a real outlier regarding Expected Goals, as a free run on frame often is. Everything else was just poor from the Union. But speaking of poor play, expected goals, and the Canadian's opener…
Scapegoats abound
it's a great pass, and lappalainen makes a great run and finish, but that goal is 100% on ray gaddis

— Peter Andrews (@pfandrews) July 28, 2019
Ray Gaddis was torched on Saturday night, liable for parts of all four of the Impact's goals.
On the first, he couldn't track his runner, mistimed his offside trap, and then was helpless to recover as new arrival Lassi Lappalainen danced through the Union wreckage. On the second, his lack of aerial prowess and a miscommunication with Jack Elliott led to a through ball instead of a clearance that left the remainder of his back line up a creek. On the third, a back-breaking dagger to start the second half, it was Gaddis's positioning up the pitch that limited Marco Fabian's passing options (more on that later) and started the break (that Jack Elliott was again left with a damned-if-do, damned-if-you-don't decision on a tackle because of Gaddis is regrettable). On the fourth, and worst of all given the right back's reputation, Gaddis was flat-out beaten for pace. This might be understandable at the late stage and given the scoreline, but his effort has to be called into question too as he never truly tried to make a play.
That's a first for the Union regular.
Another player worth questioning after the match is Andre Blake. In six shots on frame, the Union keeper allowed four goals and looked uncomfortable and average without making any save that would warrant regard. Gaddis and Elliott get their share of the blame in not helping the Jamaican, and so does Austin Trusty who, on the Impact's third goal, unbelievably marked empty space for 50 yards instead of the attacker with the ball.
It was a travesty, a sham, and a mockery. A "traveshamockery," if you will.
"Money for nothin' and the [kicks] for free"

Marco Fabian might have had his best game in a Union shirt two matches in a row. He might also be a bust.
After another match in which his stats were glowing but the eye test found him to be disinterested and two steps behind (and in which he didn't score one of the best Union goals of all time), one thing is clear: the Union are a more dynamic, if not better, team without Fabian.
The eye test is a fickle and obviously subjective measurement, but there is data to back this up: Fabian isn't the top ranked Union player this season according to WhoScored.com's overall rating, nor is he anywhere close.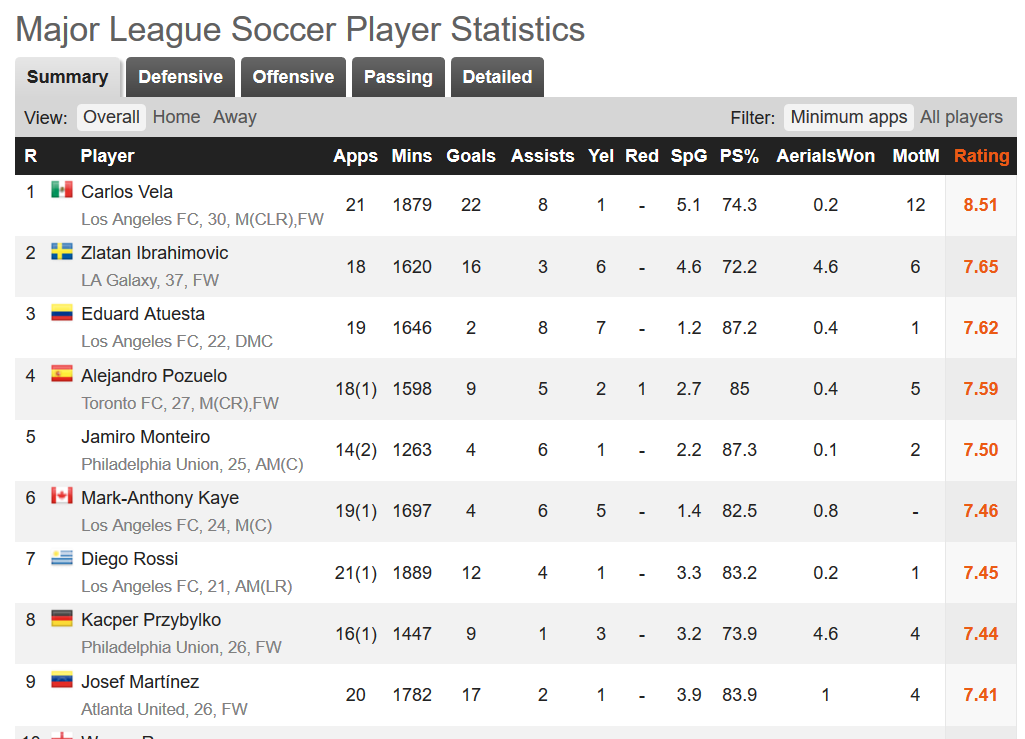 Jamiro Monteiro and Kacper Pryzbylko impressively make the league's Top 10, with Ilsinho (40), Haris Medunjanin (69), and Austin Trusty (93) slotting into the first hundred, a testament to their consistency and/or influence.
Fabian's ranking? 271st in the league, just behind Columbus Crew's Harrison Afful.
In the world of lies, damned lies, and statistics, this aggregation is certainly more palatable with a grain of salt (Trusty is closely rated ahead of Jack Elliot and Alejandro Bedoya after all). However, the team's most expensive signing should be better than the bottom quartile of any reasonable metric, and this is certainly one of those. The top half of the list is full of players who cost half his price and have produced wildly above his numbers.
When Jamiro Monteiro is healthy, Fabian's starting spot should be on the bench.
As they prep for a trip to the nation's capitol on Sunday, the Union shouldn't burn the tape of this game. Instead the coaching staff should be burning a hole into the players who made these mistakes again and doing whatever it takes (including benching some seemingly unbenchable players) to get it right. The schedule only gets harder and not a single other team in Major League Soccer is interested in the storyline of the plucky Union.
One more thing
As a supplement to last week's article, the Union attempted eight corners in this match and of course did not record a goal from one. They continue to be bad at corner kicks.