Photo courtesy of listchallenges.com
People will sometimes ask me, "whatever possessed you to start digging up American soccer history and writing pieces about it?"
My answer is quite simple: envy.
Like most American kids, soccer was not the only sport I played. I played street hockey in the winter, touch football in the fall, baseball in the spring, and basketball whenever I could get an open basket. I not only played those sports, but I followed them—eagerly anticipating the 3:30 arrival of the afternoon Camden Courier-Post and devouring the box scores and game reports from the previous evening's contests.
I also collected the Topps bubblegum cards of all of those sports—baseball, in particular, but with a special affinity for basketball cards because they actually included American Basketball Association players along with the NBA stars (the other sports did not include rival leagues like the World Hockey Association in their sets).
When I started playing soccer as an 8-year old in 1973, I naturally assumed I would slot it alongside the other sports. However, there were no soccer cards to be found…standings and statistics were not included in the newspaper…no Street & Smith's annual season previews to whet my appetite. Nothing.
It drove me crazy.
As I got into my teens, and began to come across books like Basil Kane's Kyle Rote Jr.'s Complete Handbook of Soccer (the book was, and technically still is miscredited to Kyle Rote Jr.) and Zander Hollander's The Encyclopedia of American Soccer, I learned that American soccer did exist prior to 1967. Still, a lot of the story was not being told. And I resolved, when I got the time and resources, to help tell that story.
I'd like to think that my work—along with the much more important work of Colin Jose, Roger Allaway, David Wangerin and (dare I say it?) Ed Farnsworth has done a lot to fill in the gaps and connect those dots. Certainly, readers here have expressed appreciation for what they have read about famous teams and players from the 1920s to the present. So, in some small way, I can kick back and think "mission accomplished."
Nevertheless…I'm still jealous.
Let's face it—there will never be a Ken Burns' Soccer. Too much material is forever lost to time. No one bothered to ask the players who played in the American Soccer League of the 1920s for their stories (Jim Smith in Hollander's book had the chance, but he dismissed his interviewees' stories about an "old" ASL and "Soccer War" as urban myth in his intro to his American Soccer League chapter—opportunity forever lost). To date, no uniforms from any of the 1920s ASL teams have been found. The league's cup—the Lewis Cup—sits in a museum in Ukraine. No one made tobacco cards of Archie Stark, Billy Gonsalves, or Davie Brown.
And it's not just in history and collectibles where American soccer unfortunately lags behind. In America, we get to enjoy some outstanding sports literature. Baseball, in particular, has inspired some absolutely magnificent writings over the decades. Go to a Barnes & Noble, however—or even your local library—and you are most likely to see books like Coaching Soccer For Eight Year Olds on the shelf before any "real" soccer literature.
As with history, however, great American soccer literature exists. You just need to know where to find it. With Amazon making the acquisition of out-of-print books easier than ever, digging up these forgotten classics is a snap. As the season for American soccer approaches, allow me to recommend these fine examples of American soccer literature.
(Note: I am deliberately omitting "history books" like Wangerin's Soccer In A Football World.)
The Grass Of Another Country: A Journey Through The World Of Soccer by Christopher Merrill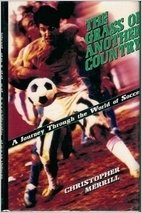 In 1993, three years after the U.S.'s first (albeit brief) appearance in a World Cup since 1950, Christopher Merrill released this gem of a book.  Merrill, a poet, an editor and a former amateur soccer player, demonstrates an expert's knowledge of the sport, analyzing both the styles of play employed by teams in the 1990 Cup and the styles of devotion among the various fan bases. As great as this is, his chapter on life in American professional soccer in the years before MLS–focusing on the long-gone New Mexico Chiles of the American Professional Soccer League in the club's only season of existence, 1990–is worth the price of the book alone.
Unlucky: A Season Of Struggle In Minor League Professional Soccer by Dave Ungrady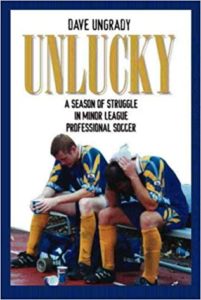 For an even deeper look into life in the lower levels of American professional soccer, hunt down this minor masterpiece by Dave Ungrady.  In it, he provides a behind-the-scenes account of the Northern Virginia Royals, a D.C. United affiliate playing its first season in the USISL's D3 Pro league in 1998. Ungrady–a former collegiate soccer player–trained with the team and lived the team experience, attending meetings and road trips and practicing up to four times a week while working full-time…not unlike many other players on the team. A soccer-specific, honest account of the struggles athletes endure at the minor league level.
For a distaff version, check out Beau Dure's equally-entertaining Enduring Spirit: Restoring Women's Professional Soccer to Washington.
The Education Of An American Soccer Player by Shep Messing with David Hershey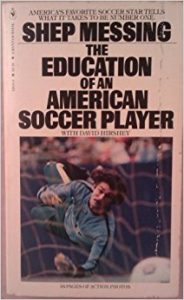 For some reason, everyone hates Shep Messing–this tended to be the case when he was a player, too. An extremely intelligent individual, Messing's intelligence and natural sense of flair did not endear him to the powers-that-be in American pro soccer in the 1970s, particularly as an American-born player.
Fortunately for us, all of this made Messing the perfect person–along with the tart-tongued David Hershey–to give us soccer's Ball Four.  The Education takes us through Messing's youth on Long Island, discovering soccer, and a career that found him landing with the most storied franchise in American history–the New York Cosmos–and playing in Pele's final match. Along the way you'll encounter blatant anti-American bias by the "English mafia" controlling the game, and meet such colorful players as Len Renery, Bobby Smith, Randy Horton, and that guy from Brazil. Read how Messing talked Franz Beckenbauer into growing that perm. Hear how Shep takes on a football player in a glass eating contest, and gets talked into posing nude for Viva magazine by, coincidentally enough, Ball Four author Jim Bouton. Find out how the Cosmos Turkish co-owners forced coaches to play the backup (Turkish) goalkeeper ahead of Shep in 1977.  And so on.  You'll laugh, you'll get angry…this is just a great book, and was a real poke-in-the-eye to the NASL at the time. It needs to be made into a Semi-Pro type of movie someday.
For a bonus, get the paperback edition (pictured), which includes an epilogue chronicling the 1978 NASL season and Shep's foray into indoor soccer.
The Beautiful Game: Sixteen Girls And The Soccer Season That Changed Everything by Jonathan Littman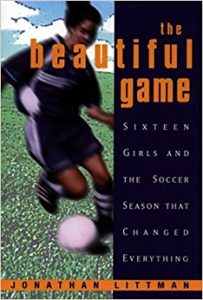 Lately one encounters nothing but negative stories about youth soccer. Mind you, a lot of the criticism in the stories are warranted, as the "business" side of things has, for a longtime, eclipsed all of the good things about youth soccer (indeed, youth sports in general). As a long-time youth coach who has been at it off-and-on since I was 14, I often wish the full story would be told–one that includes the joys and triumphs, the hard work and great rewards, and the heartbreaks that, inevitably, accompany any competitive endeavor.
Fortunately, we have this wonderful chronicle of a late 1990s season with the Santa Rosa Thunder, a U-14 girls team that no one took too seriously–certainly not their parent/coach.  Then Emiria Salzmann, a top college player herself, took over the reins. She knew what it took to win–discipline, relentless drills, thigh-burning sprints, and an inspired passing game. The girls hated it, the parents despised it, but she showed them how to win.
Rest assured, though–this book is much, much more than a hagiography about Coach Salzmann. Author Littman takes us into the lives of the girls on the team, their struggles as they try to find their place on the team, the drama that comes with joining the team from a hated rival, the political machinations of some of the parents (the ex-coach, in particular) and the unadulterated joy and kinship that comes with being part of a band of sisters. This book will restore your faith in youth sports.
The Game Of Their Lives by Geoffrey Douglas
Ostensibly, this is a book about the United States' incredible upset of England in the 1950 World Cup–still considered the greatest upset in the history of sport by many. However, Geoffrey Douglas gives us so much more than a mere minute-by-minute chronicle of that game. Instead, we get to meet each of the players on that team, their early lives, and the struggles of fighting in World War II. We also get a clear-eyed look into the state of soccer in the U.S. at the time. While he sometimes lapses into myth-making when talking about the England match, Douglas is nevertheless at his poetic best in his depiction of life in the ethnic big-city ghettos from which most of the players came, such as Dago Hill in St. Louis and Philadelphia's own Kensington section. Nevermind The Miracle Match, the good-but-not-great movie based on this book; read it and meet Harry Keough, Frank Borghi, Walter Bahr, Clarkie Sousa, and the other stars on that team–their recollections are even more poignant when you remember that Bahr is the last person on that team still with us.
So there you have it–a winter's reading list to hold you over until the MLS season returns in March. Feel free to submit your own reviews (or other suggestions) in the comments section.