Photos courtesy 215pix & PSP archives
Editor's note: For those readers unfamiliar with the rhythms of amateur youth club soccer in the United States, Preambles 1, 2, 3, and 4 attempt to explain the basics. For those already familiar, parents of young players for example, skip them.
As part of PSP's postseason review, this article summarizes the Union Academy's older teams' years-to-date.
Preamble 1: Different years
The definition of a season, for a member of the U. S. Soccer's Development Academy is different from that of a professional team member in the United Soccer League or Major League Soccer. The amateurs use the academic school year, e. g., 2017-18. The professionals use spring, summer, and fall of a single calendar year, e. g., 2018.
Therefore, this review summarizes the conclusion of the Development Academy's 2016-1017 season for the older Union teams, and then the beginning of their 2017-2018 one .
Preamble 2: Changed team definitions
Between the 2016-17 and 2017-18 seasons, U. S. Soccer changed the Development Academy's age structure. They added U-15 as its own separate team. The three oldest sides became the teams with showcases, generation adidas cups, end-of-season group-stage round-robin playoffs, and knockout-stage national championship tournaments. See the visual below.
2016-17:                          2017-18:
U-12s.                        U-12s
U-13s.                        U-13s
U-14s.                        U-14s
–                                  U-15s
U-15s/16s.                U-16s/17s
U-17s/18s.                U-18s/19s
Preamble 3: Playing up
Players not challenged sufficiently at their calendar-year age level "play up" an age level to increase their development. The Union consider each situation individually, taking into account the risks as well as the rewards. The Union hold regularly scheduled, organization-wide development assessment meetings, at which playing up would likely be discussed.
Preamble 4: Roster size
The usual roster size for the Union's older developmental academy teams ranges from 20 to 22.
We have not researched how the rate of moving two or three roster members forward into the pros (see individual team write-ups below) compares quantitatively to other academies. Qualitatively, comments from various Academy executives and coaches suggests expectations hover around two or three signed to a chance at the pros.
Also for the record, YSC Academy college counsellor Beverly Brooks has had 100% success in finding the other 17 or 18 team members appropriate colleges with appropriate soccer programs. At least a few times the players have been well enough prepared to transfer to higher quality programs and have had the academic wherewithal to sustain the moves.
How the U-15s/16s ended 2016-17
They finished third in the Atlantic Division of the Eastern Conference of the U. S. Soccer Development Academy. Of their 26 games, they won 14, tied six and lost six. They earned the 19th playoff spot of the 21 available across all seven DA divisions. In order to advance out of the group stage of the playoffs to the knockout national championship tournament, they had to win their group, and they did not. That does not mean they had a poor season. It was good but not championship caliber. A total of 73 teams competed in that level that season.
Today's notable players in the 2000 & 2001 age cohorts of the U-15s/16s are goalkeeper Tomas Romero, midfielder Brenden Aaronson, and midfielder Michael Pellegrino. They are already familiar to fans of Bethlehem Steel FC.
How the U-17s/18s ended 2016-17 
They finished first in the Atlantic Division of the Eastern Conference of USSDA. Of their 26 games, they won 19, tied two and lost five. They earned the 3rd playoff spot of the 21. Nationwide 72 teams competed at that level that season.  They won none of their three group stage games, and were eliminated.  They also were good — very good — but not champions.
These age cohorts, 1998 & 1999, provided defender Auston Trusty to the first team in 2016 and midfielder Anthony Fontana in 2017, and they provided defender Matt Real to the Bethlehem Steel last January.
How the U-15s are beginning 2017-18
As of the weekend, this team has played nine of its currently scheduled 27 games, winning five, drawing three, and losing one. It lies 5th of 12 in its division's table and currently holds the 3rd wildcard slot, but a third into the season is early to place much emphasis on the table. They lost to Bethesda SC at home but beat New York Red Bulls away.
According to U.S. Soccer Development Academy game reports, Selmir Miscic has scored plenty of goals, 15 in nine games, but that alone does not mean he is a legitimate candidate for the pros.
How the U-16s/17s are beginning 2017-18
As of this weekend, this team has played 8 games of the 25 currently listed on its schedule, winning four, tying three, and losing one. They lie 4th of 11 in their division and currently hold the 5th wildcard place, but it is very early to notice the table. The loss came to 1st place New York Red Bulls in north Jersey 0-1.
The only name on this roster of the 2001s and 2002s with any chance of being familiar to most PSP readers is goalkeeper Eoin Gawronski who backed up Tomas Romero with the Steel during the Gold Cup this past summer.
How the U-18s/19s are beginning 2017-18 
As of this weekend, this team has played seven of the 23 games currently listed on its schedule, winning six, tying none, and losing one. The loss was to 1st place New York Red Bulls at Red Bulls. They lie 2nd in their divisional table and hold the 4th playoff spot, but it is early days.
Several names on the roster will be familiar to followers of the Bethlehem Steel. Aaronson, Pellegrino, and Romero are known. Midfielder Seth Kuhn, and forward Issa Rayyan have each seen a few minutes. Defender Nyk Sessock and goalkeeper Kris Shakes have appeared on the Steel's official USL roster and dressed but seen no minutes.
Remember that in this group Anthony Fontana no longer has amateur standing.
Request
If PSP readers who frequent YSC Sports have seen the 2017-18 teams play, please share your observations below in the comments.  Please identify the team you are discussing in addition to the player(s).
Turnover happens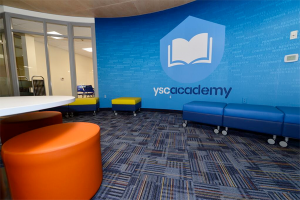 Much ado arose earlier about two departures from the Union's academy this past summer. Defender Rayshaun McGann and forward Chad Letts left the Union's Academy to join that of Atlanta United.
Experienced school administrators would find the flap mildly amusing. All schools experience turnover. Show me an independent schools admissions director whose retention rate is 21 of 23, i. e., 91%, and I will show you a happy director, along with his or her head of school, and board of trustees.
That there is so little turnover at the Academy bears witness to the discernment of its soccer and academic admissions processes and the quality of both types of education being offered on its pitches and in its classrooms.
Chad Letts was a striker brought into the Academy's residential program – Academy Director Tommy Wilson runs a 22-bed residential program for U-16s through U-19s – from the greater Atlanta area. Atlanta's new academy gave him an opportunity to go home. Hard as it may be to believe, cheesesteaks, hoagies, and soft pretzels are sometimes not enough.
The other departure was less benign. After unsuccessfully trying to remediate some problems, the organization told center back Rayshaun McGann to leave. As he is legally a minor, both the moral and legal requirements of responsible adult behavior protect his privacy. Young people make mistakes and deserve opportunities to recover through second chances and said privacy. Think Buddy Ryan and Chris Carter. The Atlanta academy is giving McGann that chance.
While we are on the general subject of enrollment, there is an addition to the academy that may tickle memories for some local youth soccer watchers. Forward Tonny Temple of Wayne, PA has joined the Union Academy U-18s/19s from IMG Academy in Florida. He scored in his team's most recent game, a win Sunday at Baltimore Armour in Ellicott City, MD.