Featured photo: Daniel Gajdamowicz
Shane Kelly died a year ago today.
He was shot by a guy with a gun so small that it was thought to be a fake.
The gun was real. So were the bullets.
Kelly was a 27-year-old pharmacy tech from Mayfair and the first division commissioner of the Casa Soccer League, the region's biggest adult league. He was with his girlfriend, Maryelise Doyne, that morning of Nov. 13, 2011. They were going home to their new house.
Two strangers had held them up at gunpoint at Thompson and Berks streets in Fishtown, according to published reports. Kelly refused to back down and reportedly told them, "If you're going to shoot me, shoot me." He chased them down with another man, John Loftus, who saw the incident and tried to help. Loftus testified he heard a series of pops.
Kelly went down.
Then he died.
The Kelly Cup, and other things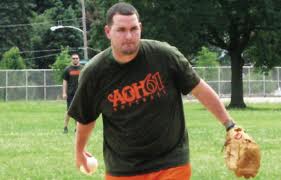 This Saturday at 11 a.m. at the Philadelphia Soccer Club, the Casa Soccer League will host the final of the Kelly Cup, the first division tournament named for the late commissioner. It should be a good match. You should go.
Here at the Philly Soccer Page, we knew Kelly well. PSP writers Mike Servedio, Adam Cann and I all worked with Kelly on Casa's board of directors, and he played in the league and captained his team, I wrote last year: "Shane was exactly the type of guy we wanted. Straight shooter, good sense of humor, understood the game, understood people."
Here's a bit more from that piece:
Shane Kelly seemed to know everyone. He had contacts everywhere in the Philadelphia soccer scene. He knew the people who ran those fields in the northeast just as he knew the guys in the southwest. Shane had a foot in so many sports teams and leagues in Philadelphia that I sometimes wondered how he had enough feet left to play soccer in the Casa Soccer League, where he was commissioner of the league's top division. If you needed something done, he knew who to go to. He was like a walking, talking Rolodex of names, and every one of them seemed to like him.
He only spent a year and a half on Casa's board, but in that time, he made a big impact on the league. For example, Kelly helped solve two of the league's biggest problems by tapping his contacts at the Parkwood Youth Organization to help find us better fields and securing space for pre-season captains' meetings at the Ancient Order of Hibernians hall on Rhawn Street.
He was a good commissioner. He was a better guy. As Casa President Ryan Pine told me in an email yesterday, "It's easy to fall into a romanticized memory of the deceased, but I can honestly say I will always remember Shane with a smile. Great human being."
… words …
I don't have a lot to write about Kelly today. Or rather, I could, but I won't. I said the things I wanted to say last year, so you should read that piece. I also recommend reading this from AOH 61 and this from Irish Philadelphia, as well as his obituary and remembrances. You'll find he was at the center of just about every community he crossed paths with, not just soccer. That's just how he was.
For many, his death is like calluses on your hands. The raw wound has hardened into a shell. There's no point in cutting it open. It took a lot to get to the point where you don't feel it anymore.
Maybe that's why I've written about him in a more distant way this time, referring to him by his last name rather than his first, as per standard journalistic parlance. That's probably a bad idea. But it's life. We probably won't mark this anniversary in this space again.
As long as you remember a good guy who was a big part of Philly's soccer scene, I've accomplished my task.
So if you get a chance this week, raise a pint of Guinness to Shane Kelly.
His death was pointless.
His life was not.
NOTE ON PHOTOS: This article's featured photo was taken last year by Daniel Gajdamowicz after he saw Kelly's teammates wearing cleats marked with the tribute. It resonates so much that I felt it should again be a featured photo. Other photos were collected from open sites around the web. If you have a photo you'd like to add, please add it to our Flickr page, and if one of the ones posted in this article is your photo and you prefer it not be posted here, please email PSP, and we'll take it down.