Photo: Nicolae Stoian

Editor's note: At the end of the 2010 season, we posted a series of season reviews of every Philadelphia Union player. Over the next several weeks PSP continues with a review of the 2011 season.
Keon Daniel first showed up as the unknown trialist. Speculation abounded during preseason camp about who he actually was, and eventually, we found out.
Two games into the season, he subbed in at halftime in a road loss to Los Angeles and impressed enough that he earned starts the next three games and became a regular in and out of the lineup. Some games went by without his appearance, and many were surprised by it, because he consistently seemed one of the best players on the field for the Union.
Daniel's presence routinely steadied the Union attack, offering a new dimension with his speed, ball skills and passing vision. His ability to play both ways typically lightened the load on the left back behind him while simultaneously opening more opportunities for overlapping runs.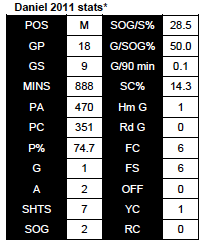 Then one day, he went off for international duty for his home country, Trinidad and Tobago, and he never came back.
High point
Daniel broke into the public consciousness in Philadelphia by going the full 90 in three straight games in April. He quickly wowed observers with his great ball skills and poise with the ball at his feet. Those games showed right away that the Union had a legitimate player on their hands.
Low point
Keon left the country on international duty and couldn't get back in. He got locked out of America. The full story as to why remains murky, but there was something about visa issues and nothing remotely concrete available to the public. (If anything, just blame Jack Warner, because that's usually a good course of action when it comes to Trinidad and Tobago.)
Strengths
Daniel's poise on the ball and good ball skills go nicely with his excellent vision and versatility. The guy can do just about anything in the midfield, and he even deputized at left back. His height makes him a factor in the air as well, a rarity for the Union. (Of the two headed goals the Union recorded in 2011, Daniel scored the first one and assisted the second.) His box-to-box play typically made the left backs behind him much better.
Weaknesses
Daniel lacks a good immigration lawyer.
Outlook
To this day, it's unclear whether Daniel will be able to iron out his visa issues and return to play with the Union. If he does, he slots in as a regular in the midfield. He's an absolute bargain for the minimum salary, and he was probably the most consistent Union midfielder outside of Brian Carroll.
And if he doesn't, well …
Free Keon.
Stat chart legend:
POS: Position; GP: Games Played; GS: Games Started; MINS: Minutes; PA: Passes Attempted; PC: Passes Completed; P%: Passing Accuracy Percentage; SHTS: Shots Faced; SV: Saves; GA: Goals Allowed; GAA: Goals Allowed Average; PKG/A: Penalty Goals/Attempted; W; Wins; L: Losses; T: Ties; ShO: Shutouts; W%: Win Percentage; SV%: Save Percentage; FC: Fouls Committed; FS: Fouls Suffered; YC: Yellow Cards; RC: Red Cards