Philadelphia Union
Here's the skinny on new signing Josue Martinez from Kenneth Hernandez, soccer writer for Costa Rican daily Al Dia:
"Martínez is a player for the future. He's still young and he has a lot to give. But he's just 21 and he needs to establish himself as a forward who responds with goals."
"He's a fast player. His main problem area is that he makes mistakes in converting. He misses chances and the [Saprissa] fans have not been so kind with him. It has cost him to establish himself as a consistent player."
"Sometimes he fades and gets lost a little. It has cost him as far as meeting the expectations of the fans and the press."
"[A] good kid and a respectful person, [but] a little timid. He's not aggressive."
So, it seems that Martinez is a young, still developing player, which is exactly what you'd expect of a 21-year-old. Hernandez concludes, "I think he can grow even more in MLS…He needs to take advantage of this opportunity."
From the Union's Twitter on Thursday morning: "4 out of 11 starters! RT @MLS: GA vs Ajax. Starters: MacMath; Tetteh, Valentin, Hot, Sarkodie; Okugo, Gil, Alston, Duka; McInerney, Mwanga." The GAs lost 4–2 with goals from captain Dilly Duka and local lad Corey Hertzog.
Adidas International Training Program tweeted this on Wednesday: "@PhilaUnion 's Jack McInerney showing the best acceleration from the group in the MiCoach analysis. Could we see him on the wing vs. Ajax?"
Amobi Okugo has an awesome video blog from the Generation adidas tour in the Netherlands from before this morning's game that includes cameos from Jack McInerney and Danny Mwanga:
On the heels of a Goal.com article we linked to in Monday's news roundup that called Union academy player Christian Hernandez one of the top five players in the country most likely to be signed to a Home Grown Player contract, a Brotherly Game reader came across this tweet from Michael Wheeler of MAE Agency: "Soon to be repping a local Jersey kid as he takes his career to next level…have known him and fam for 4 yrs…local roots." TBG suggest the player alluded to in the tweet is Hernandez.
Justin Mapp tells MLSsoccer.com that while leaving Philadelphia is "bittersweet," he holds no grudges in being left unprotected to be picked by Montreal. "I really appreciate the Union staff for giving me the opportunity the last year-and-a-half. This is a great organization with great people and great fans. I definitely enjoyed my time here for sure." What was the best part about Philly for Mapp? You guessed it, the fans. "Not every club has that type of support, and I think playing in front of that type of fan base was very special. That was probably the best part for me."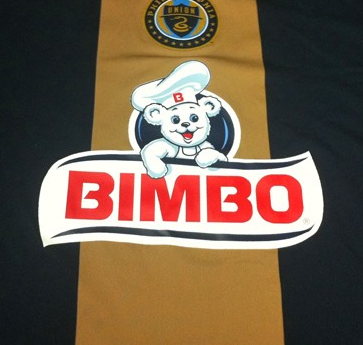 The Union has 30 limited edition jerseys available for sale featuring an alternative Bimbo logo with the Bimbo bear. The jerseys are available for $200 apiece with the proceeds benefiting the Philadelphia Union Foundation and the American Heart Association.
Local
Three local college players are among the 52 seniors invited to take part in the annual adidas MLS Player Combine from Jan. 6-10. They are midfielder Christian Barreiro from Penn and forwards Antoine Hoppenot (Princeton) and Evans Frimpong (Delaware)
Anthony Gallo, coach of South Jersey's Cherokee High School boys' team, has been named the Burlington Times soccer Coach of the Year. Gallo coached the Chiefs to the Olympic American Division title, the South Jersey Coaches Tournament title and their second consecutive state title.
Philadelphia Biblical University swept the inaugural Colonial States Athletic Conference 3-D Awards for soccer with both the men and women's teams taking the top spot. The awards are given to the teams that best exemplified the NCAA Division-III principles of "Discover, Develop, Dedicate."
 MLS
Seattle have signed Austrian goalkeeper Michael Gspurning from Greek SuperLeague club Skoda Xanthi to replace the retired Kasey Keller.
Here's an updated list of MLS offseason player transactions.
Brad Friedel caused a stir when he told the BBC World Service, "You get a player like a Landon Donovan, who in my opinion chose to take the easy road and stay in the States. It's much harder to ply your trade over here." The Sporting News begs to differ, saying Friedels's opinion is caused by jealousy and ignorance.
Everton captain Phil Neville tells Sky Sports that it is unlikely that Donovan will return to the club in the upcoming winter transfer window.
Meanwhile, Everton are reportedly interested in Charlie Davies.
What do you know, ESPN's Leander Schaerlaeckens has a well thought out article on why MLS' plan to suspend expansion at 20 teams is a good idea.
Here's a look at how Orlando City hope to join MLS by bypassing NASL.
College Hoops Journal says MLS has solved the NBA and NCAA age debate with Generation adidas.
Washington DC Councilman Tommy Wells has introduced a resolution calling on the city actively pursue options to keep DC United in town.
It looks like Nicholas Anelka is going to China after all.
 WPS
US Soccer has released the following statement on Wednesday: "U.S. Soccer's Professional League Task Force and members of WPS had detailed discussions on Tuesday evening in Chicago regarding the sanctioning of the league for 2012. There will be additional discussions later this week before a final recommendation is provided to the U.S. Soccer Board of Directors."
Atlanta Beat owner/WPS board member Fitz Johnson said after Tuesday's meeting, "Consideration is on the table, but it doesn't mean it's done. I think [U.S. Soccer] just has to figure out what would have to happen to go forward with five teams. They are very supportive and we understand their position. They are trying to run a federation, not just us."
Philadelphia Independence owner David Halstead tells Gabriel, "I could go out right now and find investors to bring teams in, investors with deep pockets but know zero about soccer. How long do you think those teams would stick around? If we are thinking long-term, you can't rush this and demand immediate growth. The goal and mission of the WPS is to draw the strongest players in the world and have them play their careers here. We [as owners] are thinking long-term, too.
Elsewhere
The FBI is investigating "substantial evidence" of dirty tricks campaigns against the US bid for the 2022 World Cup, and the England bid for the 2018 World Cup, that included attempts to hack into bid organizers email accounts as well as allegations of bribery related to the failed bid of FIFA presidential candidate Mohamed Bin Hamam that includes evidence that the cash used to bribe Caribbean football officials crossed US borders.
It's the Europa League for Manchester City and Manchester United. Despite defeating  Bayern Munich 2–0, City failed to advance out of the group stage thanks to Napoli's 2–0 win over Villareal. United lost 2–1 to Basel. All of which makes the upcoming FA Cup match between City and United even more tantalizing.
French betting authorities are investigating Lyon's 7–1 win over Dinamo Zagreb in the Champions League on Wednesday. Dinamo released a statement on their website saying, "We kindly ask all media representatives to stop with their discussion regarding this matter because it is humiliating for the reputation of our club, football and sport in general to do so."
Wayne Rooney has won his appeal to UEFA, which reduced his three match ban for kicking Montenegro defender Miodrag Dzudovic to two games. Rooney will now be available to play for England against Ukraine in their final group stage match of Euro 2012. The third game ban was suspended for a period of four years, not overturned, which means the ban will take effect if Rooney is dismissed from any official UEFA game during that period of time.
Liverpool manager Kenny Dalglish says England's FA has set a bad example by appealing Rooney's ban. He also says the FA's delay in coming to a decision about alleged racist remarks by Luis Suarez "is a bit of a joke as well."
Speaking of Suarez, the Liverpool striker has been charged with improper conduct by the FA for giving Fulham supporters the finger following his club's 1–0 loss at Craven Cottage on Monday.