UPDATE: We received the following from the Union press office on Thursday afternoon after this post was published:
"With a Union Win Tonight: Union finish either first or second in East
Sporting Kansas City lose, tie or win by smaller margin than Union: Union first in East
Sporting Kansas City win by equal or larger margin than Union: Union second in East
With a Union Tie Tonight: Union finish first, second or third in East
Guaranteed home conference semifinal playoff game.  Seeding TBD based on other games' results.
With a Union Loss Tonight: Seeding and playoff game location/date determined by other matches. Could be anywhere from 2nd in East to 4th in East.
Also, a nice little stat (courtesy of Elias Sports Bureau) Philadelphia Union could become 1st MLS expansion team in the League's history to finish its 1st or 2nd season atop its conference."
Back to the post.
So, here we are.
No more games in hand are left, it is all down to the final game of the season.
When we started this series way back on September 29 following predictions PSP writer Eli Pearlman-Storch made on that week's edition of the KYW Philly Soccer Show podcast, the Union were in fourth place with 40 points, four points behind first place Kansas City. A draw, a win and one week later the Union were in second place and one point behind Kansas City. One week after that and the Union were in first place, two points ahead of Kansas City with 47 points and a weekend match against Toronto on the horizon.
Three points for sure out of that one, right?
Well, it didn't turn out that way and the Union finished their final home game of the regular season with a draw.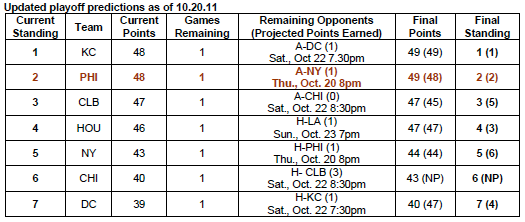 As was originally predicted (the predicted points gained, final points and final standings are the numbers in parentheses in the chart above), Kansas City topped New York at home last weekend and are now level on points with the Union. The tie-breaker for the playoffs starts with head-to-head record. With two draws in their meetings this season, the next tiebreaker is goal differential. With the Union and Kansas City sharing a goal difference of nine, the next tiebreaker is total goals. Here, Kansas City has an edge of five goals with 49 on the season compared to the Union's 35, never mind the fact that the Union (35) has allowed five fewer goals than Kansas City (40).
If the Union and Kansas City's final games go as originally predicted, both will end as draws, in which case the final Eastern Conference standings will remain the same as they are—as long as the Columbus and Houston games also finish as predicted. But, if the Union win tonight and DC United, who have flamed out spectacularly since the beginning of this series saw them predicted to finish fourth, manage to salvaged some dignity and hope for next season by defeating Kansas City on Saturday, first place is the Union's.
Breathing down the Union's neck are Columbus and Houston. Columbus was originally predicted to finish fifth but could overtake both the Union and Kansas City with a win on Saturday in Chicago, who themselves need a win to keep their playoff hopes alive and weren't even considered when this series began. If the Union and Kansas City both lose, Houston could also move past them with a win at home over LA on Sunday.
Frankly, the possible conference final standings and playoff seedings are so tongue twistingly complicated that I'll direct you to the MLS site for the latest playoff standings and possible scenarios.
Suffice it to say, if the Union win tonight, they will have done everything they could do to influence the winds of fate and, at the very least, guarantee themselves the second seed and a week off to prepare for the conference semifinals. If that doesn't happen, it's going to be a long weekend of watching the final scores from other games.