The Union may not have won last Saturday, but the Union family did.
Before the game against Portland, Philadelphia Union supporters gathered for a charity tailgate in support of Miles4MJ.
Kristina Whalen, mother of young MJ Whalen, said after the event, "The Sheanon Williams/Miles 4 MJ Charity Tailgate was the perfect example of what a group of people can do when they all work together. The Illegitmates, the Corner Creeps, Tammany Saints, the Bridge Crew, the Bearfight Brigade, the Sons of Ben, Barktees, friends and family—all joined together to raise awareness and money for a cure for neurofibromatosis. We had handcrafted pins and raffles. Kildares provided the food. The Beta Phase and Jamison entertained us. Sheanon Williams, Gabe Farfan, Mike Farfan, Amobi Okugo and Coach Nowak all came to meet fans and sign autographs. MJ loved leading the Sons of Ben march into the stadium. We had Bearfights but the real fight was for MJ and all those living with NF. I speak on behalf of all them and their families by saying that we can not thank you enough for your support."
Kildare's provided the delicious food.
The Beta Phase provided the first set of music for the day.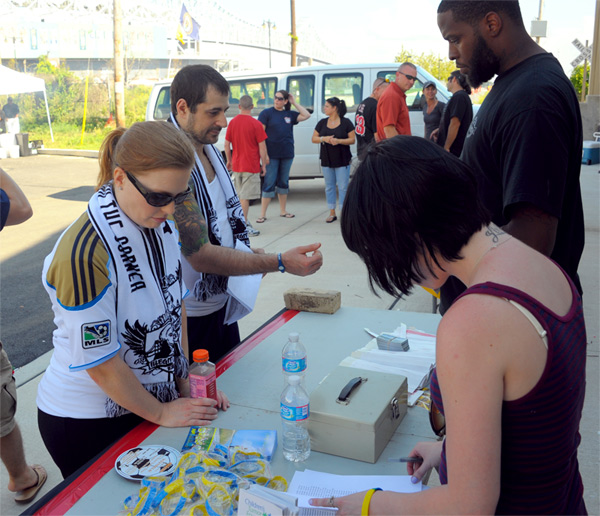 Volunteers get the tailgaters signed in.
1994 World Cup mascot Striker stopped by the party.
The calm before the chaos.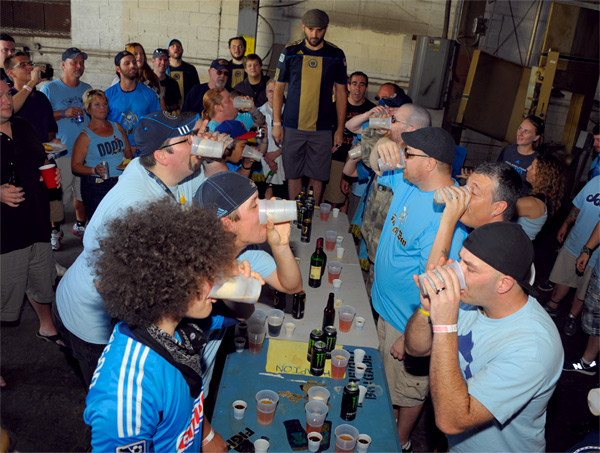 The world's largest Bearfight!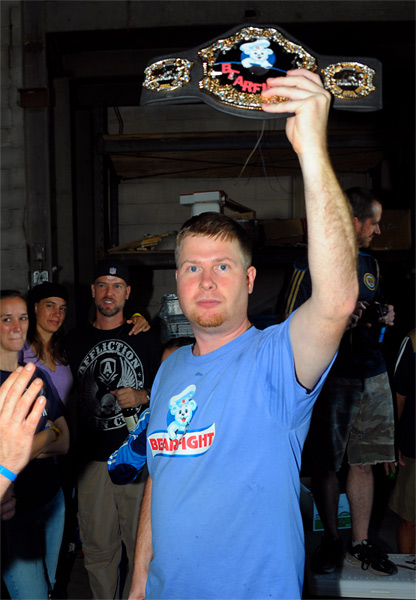 Bolton regains his championship.
The crowd hanging in the shade.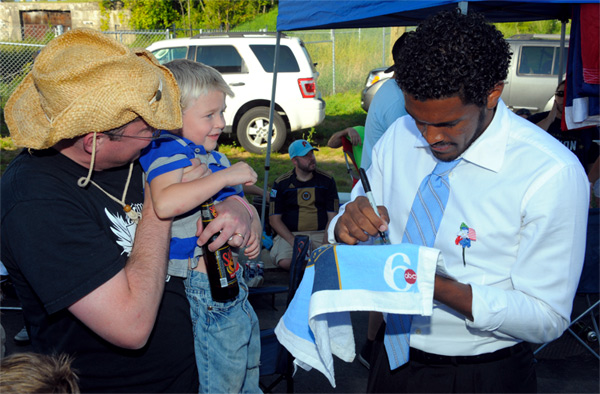 Sheanon Williams signs some autographs for fans.
Amobi Okugo hooks the fans up.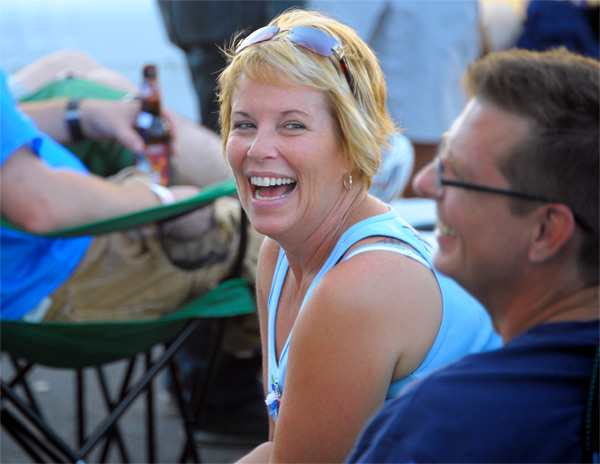 This picture sums up how good of a time everyone had.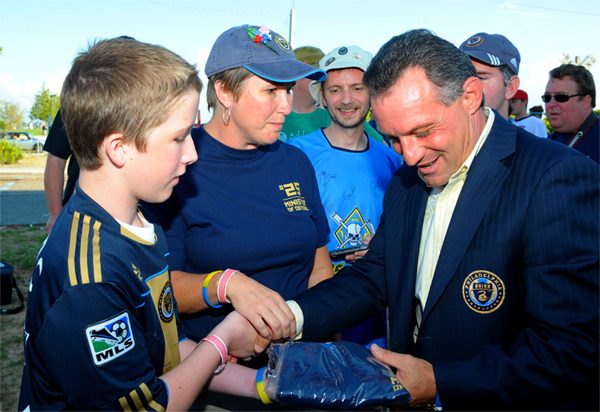 MJ presents Peter Nowak with a T-Shirt from the event.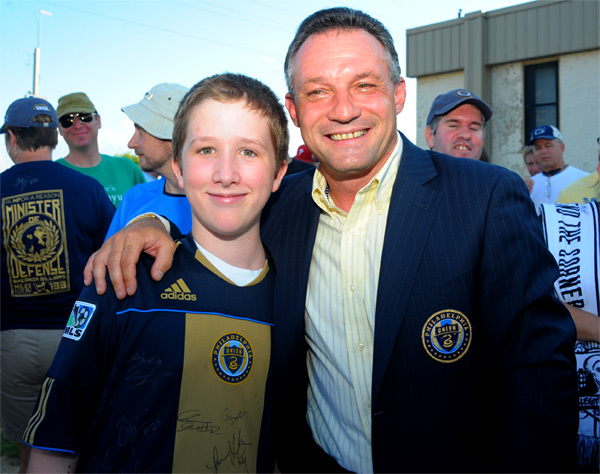 MJ & Peter Nowak.
Jamison brought their Irish flavor to the stage.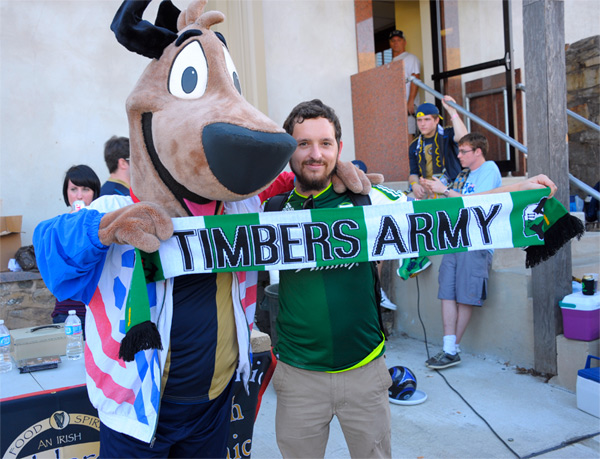 Timbers Army representing at the tailgate.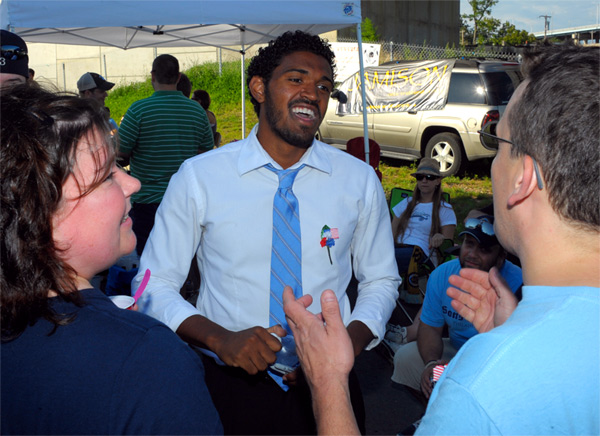 Sheanon Williams sharing some laughs with the fans.
Bearfight Brigade mascot Punchy the Bear shows the ladies of the Timbers Army a good time.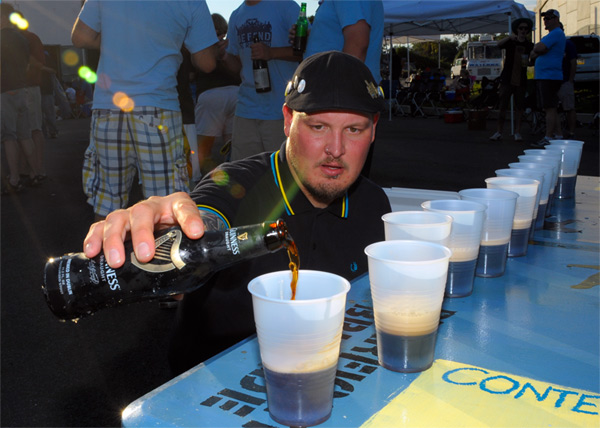 Retired Bearfighter Justin Lee readies the Bearfight Relay Race.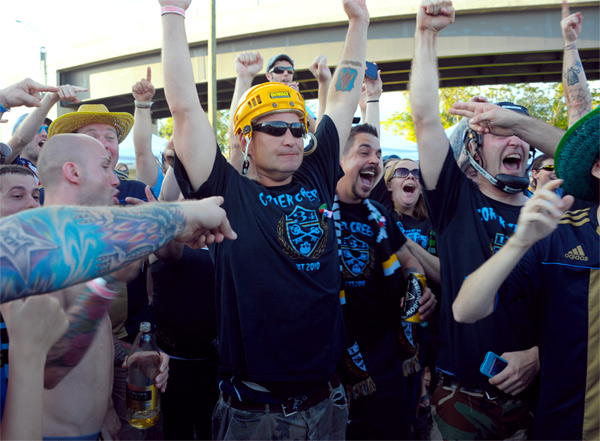 The Corner Creeps win the sudden death battle for the 1st Annual Bearfight Relay Race.
The Creeps celebrate their victory.
Jeffrey & Benjamin Franklin Mitchell of the Illegitimates enjoy the success of their charity tailgate.
One of the many cool items raffled of for charity.
For additional photos of the match, please check out Earl Gardner's Flickr page.
If you weren't able to attend the tailgate you can still show your support by purchasing an event t-shirt from Bark Tees. There are two designs to choose from and all proceeds go toward NF research.
For information on how to purchase the Minister of Defense shirt, click here. For the Unite shirt, which is a two-sided design, click here.
For more information about NF there is this from YouTube about the disease and this about those who are afflicted. For more on the Children's Tumor Foundation, click here.