(Photos: Michael C. Long)
After shaking off a right leg injury, first year Independence midfielder Sinead Farrelly put in her best performance of the season in the WPS Super Semifinal. Having gotten the best of magicJack and US National Team member Megan Rapinoe, the no. 2 pick in the 2011 WPS Draft has her sights set on claiming the league title in her first season. The PSP caught up with Havertown-native Farrelly on the bus ride up to Rochester where the team will have a couple of days to practice before Saturday's final.
Philly Soccer Page: First off, how's the leg feeling?
Sinead Farrelly: It's really good, one hundred percent as of now. I have to warm it up well but it's great and it's good to be back.
PSP: Talk about PPL Park. What was it like to play on the larger field and in that stadium?
SF: It was such a good environment. I haven't played in a stadium like that ever in my life, so there's a lot more pressure but it gives you more excitement and makes you more motivated. When you're playing in front of such a good crowd like that, that's the dream for athletes. The fact that we were able to win in front of all our fans just made the feeling even better.
PSP: Despite being the home team and the higher seed, did the star power of Abby Wambach and Megan Rapinoe make you feel like you'd been cast as the underdog?
SF: I feel like even after we won people were still saying magicJack had the better names, the better individuals, but soccer is such a team sport. I don't get why people are still talking about that, because maybe we don't have all the big names but we have such good chemistry as a team that the better team won.
PSP: What was it like to battle Megan Rapinoe for a full 90 minutes?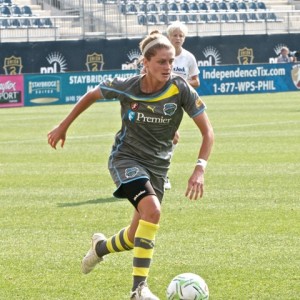 SF: She's such a good player, but I have my team to thank because we're all on the same page and we all have our individual roles but overall our team does what our team needs to do. Clearly, she is an amazing player, but I feel like I was just in the right mentality and my job was to not let her get anything off and I thought I did a good job.
PSP: Going forward, how do you get yourself mentally prepared for all the star power on Western New York?
SF: I feel like our team has been preparing for this all season and we've all played together. We all want this so much and think we are capable of winning. We are all in it one hundred percent for this one game and knowing that gives us the confidence to go out and play our best. Going into every practice last week, the tactical stuff, getting to know the personality of their team, we've played them three times, so everyone knows their individual roles and we have our team goal.
PSP: Jen Buczkowski won the title in 2009, Nicole Barnhart won it in 2010 and the Independence played in the final last year. Do you ask your teammates about the experience and what to expect or are you ready to go?
SF: Last year they did it, but it's a different team. Even though I haven't played in a game like that, it's a new year and comparing it to last year wouldn't be fair and wouldn't help me out personally. You have to treat it like any other game—clearly it is more important because it's a final—but you have to take the pressure off yourself and say that at the end of the day this is just one more game.
PSP: Tactically, do you take the approach that the best defense is a good offense and attack them or do you try to control them and work from the back?
SF: I think it goes both ways because our formation, maybe we seem more defensive, but on the counter we're really good. Our job is to, if we win it in the midfield and control it there—we can create opportunities and go on to win the game. Our back four is going to stay the same, they know what they need to do, so our job as midfielders and forwards is to create chances and put them away. We just have to pick and choose when to go forward, because we know that they're strong offensively. But so are we; we know that they're worried about us too. There's more pressure on them playing at home—they have the big names, they're expected to win. We have the underdog feeling, so I feel the tactical part is important, but it's more about reading the game. Once you're in the game you have to figure it out, because you can say whatever you want before the game, but anything can happen.
PSP: Talk a little about Vero and how she's taken the WPS by storm. What have you learned from her? What is it like to play along side her and how do you play off of each other?
SF: She reads the game so well. We do what we can to keep her open. It's as if we say, "you're so good on offense that we'll worry about the other stuff and just get you the ball so you can create." And she's been so good at that. Playing with a player like that, she makes you so much better. So its good for me, especially being a midfielder, as well. If you're making a run, she'll get it to your feet, she makes you more confident as a player.
PSP: Feet to the fire, who's winning on Saturday and what's the score?
SF: We're definitely winning. I'm going to go with 2-1.