Photo: Paul Rudderow
Union
Alejandro Moreno discusses the Philly Soccer Show.
Southampton, Pa. native, La Salle product, Atlantic 10 Offensive Player of the Year and Student-Athlete of the Year and No. 5 overall pick in the MLS Supplemental Draft Ryan Richter says, "It's so perfect to be with the Union. It's almost so great that I have to stop and pinch myself. To stay home and play in front of my family and friends is every kid's dream. I'm living a dream. I know now that I have work to do. I'm thrilled to be in this situation."
Stefani Miglioranzi says, "It's going to be really tough to get that spot this year, and when you do, you have to fight to keep it. I think that's what drives the better teams forward, when they have deep rosters."
Using quotes from the recent piece on the Union website, the Mexican website Récord serves notice that Michael Orozco Fiscal means to stay in Philly. You can read a crappy translation here.
MLS
As Jonathan Tannenwald noted this morning on Twitter, it was a year ago today that MLS released the 2010 league schedule. Instead, the only major announcement from the league this week was that Red Bull Arena is hosting the All-Star game. Big f'ing whoop-tee-do. Looks like the schedule won't be released until next week.
Fewer than 1,000 season tickets remain available after the Portland Timbers pass the 11,000 tickets sold mark. They have also sold all of their club suites.
Toronto FC played Partizan Belgrade to a 1-1 draw in Turkey on Wednesday.
After losing to Vancouver in a meaningless friendly on Tuesday, this columnist argues that Real Salt Lake needs to shift its focus away from the CONCACAF Champions League because most RSL fans care more about how the team performs in MLS.
The DC United blogger at the Washington Post says that bringing in Charlie Davies is a gamble worth taking.
LA Galaxy are not concerned about the absence of David Beckham. That's interesting, because I would argue most people are increasingly not concerned about his presence, either.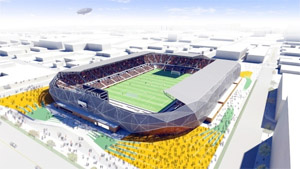 The Houston City Council has cleared the way for construction to begin on a new stadium for the Dynamo.
Los Angeles Memorial Coliseum commissioners are considering demolishing the aging Los Angeles Sports Arena and replacing it with a 22,000 seat soccer stadium.
Those Nicolas Anelke to MLS rumors are starting up again after French sports newspaper L'Equipe reports interest from the Energy Drinks.
US
A week after completing his move to Nottingham Forrest, Robbie Findley suffers a thigh injury in training that could see him out of action for three months.
The USWNT training camp opens in Ft. Lauderdale today ahead of the upcoming Algarve Cup tournament in Portugal. From the Philadelphia Independence, newcomer Sinead Farrelly joins national team veterans Lori Lindsey, Megan Rapinoe and Amy Rodriguez among the 32 players who have been called up. The final roster for the tournament will be whittled down to 18 players.
The Feds are cracking down on websites that provide unauthorized access to live streams of sports. Yesterday they seized the web addresses of ten websites.
Elsewhere
After twenty years at Manchester United, Gary Neville has announced his retirement. I never liked him.
It costs a lot in Britain for pubs and other venues to subscribe to British channels that broadcast Premiership games, so some have started to subscribe to non UK-based broadcasters as a cheaper alternative. Unsurprisingly, Sky Sports and the Premiership are not amused and they went after one pub owner who subscribes to a Greek broadcaster, arguing that showing the Greek transmission of Premiership matches is a violation of UK copyright law. The Advocate General of the European Court of Justice disagrees, arguing that territorial broadcast exclusivity laws are in violation of EU laws.. A ruling is expected later this year.
Here's an interesting piece on how soccer leads the use of sport teams of social media.
When good times turn bad: Goalkeeper Saulo scores the 90th minute game winner with a wonderful header for Sporting Recife over Vitoria in Brazil only to tear his ACL in the ensuing celebration.