With Christmas fast approaching maybe you're struggling to find that special gift for your favorite Philly soccer fan. Here are some ideas that range in price from the ridiculously expensive to the ridiculously affordable. None of the prices listed include the cost of shipping, which is sure to get more expensive if you don't stop procrastinating and start buying soon. With that in mind, let's go shopping.
Deck the Halls with boughs of cheesy
Not feeling up to the task of buying presents? Why not kick-start your Christmas cheer with a few decorative items?
Soccer may not yet be considered a legitimate sport by your Uncle Stan,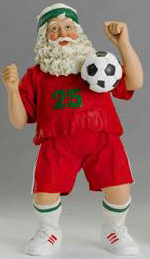 Perhaps your Christmas decoration tastes run along more sculptural lines? No problem! Christmas Treasures offers two Soccer Santa sculptures by the renowned (to somebody) Kurt S. Adler that soar in height from an impressive 9 inches to a towering 11 inches tall. Prices range from $39 for the one of Santa chesting a ball to $44 for the one called "Santa Shoots…GOAL!" Needless to say, both are ho, ho, ho-lariously awesome. If I didn't live in a third floor loft, I'd have both of them in my front window right now, flanking my illuminated-lady's- leg-wearing-stockings lamp like the one in A Christmas Story. I love that movie.
If you've got that kind of dough…
If you're shopping for that special Philly soccer fanatic and you've really got the dough, you can't go wrong with the New Year's Eve Extravaganza from XL Tours? For only $1,499, you get five nights accommodation plus tickets to Tottenham v Newcastle and West Ham v Wolves. I know what you're thinking, "West Ham v Wolves? That's incredible!" I hear you, but it get's better! For an additional $300 your soccer fanatic can see a real match with the likes of Chelsea v Bolton. Keep in mind, airfare is not included and a "Group Meal & Celebrations In Central London To Welcome In The New Year" will cost you another $200. But, if you've got that kind of dough, what do you care?
If you don't…
If you don't have several thousands of dollars with which to blow the mind of that certain soccer someone you can buy the Union's 2011 Opening Day Holiday Pack for only $135. The package includes four tickets and one scarf. Think of it, you can give the tickets to your favorite Philly soccer fan and keep the scarf for yourself as a reward for giving such a fantastic present! Parking isn't included in the package, but if that special someone parks in Lot A and finds the 700 FC VW micro bus and is real nice, I'll probably give them one of our kielbasa with kraut. Very delicious. Don't even think about our beer.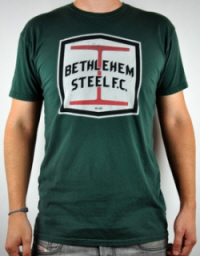 The Independence is also spreading the holiday cheer with their Yes, I have a soccer crush on her. Once you see her play, you will too.
If you like to wear your Philly soccer love and price is no object…
The Union and the Independence have only been around for a year, but Philly's soccer history is among the oldest and richest in the country. Bethlehem Steel FC, the most successful team of the first quarter of the Twentieth Century came from these parts. For $34, you can celebrate your local soccer heritage with a high quality
Moving forward to the last quarter of the Twentieth Century, the English retro kit company Toffs has two different Philadelphia Fury jerseys to choose from. The 1970s jersey costs $47.58 while the 1980 jersey costs $55.98. Both are beautifully ugly examples of why we need never speak of late 1970s-early 1980s kit design again and might also help to explain why the Fury were so terrible.
While you're wondering how long it will be until Toffs releases a retro Philadelphia Atoms jersey, take a look at their replica of the 1950 USA jersey for $48.98, the one Philadelphia native Walt Bahr wore along with Philadelphia Nationals teammate Ed McIlvenny when they beat England in the greatest upset in World Cup history. I wore mine to the USA v Turkey match last May and, yes, I was the coolest person in the stadium.
Of course, the Union store has lots of jerseys to chose from including an authentic Shavar Thomas jersey for a mere $116.99. His single appearance for the club was really something! When it comes to buying a contemporary team jersey it is important to remember that, aside from the materials used to make the jersey, "authentic" means "for the wearer who is cut like an athlete" while "replica" means "everybody else."
How about some less expensive options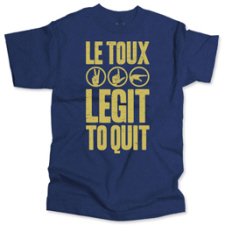 There are plenty of more affordable options out there to choose from, especially if you love Sebastien Le Toux. And if you're a Union supporter, who doesn't? Who Are Ya—you know them from their ads on FSC featuring that "gor' blimey, guvner" kind of English accent voice over–has a splendid
For some inexplicable reason, the Day Man song seems have been shot down by the River End. Never fear, you can show your love of pop culture Union tie-ins with an "It's Always Seba in Philadelphia" t-shirt for $20 from local SB Nation blog affiliate The Brotherly Game.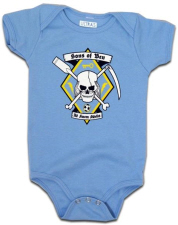 Speaking of the River End, the Sons of Ben store at Objectivo.com is positively brimming with cool tees, hoodies and thermals, including their own Le Toux and Love Sculpture inspired shirts. The Jolly Franklin Infant Tee and Onesie for $24.00 is perfect for those wee lads and lasses who are so young they don't even know they support the Union yet. The item's description exclaims, it's for "the next generation Doopers!", which is kind of funny because it's for infants and "Doopers" rhymes with "poopers."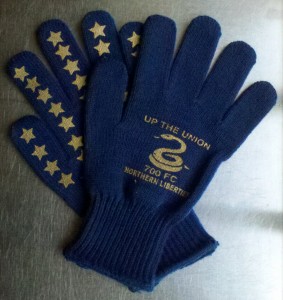 Long time readers of the PSP will know that this writer works at the 700, a bar in Northern Liberties that proudly supports the Union. Available now at the bar–in addition to a fine selection of reasonably priced beer and liquor as well as whatever soccer game is on the schedule, of course–are "Up The Union!" knit gloves on sale for only $10. The gloves feature the 700 FC "Up The Union" logo on the top so you can show your Union support on the coldest of days. The palms are printed with stars that will give the wearer just enough grip to comfortably take a throw-in or grip a cold one when the MLS season opens in chilly March.
Just in time for the last minute shopper (hopefully), the 700 will have available (hopefully) next week (call ahead to make sure they've arrived) "Union Yes" t-shirts, on sale for $15. The design references the classic labor union logo while featuring the crest of "Local 700 FC," all of which is simply part of a nefarious plot to get Union supporters groups to start calling themselves "Union locals" rather than "Union supporters groups."
What better way for your Philly soccer fan to show her Union pride!
For the media consumer
Unfortunately, when it comes to things like books and movies, there's not a lot to pick from for Philly soccer fan. One thing that does come to mind is the book some essential books for the Philly soccer fan. If those books are a little too serious for your certain someone, check out the post I wrote about four laugh-out-loud soccer books.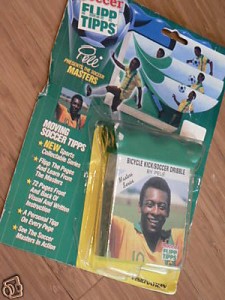 For a book that actually involves moving pictures—unbelievable, I know, but true—Bicycle Kick/Soccer Dribble by Pele, published by Flipp Tipps, is available for $15. Bicycle Kick/Soccer Dribble by Pele is a flip book—it's a series of photographs you flip through to create an animation effect. Flip the book in one direction and you can watch Pele dribble through a bunch of NASL stiffs. Flip the book the other way and you can watch Pele do a bicycle kick against a bunch of NASL stiffs. While the flip book has nothing to do with Philadelphia, it is, as surely must be obvious, completely awesome. The website above only has one copy so you better move fast if you want it. My copy came from a friend who bought it during a recent visit to the American Visionary Art Museum in Baltimore at the museum's gift shop. So, if you happen to be in the Baltimore…
For movies, you can always please with DVDs like Victory, Fever Pitch, Shaolin Soccer, Once In A Lifetime or The Miracle Match (aka The Game of their Lives), the last of which actually involves Philadelphia in that it is the story of the USA v England match in the 1950 World Cup. Otherwise, three excellent soccer films came out on DVD in 2010, one of them a documentary, one a sort of psycho-docudrama and the other, well, a Ken Loach film. Every soccer fan should see The Two Escobars, if only to be reminded of how far events on the pitch can reach into life (and death) off the pitch. The Damned United tells the story of why legendary English manager Brian Clough had such a bug up his ass when he self-destructed as manager of Leeds United. Looking for Eric tells the story of a postman in some dire straits who is aided by visions of Manchester United great Eric Cantona.
Hopefully, you are now well equipped with some gift ideas for the Philly soccer fan on your holiday gift list. If your holiday gift list doesn't include any Philly soccer fans, why not gift yourself? You'll appreciate the gesture. Happy holidays.