I love reading about soccer. There are team histories, histories of the game (my personal favorite), statistical almanacs, encyclopedias, coaching guides, photo books and a gazillion, mostly ghostwritten, memoirs, not to mention scores of magazines and countless websites and blogs. While the majority of these reads probably originate in Britain – the printed ones, anyway – this is slowly changing.
Finding fiction about soccer, other than books intended for the juvenile audience, can be pretty tough. Soccer fiction by American authors is, so far as I've been able to discover, an empty field. So when it comes to funny soccer fiction books the only examples I know are from British authors. Here are some suggestions, three of which are fiction, if you are in the mood for a good laugh.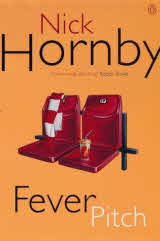 Let's begin with the obvious. Although it is a memoir and not a work of fiction, it was written by one of the more successful English novelists of the past twenty years at the beginning of his career: Nick Hornby's Fever Pitch.
When it was published in 1992, football in England was just beginning to emerge from an all time low. Hooliganism, decrepit stadiums, stadium tragedies, a ban on English teams playing in Europe were all taking a toll on the game in England.
Fever Pitch played no small part in the rejuvenation of the English game to its present high, helping to take the game from the yobs and giving it to the lads. The book is equally funny, ridiculous and informative in its laying bare of the soul of an obsessive Arsenal fan. To be honest, the book is about much more than being obsessed with football. It's also about being a depressive, scrappy underachiever, which sounds an awful lot like Arsenal from the early 1970s through the early 1990s.
Still, the book is funny. The story I always remember is one from Hornby's childhood. Growing up in Maidenhead in the Thames Valley far away, at least in football terms from North London, he should have been a Reading supporter but Arsenal was his team. Having gotten tickets for an Arsenal FA Cup tie at Reading locally, Hornby is stuck with the Reading supporters so he pretends to be from London.
Surrounded by a family of nice Reading supporters, his fake cockney accent gradually disappears, his elaborate fantasy stories of life in the city and the dangers of London schools begin to unravel and the Reading supporters soon call his bluff. Not only does the dad fondly ruffle his hair, Arsenal doesn't even have the decency to slaughter Reading, only winning 2-1. Oh, if only one could live in a suburban town with "its own tube station and West Indian Community and terrible, insoluble social problems," just like in North London. It's a funny story that's also about wanting to be something other than what you are. And who hasn't felt that, especially as a young teenager.
From the obvious, let us now turn to what is probably my all-time favorite soccer book, J.L. Carr's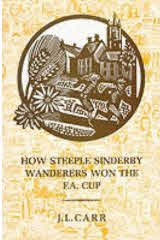 read a little during lulls. When I read this book at work people would ask me if I was all right because I couldn't stop hysterically laughing. It is truly 150 pages of laugh out loud funny.
The book tells the improbable tale of how a village team, "the side from the back end of Nowhere," manages to advance through the FA Cup to the final at Wembley. Here's a bit of the funny, from a newspaper account describing a Wanderers away victory over Leeds:
. . . Black Prince sadly reports that, in his humble opinion, this master counter-stroke was plotted some years ago by William the Conqueror playing away at Hastings and urges the Leeds side to sign up at night school this coming spring. And now, by popular demand of our readers, I shall be reporting all future cup-ties of this astonishing amateur side. But take heed; when I say 'amateur' don't mistake me – I mean 'very professional, very unpaid.'
If you enjoy dry wit and think you might have a taste for a soccer novel that is also a hilarious tale of English village life, this is the book for you. Just writing about it makes me want to read it again. I want to take over PBS just so I can green-light a mini series based on the book.
The last two novels make no claims to literary achievement; they are just quick and funny reads, the sort of thing that is perfect in an airport or on a beach (and wouldn't that be a nicer place to be than Philadelphia in February?).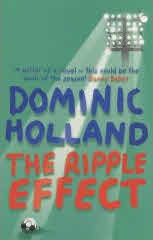 Sunday pub side, and mistakenly gives him the job. The FA, the press and Ron Atkinson are not amused and the funny begins. The description of the match against Germany at Wembley, with England being represented by pub players, is particularly rich.
Dominic Holland's The Ripple Effect describes the chain of events that happens when profit hungry developers try to scoop up a local football ground. The local baker, Bill Baxter, is none too pleased and vents his anger by not putting jam in a batch of donuts, thus setting off a chain of events that "threatens to swamp the entire nation, leaving careers ruined, fortunes won and Parliament in turmoil." The book ends with a relegation match that is both funny and moving. It's really just a nice little feel good book and nothing's wrong with that.
If you've read a funny soccer book, fiction or not, post a comment. I'm always looking for a good read.