Photo by Marjorie Elzy
Good teams have identities.
Philadelphia sports history is full of them: the Buddy Ryan Eagles or the Super Bowl-winning Underdogs, the Phillies's Cardiac Kids or Macho Row, the Broad Street Bullies. These teams are who they are, and win or lose on these identities. The Philadelphia Union are built in this mold, a team with a clear and defined identity, for better or worse.
On Sunday night in Chester, the Union were who fans thought they were: a tough defending team with issues at striker, but one with a goal keeper to make any other mistakes forgotten.
Defense wins championships
One of the stoutest in America in 2021, how good was the Union's defense Sunday night?
They couldn't muster a clean sheet this time, but essentially forced Nashville to play on three quarters of the Subaru Park pitch Sunday by making the space in front of goal (and nearly thirty yards out from there) a no-man's land for yellow-shirted attackers.
Now, Nashville was content for most of the match – especially after finding the opening goal, on one of the few occasions they flooded the box with attackers – to sit back and force the Union to make a mistake. They were also fairly concentrated on Kai Wagner and forcing him to defend instead of attack (did the left back have a single key pass on the night? He did not, and only connected on one of nine crosses). However, any time a great defense can force one of the top strikers in the league into taking only one decent chance (a chance he finished, mind you), that's a commendable outing.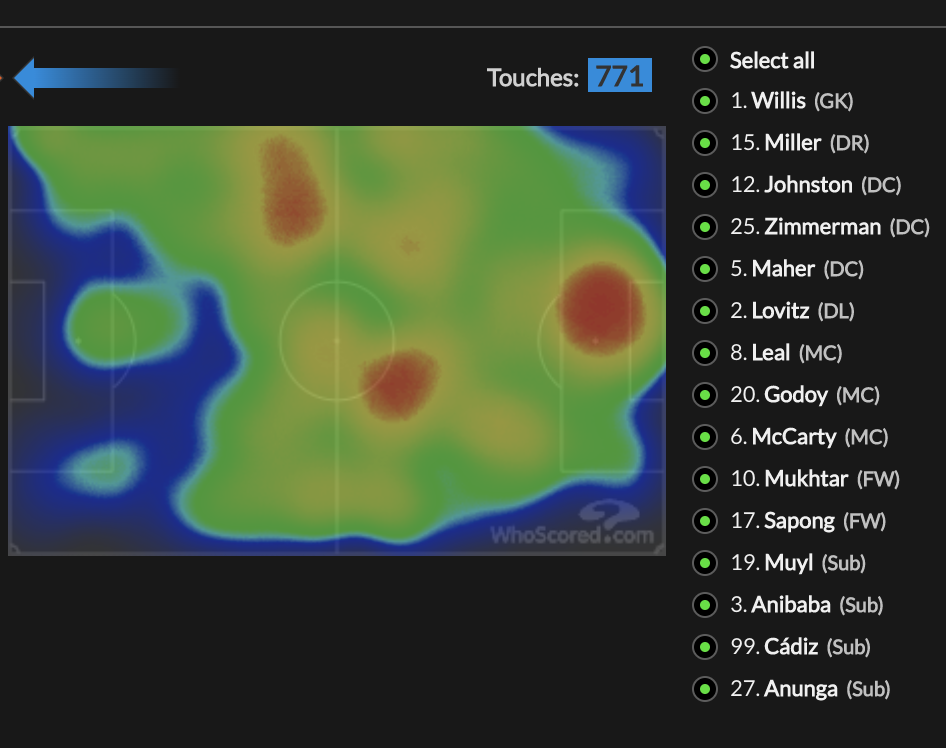 Goals win games
Given Real Salt Lake's victory over Seattle a few days ago, a game in which they attempted exactly zero shots, perhaps this is hyperbolic: a team must score in order to win. Scoring goals hasn't been the team's primary identity this season, having the 5th fewest tallies among league-wide playoff teams.
The Union certainly had their chances on Sunday, with Daniel Gazdag getting the lone goal as well as the team's second-best xG chance – the goal off a corner kick that was waved off when Sergio Santos obstructed the Nashville goal keeper. Speaking of Santos, the other four tall, gold lines in the chart below represent some of his missed opportunities, including his wayward chip after just coming on in the 62nd minute, as well as his chances in the 75th, the 90th, the 102nd, 106th, and 117th minutes.
g+ GameFlow: MLS Playoffs @PhilaUnion v @NashvilleSC on November 28, 2021. #DOOP #EveryoneN #TodosUnidos #PHIvNSH pic.twitter.com/7KRTZcNPtp

— GameFlow (@GameFlowxPG) November 29, 2021
In all, no one on the Union looked like scoring. Santos especially had this look about him, despite his solid effort in stretching the Nashville line. No matter who the opponent is next round, someone will need to be the proverbial star at the top of the team's Christmas Tree (formation).
Given what Andre Blake is capable of however, maybe the team actually don't need to score to win.
Andre Blake is a brick wall
Sometimes fans forget that a team of eleven soccer players includes a goal keeper – that each player can win or lose a team a game at any moment, and each one has real value in that equation. And yet, though there are a handful of famous net-minders, often the stars of the league are the fancy dribblers, the exquisite passers, or the highlight-reel goal scorers.
When a keeper saves the game, it's often listed as a qualifier for why the losing team should have actually taken the points.
"They would've won if it weren't for…"
Though that's a correct statement, when it comes to Andre Blake, the counter is in fact that "they didn't win because of…"
Andre Blake is a guaranteed Ring of Honor inductee in Chester, a top draft pick whose professional development has been nearly as linear as the team he leads – with two Goalkeeper of the Year awards to his name and a better year in 2021 than his award-winning 2020. Blake's mere existence and the reputation that precedes him forced Nashville's penalty takers to so see the goal as tiny corners into which the ball needed to be perfectly slotted instead of the gaping void that it often is under the same scenario and another keeper.
One could argue the reason the Union beat Red Bull two weeks ago is because of Blake and his saves as much as his influence on New York's two big missed chances. One can't argue about the Jamaican being responsible for this past weekend's finish.
As comedian Mitch Hedburg once said about tennis, though is related to soccer in this scenario:
"The depressing thing about tennis is that, no matter how good I get, I'll never be as good as a [brick] wall."
When Walker Zimmerman missed his team's fourth and final kick, that feeling was written all over his face.