The ball is round. The place is Philly.
Daily news roundups
Posted by Sean Griswold on October 25, 2021 at 10:47 am
Author: Sean Griswold
Sean is a recent graduate of West Virginia University, who is starting a full time job in DC in September. A former runner, he now spends his free time watching soccer. Wolfsburg and Southampton FC fan as well as the Union, so 2 of those 3 are yearly disappointments. For bad sports tweets and Union Win it Wednesday contests follow @Grisly_Bear5 on Twitter.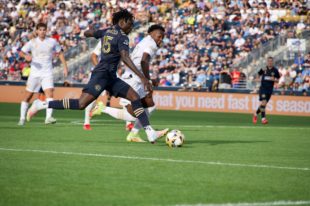 Union highlights: Bedoya claims the Supporters' Shield for Union
Union captain Alejandro Bedoya speaks to fans as the Union claim the Supporters' Shield on Sunday.
Press conference: Jim Curtin
Union head coach Jim Curtin speaks with reporters after the Union's 2-0 victory over New England to claim the Supporters' Shield.