Photo by Marjorie Elzy
The Cliff of Union Despair is never more than a game away, a wild and windy edge over which happiness is blown. This sacred place of serpentine sadness is born again and an infinite number of times over after that from the errant touches and just-wide finishes of Philadelphia soccer players. No amount of success or distance can keep the Cliff away, and on Saturday night, said precipice reemerged through two known harbingers of Negadelphian doom:
The Death Cross, called forth by Olivier Mbaizo, and The Oscillator, summoned by Brenden Aaronson.
The death cross
In finance, a "Death Cross" is when an investment's short term average price drops below its long term average price. It's called the "Death Cross" because bad things happen after this moment (or so market technicians say). In soccer, the variation emerges when a team's short passing plans don't create enough opportunities for the team so they resort to long balls to try and compensate.
Bad things happen to soccer teams after this moment too.
The Union were bossed around the pitch on Saturday, finding very little in the way of assertive possession in close quarters. As a result, they resorted to long balls (not the worst thing, though not great) and aimless crosses (actually the worst thing in soccer, statistically).
Only four Union players attempted a cross on the night (chart above): one each for Anthony Fontana and Ilsinho, two for Matt Real,… and eight for Olivier Mbaizo.
This is troublesome for two reasons: the first is the one mentioned above, that crosses are generally bad for an attacking team. The second is that when this statistic manifests itself in a match, in that the team with the ball tries a cross and much more often than not turns the ball over, AND that cross comes off the foot of the team's right back (a feature of the Union's system, not a bug), the ensuing counterattack begins with a man advantage because said wing back is three quarters of the way up the pitch.
When the case is made that the Cameroonian offers more going forward than the man whose seat he's keeping warm, Ray Gaddis, as thus his attempts to contribute to the offense are worth the defense risk, this vacant chart of the backup's successful dribbles, goals, shots, key passes, and assists from Saturday should squash that argument once and for all.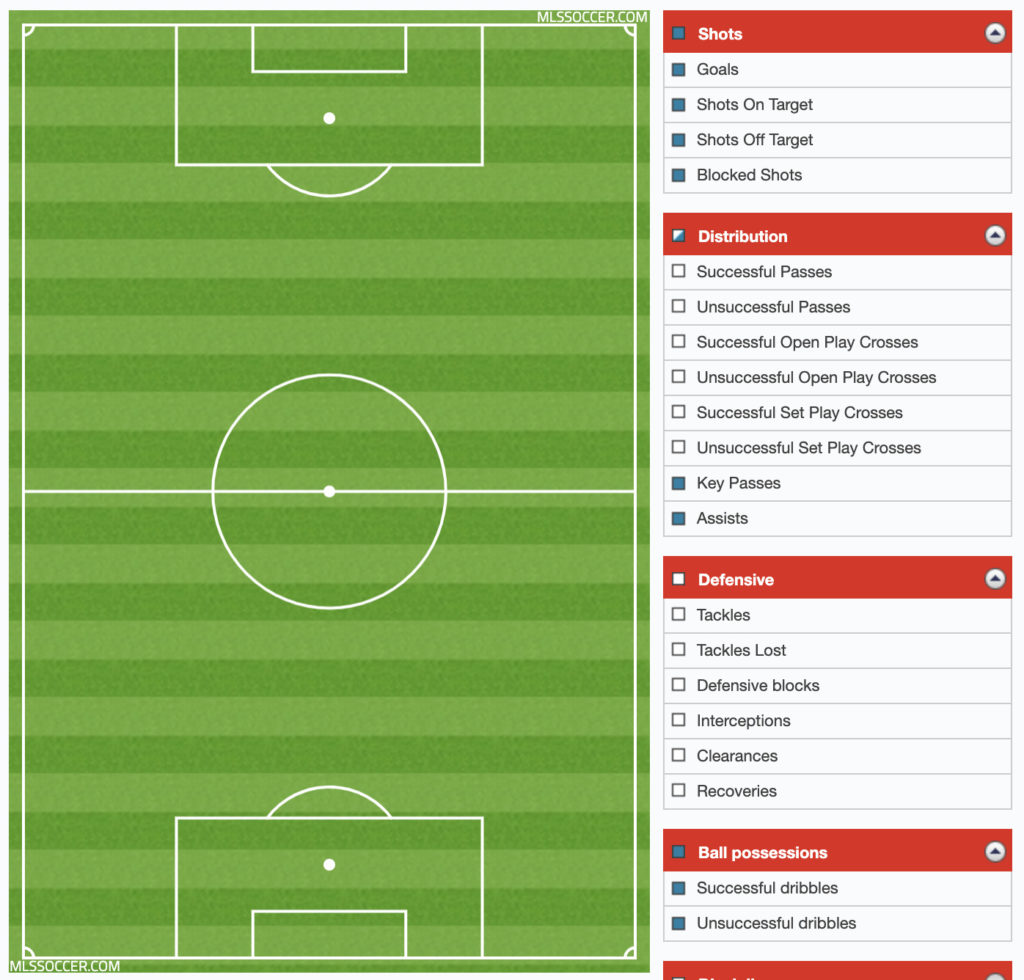 The Union are built on defense, not offensive contributions from defenders.
The problem? Though the team were endlessly bunkered Saturday, on Toronto's first goal more than a few Union players are to blame for defensive deficiencies. They are, in order from front to back:
The front line for not putting any real pressure on Marco Delgado, who dropped between his center backs to alleviate said stressors to set up something precisely like this opportunity. There's no point in having five players in the opposition's half if none of them are going to attack the ball.
Alejandro Bedoya and his fellow midfielders, for getting caught ball-watching while an overlapping runner snuck in behind them. Though the cues are different in a pressing team like the Union, the general rule is that if an opposing player has enough time to pick his head up, a defender ought to be taking a step or two backward in anticipation of a ball over the top.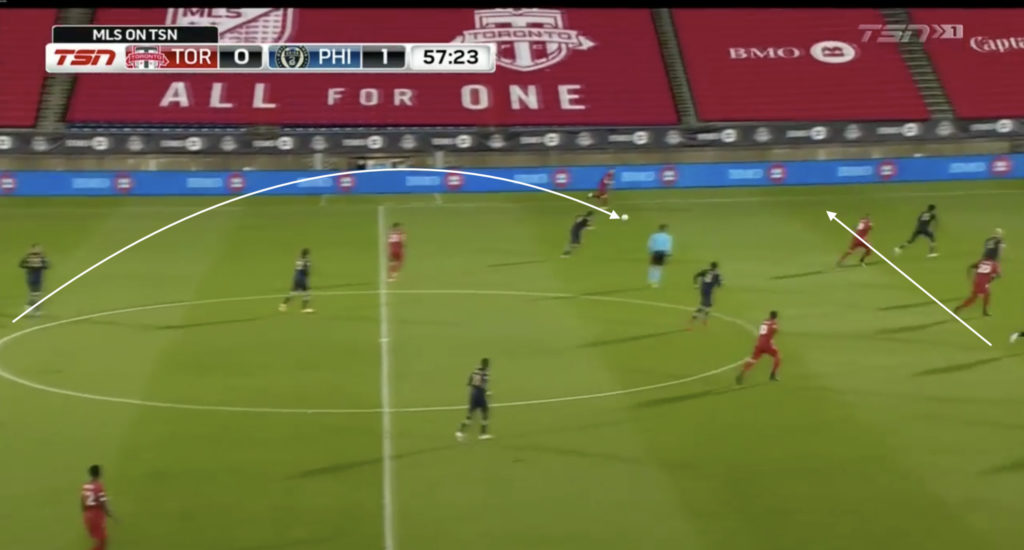 The back line, led by Mbaizo, who were slow to react to the long ball and, when they finally did react, uncommitted in their positional rotation. This allowed both space for the cross and free lanes through which Toronto attackers could run on to the end of the ball. One Toronto pass skipped two full Union lines, and the team were in trouble, facing their own goal, and ultimately paying the price.
There's a reason why Ray Gaddis keeps his place above more talented attacking players, even in a system where full backs have to be able to attack: it's called defense.
The Oscillator
In theory, to profit in the short term on things that fluctuate regularly in price, one needs to know enough about that price in every instant to take advantage of the relative highs and lows. By establishing a range within which this can achieved, or by identifying the rate and length of the oscillations, one could take somewhat predictable profits in the highs before waiting to find similarly predictable value in the lows.
On Saturday, in the team's biggest game of the season, Brenden Aaronson had one of his least impactful outings.
The team's creative engine, as called by Toronto FC coach Greg Vanney, was nearly non-existent against The Reds. One key pass, one tackle, no successful dribbles or interceptions, no assists or goals, a paltry 22 touches on the night (compared with 65, 57, and 54 respectively by his other starting midfield mates), and the first player subbed out of the match isn't enough from any team's number ten.
Yes, youth development is uneven in such a way that in the same week Aaronson can put a nail in the Inter Miami coffin he can also find his picture on the back of a milk carton in Connecticut. However, for the team to find its 5th gear, something just about every commentator mentioned after the game was lacking, Aaronson will have to find his own first.
Toronto in first place in the East, at least for the moment. TFC 7-2-1 since MLS is Back. Wins over East contenders Columbus and Philadelphia in their last two matches. Feels like they have a gear that the other East teams simply don't possess. Again.

— Sam Stejskal (@samstejskal) October 4, 2020
This is not a knock on the Union, who are good and fun. But TFC have been to 3 of the last 4 MLS Cups for a reason. They've lost 3 of their last 25 (or so) regular-season games for a reason.

— Matthew Doyle (@MattDoyle76) October 4, 2020
In the world of oscillations however, defining a low is a good thing. It means when an investment hits that number, it's time to buy. The Union brass certainly believe Aaronson is a good investment, and allegedly their Austrian counterparts agree.
Expect more from the young man on Wednesday.
Final thoughts
Matt Real doesn't get a pass for the night either, his stat line is as cringe-worthy as Mbaizo's.
Matt Real tonight:

64 touches
1 chance created
4 clearances
1 interception
1 block

26/42 passing
0/3 crosses
3/9 long balls

Not great, as the saying goes.

— Jonathan Tannenwald (@thegoalkeeper) October 4, 2020
Where they both seem to be lacking is that they're eager to get up field and contribute to the offense, but not confident enough with the ball to do so meaningfully: rather than keep the ball moving, either in quick passes or assertive touches, both players step on it when they receive it.
Go watch the game again, it happens nearly every time they receive the ball and it's a movement killer.
That is actually part of the reason why the Union are still good instead of being great: confidence. The best teams in the league aren't nearly as troubled by the Union press as those below them, and are substantially better at negating the Boys in Blue's possession when they're fortunate enough to have it. When the good guys take their chances, like they did against Sporting Kansas City in Orlando or Miami over the weekend, these deficiencies go away because the Union score enough to make it so and look like the world-beaters they can be.
When they don't, the outcome looks a lot like the team's losses in Columbus or Connecticut: clear opportunities not taken, and an otherwise listless outing that awakens the ghosts of Cliffsmas's past.