Photo by Paul Rudderow
Union fans remember the Ilsinho Game (this author certainly does… sort of).
They remember the Kleberson Game too (a free kick to win it at the death), and maybe the Barnetta game (another free kick, same shot, same spot), the Sapong game (a hat trick against Red Bulls), or others.
Now fans will have to add to their respective annals and make room for…
The Fontana Game (which is, as far as this author is concerned, not a novel by Clive Cussler. Yet.).
Opportunity comes once in a lifetime
Sometimes opportunity knocks.
In Chester, opportunity might come in the form of some kind, polite, but persistent knocking. The kind of knocking that Ray Gaddis has done to make sure the door to the team's right back position remains open, better every year and better, year after year, than all other comers.
Or the knock might come in the form of a rhythmic series of percussive raps, a samba that keeps dancing its way through defender after defender, a veritable conga line of carnage di calcio (yes, the author realizes that all of these words have Italian origins and not Portugese or Brazilian ones. Alliteration is alliteration). Ilsinho keeps finding the field with the Union, formation or playing style be darned, because anything is possible with the ball at his feet.
On Saturday, a young, chiseled, slightly cocky young man from Delaware didn't knock on the door of opportunity at all: he'd tried that before, scoring on his debut before being unceremoniously benched in favor of a mercenary from Czechia by way of China. In 2020, fewer than a full match's worth of playing time all season didn't afford anyone the privilege of soft persistence or elated exuberance.
No, on Saturday night, Anthony Fontana kicked down the door of opportunity, smashed to smithereens on the banks of the mighty Delaware River.
Positions? We don't need no stinking positions.
Fontana entered the game for forward Andrew Wooten in the 65th minute (likely only because nearly a third of the team's roster was out injured or in international purgatory). While that might seem like an imperfect switch, a forward swapping for a midfielder without an obvious change in formation or change in position, it actually made a lot of sense.
You see, Wooten plays a lot more like a midfielder than he does a forward sometimes.
Matt Doyle had this to say about it: "For Philly it was another game of forward Andrew Wooten dropping off the front line and sacrificing touches in the box in order to facilitate Brenden Aaronson's through-the-lines play," while Jonathan Tannenwald and someone called "All 3 Points" (sounds handsome, to be honest) offered this lively exchange.
https://twitter.com/all3points/status/1305244068981682177?s=20
Author's note: That All 3 Points only garnered a single "like" for this post is among Twitter's largest indignities.
Wooten has a knack for going to find a touch, no matter where that touch finds him on the field. His teammates probably appreciate this work rate, as two players who can add a third to form a triangle are suddenly very difficult to break down in possession (and the Union were certainly that, even well before they were up a man), while a fourth or fifth player who joins possession from a line farther up the field creates a scenario in which suddenly a defense is outnumbered and vulnerable to a switch or through ball.
Making triangles is not what Wooten was brought here to do, but it's very useful in complimenting what the Union already do well.
While Wooten helps the Union open space behind him while he checks to the ball, Fontana has a knack for anticipating where space will be in both the midfield and attacking lines.
That, dear readers, is a very useful knack indeed.
On his first goal, where is the young midfielder? Why, barreling toward the goalmouth ahead of every other player on the field of course, his run opening space behind him for Kacper Pryzbylko to run into.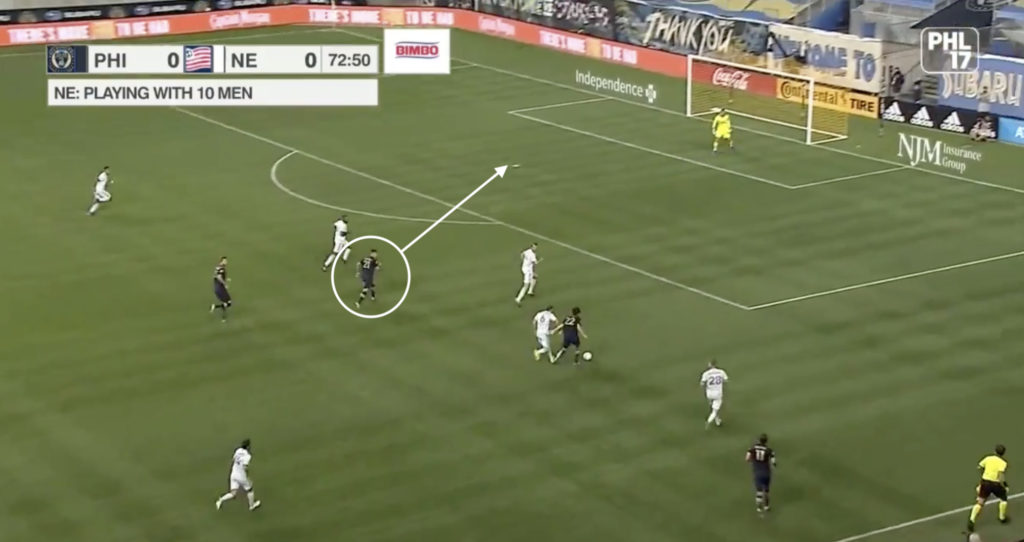 On his second, where is he?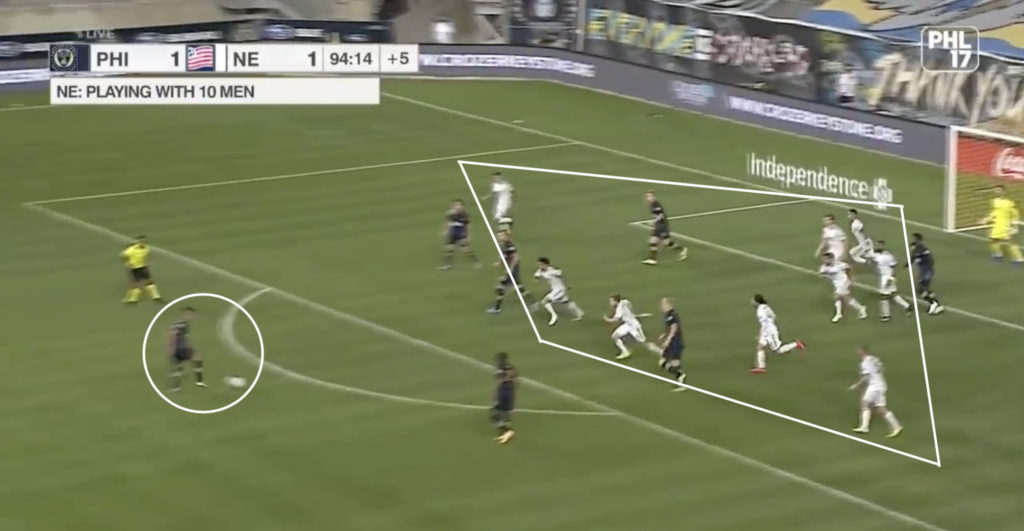 Why, 25 yards from goal, knowing a desperate New England side will have their entire team snugged up together in about a studio apartment's worth of field space  – not hyperbole, count the defenders up in this frame, then draw a four-sided figure around their bodies, and then solve for the area of a human trapezoid. In case you need it, here's your formula:
½ x (sum of the lengths of the parallel sides) x perpendicular distance between parallel sides.
Author's note: In case you really wanted to go down this rabbit hole, trapezoids and trapeziums (trapezia?) are different but similar shapes, whose names mean the exact opposite thing in the United States and United Kingdom. Come on, England…
Both choices were prescient, both opportunistic, and on a team where sometimes offense is hard to find (especially against a bunker), both were crucial.
He's got a knack.
Once the door's open, now what?
So, the door's open now.
Or if it isn't open yet, at least Jim Curtin is looking through the peep hole (yes, the metaphor about smashing the door into the river breaks down if we also assume that Jim Curtin is looking through the smashed and soggy portal). But now what? Where is there space on the field for the burgeoning talent from New-Ark (it is not pronounced like the town in New Jersey, thank you very much)?
Jose Martinez is out next match on yellow card accumulation, but he certainly isn't yielding his spot to a player more adept in front of goal than Between Two Center Backs (capitalized because it will likely be the name of the soccer-themed comedy show to be created by comedian Zack Galifianakis).
Monteiro? Not a chance, though he could use a rest.
Aaronson? Maybe, but only once he's wearing Union Berlin red instead of Union Philadelphia blue.
How about Wooten? It worked against New England, and the Union certainly need more striker depth even if "striker" in this case requires quotations.
What about Alejandro Bedoya? Now that's interesting.
For many fans, the most like for like switch on the team right now might be Bedoya for Fontana (this author disagrees, but that's neither here not there). The team leader just last week mentioned his age and subsequent inability to make a few of the late-game runs he could make as a younger man (meanwhile, local sportswriting legend Kevin Kinkead still has hops and he's older than the national teamer). He also seems like the kind of captain and mentor that, in a pandemic where schedules are compacted and randomized, might agree to a quasi-platoon in his spot if it meant helping the team win.
Or maybe not, as someone as worldly as Alejandro Bedoya certainly knows who Wally Pipp was.
Whatever it ends up being, Anthony Fontana earned himself a spot not only on the bench but firmly in the rotation. This, readers of Philly Soccer Page, is what Jim Curtin likes to call "a good problem to have."