Photo by 215pix, and thanks to footyhealdlines.com for the additional kit photos, check them out.
Let's just start with this.
So Bild — the soccer paper of record in Germany — is reporting that Borussia Monchengladbach have zeroed in on Brenden Aaronson as one of their summer targets. I took a look at why…https://t.co/SpbQmgZF8bpic.twitter.com/fXyi6xMFjz

— Matthew Doyle (@MattDoyle76) August 1, 2020
The short summary of Doyle's vide is that Medford Messi is starting to look like a player that deserves such a nickname.
Not just potential anymore, actual real Sara Lee Artesano whole-grain product.
Aaronson should go abroad, obviously, and his suitors are many (according to sources prior to last weeks' quarterfinal match). That he'll end up in Germany seems like a foregone conclusion at this point too, given the heritage of the Union's Sporting Director and the list of teams who say they want him.
But there were Italian scouts watching last week's game too (and Scottish ones) who, if they were basing their interest in players on the match itself, certainly would have had eyes for Aaronson over "gli occhi per Busio."
So the maned and meandering midfield maestro must decide.
But should the decision be up to him and him alone? No, of course not. This is Philadelphia sports after all, where an entire afternoon of radio in May can be dedicated to the Eagles's 5th string corner back.
The point? Readers of Philly Soccer Page should have their say.
So, in this exercise, fans will decide where the Union's creative engine should go when he leaves his Chester pastures. However, because of this author's obsession with shirts, they will have the chance to make this decision based solely on style.
Author's note: No, I couldn't make it more than four months without writing an article about jerseys. Just wait until the Union's next one comes out in February, the one I was fortunate enough to have a hand in designing. You'll never hear the end of it after that.
Borussia Mönchengladbach
Michael Bradley once roamed the midfield for The Foals, which should check the box of any casual American soccer fan on the list of "heard of them, must be somewhat relevant" teams of Europe.

Their jerseys are relatively straight forward, and though they're late to the sublimated green color (heck, even Major League Soccer beat them to that trend with last year's Parley kits), that third kit is only held back by its sponsor integration (another thing Union fans will be familiar with).
Celtic
Without an obvious horse in the two-horse race that is the Scottish Premier League, American fans are more likely Rangers followers because of the long list of Yanks who've suited up there: Claudio Reyna, DeMarcus Beasley, Carlos Bocanegra, and some dudes named Maurice Edu and Alejandro Bedoya.

Celtic have stripes of course, which are made even poppier by this year's gold trim, a very slimming and satisfying black second with neon accents and a beautiful secondary crest, and the freshest mint jersey this side of a Julep.
Eintracht Frankfurt
Philadelphia's sister city boasts a number of professional soccer teams, including Eintracht Frankfurt.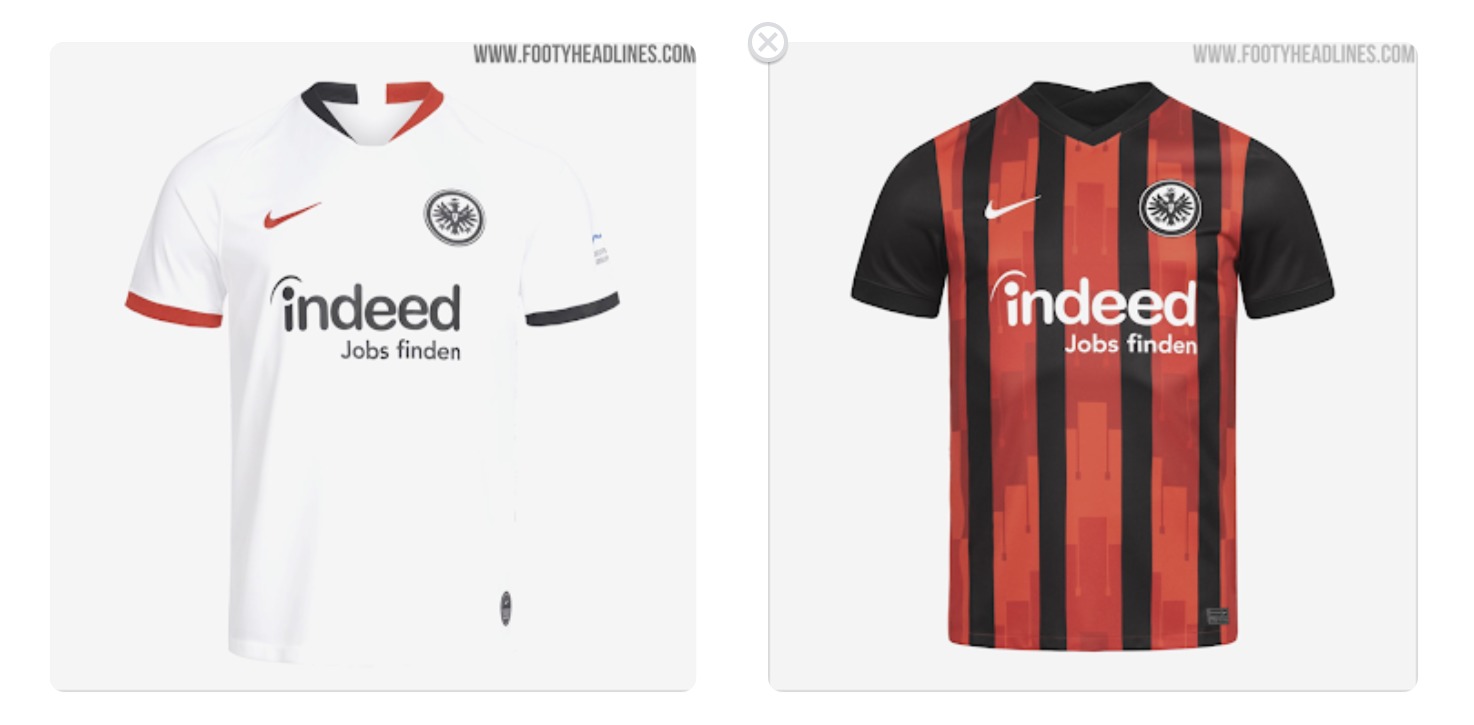 Though this white kit is technically 2019's edition, it's likely the Frankfurt Fünf Streifen will keep it simple for their change kit in 2020 too. Their iconic home strip is great, and can be the hipster version of your friend's similarly styled faux allegiances. You know, those who wear AC Milan shirts because of Zlatan or Atlanta ones because of Pogba.
*scoff*
SC Freiburg
"We go down, we go up, we go into the UEFA Cup," sing the supporters of SC Freiburg. There's certainly something charming about a supporter's group that knows who they are and embraces it.
No one likes us, no one likes us…
Speaking of going down and up, so do the stripes on their home and way shirts, a charming conversation in chroma that loses more than a little something in Barney purple and neon. However, sponsor Schwarzwaldmilch is a national German dairy brand, so that's kind of like Bimbo right?
How does one say "Nobody doesn't like Schwarzwaldmilch" in German?
Juventus
The Old Lady is Italy's Yankees, their Manchester United, their Ivan Drago. They too favor stripes, although in recent years have taken liberties on what a stripe IS and what it could be.
All three of these kits are interesting in their own way, but if Aaronson ends up in Turin and Union fans don't buy the animal print third with his name on the back, well…
AC Milan
Parlando di strice, here comes Milan. Not much is known about the team's second or third jerseys as yet, but they'll be Italian and well made, naturally.

Plus, it would be something to see Aaronson hitting a Zlatan Ibrahimovic, a Major League Soccer flame out and a man who is literally old enough to be his father, in stride for a goal instead of Sergio Santos.
It would be a bit like bring your son to work day, but with a Scudetto on the line.
Fiorentina
Fiorentina are known as la Viola, or literally "the purple." It's a safe bet their primary stripe will be the color that one gets when combining red and blue.
Their second jersey here is 2019's as well, but their third has just been leaked and isn't bad, particularly for fans of all things Danish.
The author's favorite thing Danish is cheese, as the joke goes.
Summary
This is the part of the wedding where the officiant says, "Speak now or forever hold your peace."
Clear your throat and have your say.
[poll id="93″]