Photo: Earl Gardner
My philosophy for my seven-a-side team took one variable into account that I haven't seen from the other squads.
Drawing on my experience playing in rec leagues and intramurals over the last several years, it seems to me that it's important to have teammates who you want to spend time with. Or who are, at least, not insane.
(I am thinking of at least one rec league side I joined last year where one of my "teammates," in the first half of the first game, nearly broke someone's leg and got in two screaming matches with the referee before suffering some sort of quad injury. Great 20-minute outing from that guy.)
Ideally, my seven-a-side team would both (1) be good and (2) not have anyone on it who would drive me, as the manager or as a teammate, completely up the wall.
So, without further ado, here's PFA FC. (Credit for the team name goes to Matt De George.)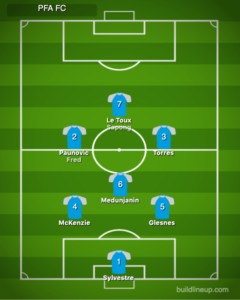 Haris Medunjanin is an easy choice with the first pick. His touch, leadership, and ability to pick out a pass should be invaluable, and the small size of the field should mitigate any speed-related issues. Plus, Haris is a reliably entertaining guy. And, given that I have found that most people take small-sided rec league games way too seriously, I'd like to have someone on my team who's willing to talk a referee out of an ill-considered red card for the other team.
Next, I couldn't quite believe that all-time Union goals and assists leader Sebastien Le Toux was still available. Sure, Le Toux isn't known for his touch, but everyone's favorite Frenchman, when in form, finishes with finesse. His fan-favorite status is well earned, and I am happy to add his personality to my team.
With the third pick, I dipped into the Union of yesteryear to snatch up Roger Torres. Torres is a great option in a small-sided game for his close control and field vision. I've always had a soft spot for the guy after his legendary goal against Red Bulls in early 2011, one of the most electric moments ever in PPL Energy Subaru Place.
It's probably time to draft a defender or two — Jakob Glesnes and Mark McKenzie. Both of these guys are good fits for this type of game: smooth on the ball, sharp in the tackle, and read the game well. Plus, Glesnes was an entertaining interview after his first match with the Union, and in the second match… well, you may not remember it because every day since has been as long as a life age of the earth, but he did this.
The pickings started to get slim as far as midfielders at this point in the draft, so I added three talented veterans in Veljko Paunovic, C.J. Sapong, and Fred.  All three can serve as solid midfield/attacking depth and easily the satisfy the "would I mind hanging out with this guy" test.
Finally, a keeper. I was tempted to take Rais M'bolhi for the value… but I would not characterize his time in Philadelphia as evidence that he's a good teammate. So, we reach for one of his replacements, big Brian Sylvestre, who performed admirably in difficult times during the 2015 season. (Can you believe that he made twelve starts in a Union shirt?) I'm not sure that the gap in a small-sided game is that great between someone like Sylvestre and Andre Blake, so I was comfortable saving keeper for my last pick.
Overall, I'm very happy with my team. Could there be a little bit more finishing potency? Sure, but it's not like the Union are historically flush with great finishers. I feel good about the defense's ability to both tackle and keep the ball, which is a huge part of winning a small-sided game.
But, even if we don't win, I have a lot of confidence that I wouldn't hate managing this team. And, in These Uncertain Times, isn't that really all that matters?
eh, my fake team is going to have more fun at the hypothetical bar

— Peter Andrews (@pfandrews) May 12, 2020