Photo by John Osborne
One of the most entertaining Union games of all time ended in 3-3 draw at 1am Monday morning. If last week's 2-0 loss to Dallas was the Yin of Union potential in 2020, this match was the Yang.
There are a few reasons why a match with so many similar "numbers" (on the road, across time zones, against a good team, early in the season, etc…) turned out so drastically different.
Bravery: pressing HIGH
The Union didn't press every second of their match in LA on Sunday night. They did, however, pick their spots with real bravery.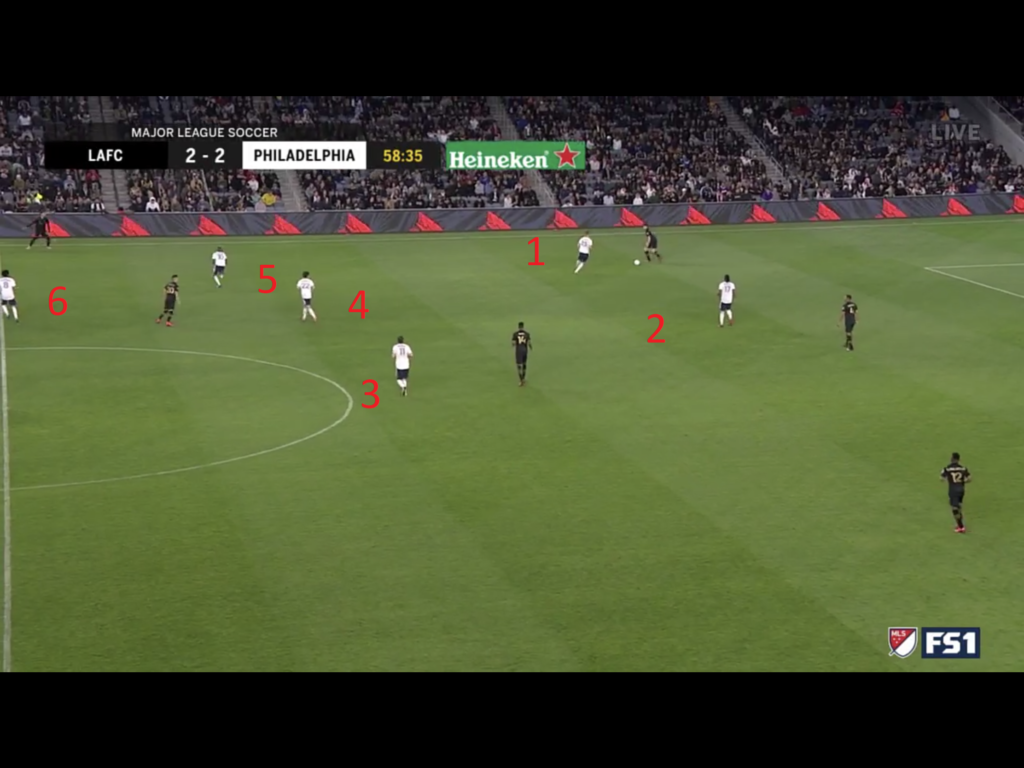 LAFC were eager to possess out the back, taking their goals kicks short and doing their best to bait the Union into the kind of lapses in tight spaces they showed in Dallas. If the Union were worried about a repeat performance, they certainly didn't show it.
For example, in a 2-2 match where plenty of road teams would have caught their bus and parked it 18 yards from their own goal mouth, the Union stayed high and pressed, matching LAFC man for man in their own half. This caused the Californians to play much more directly than they wanted to after their initial pass, resulting in interceptions left and right and Mark McKenzie and Jacob Glesnes earning a combined 17 clearances on the night.
When a defense can force an offense into doing things it doesn't want (even sometimes, considering the overwhelming statistical advantage LA had in both total passes and completed passes), they've started to succeed.
Speaking of long balls…
Route 1 – Why 50/50 is more than a half-chance

The Union were on the receiving end of pressure as well, as LAFC's swashbuckling style is designed to create the same kind of chaos as the Union's. While LAFC did their best to possess and break pressure (and they did so reasonably well on the night), the Union's solution to that problem was different than their host's.
The visitors relied on the speed and hold up play of Sergio Santos and Kacper Pryzbylko to break down pressure, eschewing a midfield struggle for numbers in the final third.
Why?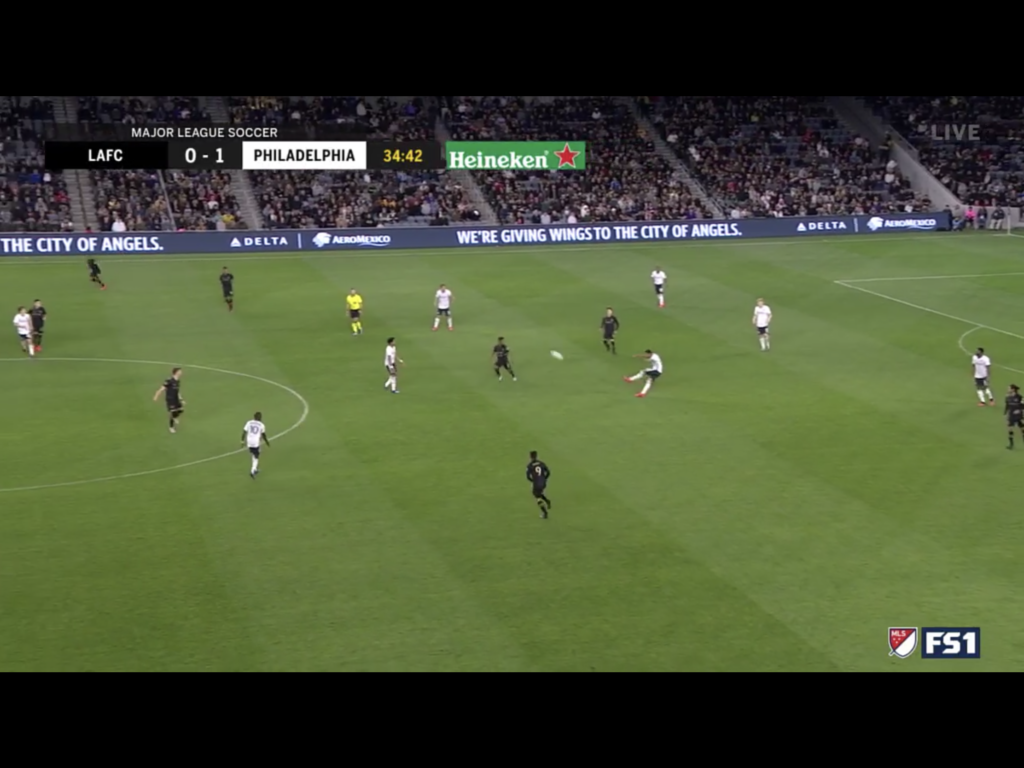 There are 16 players in the Union's half of the field in this shot, 8 for the Union and 8 for LAFC. That means there are even numbers of players remaining off-screen too. Thus, consider the Union's options:
To pass out of the back is to draw the hosts further in (which can be useful of course), but also creates the potential for a turnover in their own third (while the Union have the same number of players in said area). Moreover, some teams have a goal keeper who can act as an extra point on a passing triangle, but the Union do not.
A long ball gives the team the same player to player ratio, except in substantially more space and another 50 yards further afield.
Jim Curtin has said these 50/50 balls are better than half chances precisely because of the area in which they're challenged, combined with the requirements of a defender in that scenario (covering space and worrying about runs diagonally and in behind) v. those of an attacker (plenty of interplay and fluidity, combined with substantially less zonal responsibility).
The idea is to either flick the first ball onto a running teammate or knock it down into the path of another coming to meet you; possession suddenly arrives much closer to the goal with much less effort. In the case the ball is lost? Well, that's exactly why the press works so well: swarm the opponent quickly, but this time in their final third instead of your own.
The Union only possessed the ball 37.3% of the time and only connected on 51% of their long-ball passes (attempting 65% more long balls than LAFC). The beauty of that strategy on the night was they won the 50/50 battle in scenarios of their own choosing, creating the plethora of transition opportunities that led to their first and third goals.
As Stu Holden said on the broadcast of Sergio Santos's opener, "it came from nothing!"
Precisely.
Running and chasing

What's the difference between a line-splitting pass that sets your team up for a transition and a line-splitting pass that sets your midfielder up to have his pocket-picked? The choice the defender makes to chase you down or not.
Last week, laying the foundation for gegenpressing was crucial in understanding how the Union operated. This week, understanding why the Union were so significantly better has a lot to do with the pressure they put on LAFC ball handlers after their first line of pressure was broken.
In this scene, LAFC have moved the ball past both Kacper Pryzbylko and Sergio Santos, the first line of the Union's press. The Union have forced LAFC wide, which is a key part of the pressure system because it adds the sideline as a de facto extra defender. So, 1 point to LAFC and another to the Boys in Blue.
Because of their lateral movement, the hosts have the ball but have started to run out of options. The movement is a decision of the hosts based primarily on the relentless running or positioning of each player in this shot. Aaronson specifically causes this problem: his work rate forces LAFC into one of a list of unfavorable decisions, cutting off the lowest branches of the ball carrier's decision tree.
Aaronson's 5 tackles was third on the team and it's because he found a way to eventually get stuck in even when the ball was past him. This is hard work and worth giving praise over, and not limited to the Homegrown.
The Union as a team didn't give up on their strategy in any part of the field, and Jose "El Brujo" Martinez's efforts in this regard earned him high praise from Union fans and this beautiful tackle (and subsequent battering).
Jeez man, got the studs right in the face pic.twitter.com/4CQlfIZTyV

— Kevin Kinkead (@Kevin_Kinkead) March 9, 2020
Summary
Some quick final thoughts from a match with so much packed into 114 minutes that there could be 5 match analysis posts and still not enough room.
The Union took points in a match where the stats said they probably shouldn't. That's the mark of a successful side.
xPG GameFlow: @LAFC v @PhilaUnion on 03/08/2020. #LAFC #DOOP #LAFCvPHI pic.twitter.com/ueqUgTXymV

— GameFlow (@GameFlowxPG) March 9, 2020
Matt Real went toe to toe with best striker in MLS history and held his own. That's a huge confidence boost for the young wing back.
Matt Real defending Carlos Vela: pic.twitter.com/AiPfMU6RYs

— Jonathan Tannenwald (@thegoalkeeper) March 9, 2020
This goal by Sergio Santos would've been the goal of the night…
What a strike from Sergio Santos! @PhilaUnion go ahead 1-0! #LAFCvPHI pic.twitter.com/9i2SfpWTEB

— Major League Soccer (@MLS) March 9, 2020
…had it not been for this goal by Jacob Glesnes.
This goal caused me to SHREEK. What a hit… holy smokes. https://t.co/OlEyME83hh

— Stu Holden (@stuholden) March 9, 2020
Jay Sugarman couldn't help but be impressed.