Photo: Marjorie Elzey
The 2020 Philadelphia Union season kicked off Saturday with an expected but still disappointing 2-0 road loss to FC Dallas.
A few salient points stood out from the otherwise forgettable performance.
The same but different?
What is gegenpressing?
In its simplest terms, the German word that has come to mean "counter pressing" is in modern soccer an organized effort by Team A to reclaim the ball from Team B within moments of losing it, ideally in the opponent's zone.
Author's note: for a primer on gegenpressing, spend a few minutes here.
The Union certainly aren't new to this German-styled full court press, they employed it in the first half of nearly every match of the 2019 season. The problem?
The Union pressed a lot last season but didn't have much success in doing so, entering halftime with a lead in only 29% of their games.
They weren't great in this formation because they failed too often at this tenet:
…players must play as close to one another as possible so that they can press together as a unit right after the ball is lost – which is a given in short passing football. At the same time, they should not stick so close to one another that they neglect to cover enough space
Too often, FC Dallas's poise on the ball created confusion in Union defenders, unsure what man or which space was their responsibility. The outcomes in these situations looked a lot like this.
In this case, the Union tried to trap the Tacos against the sideline, as is their wont, with equal numbers of defenders covering attackers in a pressure-cooking confined space. Warren Creavalle's attempt to clog a passing lane and Sergio Santos's late recognition of the first pass coupled with Creavalle's movement (partially because Santos's man was over his shoulder and out of sight) meant FC Dallas's Jesus Ferreira was through the Union's midfield via a quick touch pass and racing toward the back line.
Pragmatically speaking, this kind of thing happens in gegenpressing. Minimizing the frequency and mitigating the impact will be the Union's task going forward because, despite the example above, they weren't punished Saturday for all their pressure.
The Union made it to halftime without conceding.
Moments of clarity
On the flip side, the Union won some possession via their relentless press. When that happened, there were few moments more pristine than the one below.
However, even this quarter chance is rife with opportunities to get better.
Both Ale Bedoya and Creavalle are late to follow the counter-attack, keeping their defensive shape instead of running into offensive space (of which there are proverbial "acres" here. Ideally, they and the defenders behind them would be stepping up along with the advancement of the ball, creating both options for the attack and a smaller field on which to defend should the team turn the ball over again). The result, as Dallas recovers and closes down the middle of the pitch, is Santos is left with no options on the left (where his teammate's runs are there, but only half-heartedly so) and nothing but a late-arriving option on the right.
The press created a transition chance that was undone by Dallas getting back more quickly than Philadelphia got forward.
What was missing?
Warren Creavalle was a shock start for most Union fans, the author included. Few observers outside of Chester expected the tenured Union midfielder to see anything more than substitute minutes in 2020.
Once the shock wore off, all Creavalle did on the night was put in one of his best shifts ever in Union colors and the best shift of any of his teammates (according WhoScored.com).
Why did Creavalle get the start?
Blocking the center of the field is important for a successful implementation [of gegenpressing]. In the middle of the field, the opponent has more options when it comes to rotation, field of vision, and passing… [By being pressured,] the opponent… will be forced in the direction of the touchline or back towards his own goal and away from the center of the field. There, he will have no opportunity to rotate and his choices will be limited, which will also rob him of the most effective and quickest path towards goal, as any counterattack will take longer.
Only 19% of Dallas's attack came through the middle, and a lot of that was because of Creavalle.
When the long-time Union backup was finally substituted in favor of Anthony Fontana (and earlier Ilsinho), the team's shape changed and that midfield wall came down.
In 2019 these formational changes often led to Union goals. On Saturday, the results were disastrous.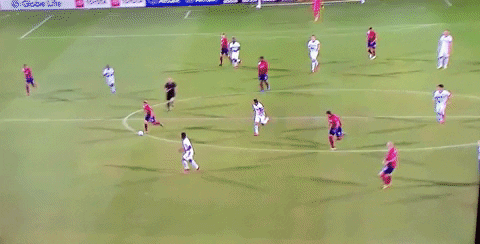 Watching the tape
The thing about this match was the Union weren't terrible.
xPG GameFlow: @FCDallas v @PhilaUnion on 02/29/2020. #DTID #DOOP #FCDvPHI pic.twitter.com/pM8qeOIQeE

— GameFlow (@GameFlowxPG) March 2, 2020
Though the team's chances in the final third were truly lacking, they dominated in match momentum.
They weren't able to capitalize on said momentum of course, and it came back to bite them, the fears of many a Union fan encapsulated in the sequence below. It was indeed a series of unfortunate events undid the team entirely:
Andre Blake kicks the ball out of bounds from a goal kick, his problems with distribution seeming ever-present (on a night when he made several exceptional saves).
The defense isn't quick enough in their press to cause Dallas any trouble (there are two real throw-in options and neither is covered by a Union player).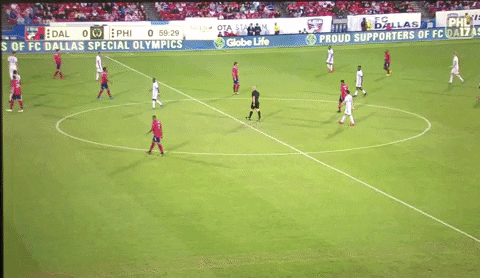 Once that trouble is caused and an errant pass made, Brendan Aaronson misses creating a turnover that would have resulted in one of the team's best chances of the night.
As a result, Dallas have a numbers advantage and half the Union team running toward their own goal (a Jim Curtin pet peeve).
In trying to prevent more space from opening up and in order to give their teammates a chance to reform their shape, Union defenders play off their marks a few steps despite having a 2-man advantage in that third of the field.
As a result, Zdenek Ondrasek has enough time to turn and get a solid, if very low probability (xG of only 3%), shot on goal.
Blake bookends his first mistake with a second, failing to cover his near post, something that plagued him in 2019.
Questions
More questions than answers were found after the team's first real 90 minutes. Among them:
What happened to Matej Oravec? The newcomer and presumed starter at defensive midfield didn't even make the 18 Saturday. Despite Warren Creavalle's solid outing, fans will wonder if he's the solution at that crucial position. (Same goes for Jack Elliott, who lost his spot to signing Jacob Glesnes.)
Who is going to provide a spark? The run above by Paxton Pomykal, scything through the Union defense for the game-ending goal, was one of guile and skill. He plays roughly the same position as Union Homegrown Brendan Aaronson. Medford Messi should take note: it's the kind of play he needs to make for the Union to be successful, particularly in a match where the Union had some real momentum but no creative nudge over the top.
Who is going to score? Alejandro Bedoya put 4 shots into the Dallas night on Saturday (and left a handful more out there, choosing to pass instead of shoot), while defenders Mark McKenzie and Ray Gaddis were close behind him with 2 each. None of those players are forwards of course, and because the team didn't get into good spots, they didn't get off good shots. Both of those things need to change.
It's the first game of the season and a result was undone by some rust and a few mistakes. However, for one night the Union looked like a team who was missing both a step and its best players from last year.