Photo by Paul Rudderow
Who: Philadelphia Union (1st place, 23 points, 7-3-2) v. Seattle Sounders FC (2nd place, 25 points, 7-4-1)
What: 2019 regular season game
Where: Talen Energy Stadium, Chester, PA
When: Saturday, May 18, at 7:30pm
Watch: PHL17
Whistle: REF – Marcos DeOliveira, AR1 – Jose DaSilva, AR2 – Eric Boria, 4th – Lorant Varga, VAR – Jose Carlos Rivero, AVAR – Craig Lowry
There's an old saying that goes something like, "Love is not a feeling, but an action." The idea is that to have love as a kept emotion is simply not sufficient; love must be expressed in order to be manifest.
Philadelphia Union host the Seattle Sounders on Saturday evening with the opportunity for two local groups to show their love for one another as a verb.
First, The Boys in Blue themselves, who will look to keep proving to their fans and the league that they are not a fluke.
Second, to Union fans, many of whom have been replaced at matches in 2019 with empty seats. Saturday is a chance to make good on the fan's stated deal that their in-stadium presence be reserved only for teams who play play beautiful soccer and earn winning results.
What is love, you ask? Both sides reply: "Baby, don't hurt me, don't hurt me, no more."
Scouting report: Seattle Sounders FC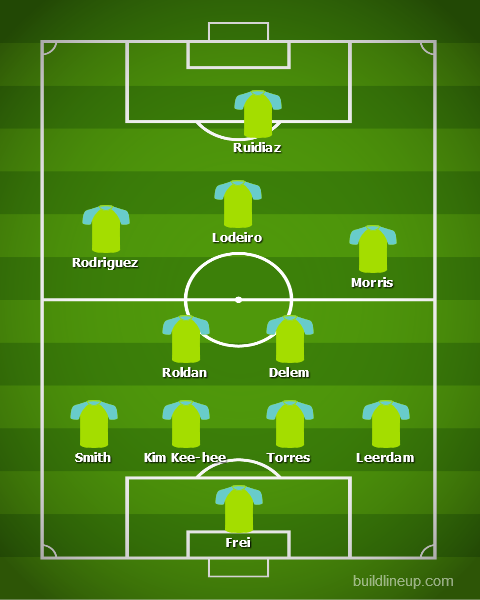 Seattle's season has been a bit lopsided so far in terms of home and away fixtures. Their current standing is impressive, but broken down includes records of 6-0-2 at CenturyLink Field and 1-1-2 away from it.
Like the Tenacious D song so aptly points out, "The road is [freaking] hard, it's also really [freaking] tough."
Another stat worth pondering is though Seattle hasn't lost in their last five matches, they have only two multi-goal games in that stretch. They're playing good defense but aren't finishing their chances like they did earlier in the season (when they won five of their first six). Against Orlando midweek, their lack of finishing was on display. Furthermore, the goal they conceded to Orlando on Wednesday looked a lot like the kind of goal the Union have been poaching in 2019.
Given that Seattle played more than 100 minutes of soccer midweek and only made one change to their lineup from the prior weekend, it's possible Union fans will see a bit of squad rotation from the visitors. This has been the case for guests from Cascadia who often viewed the Union as a winnable match even with a group of backups, or chose to punt the fixture altogether given the statistical unlikelihood of a favorable result.
These days, the latter remains true while the former is all but washed away.
Or, perhaps the Sounders are trying to put the pieces of their team back together as they collectively get healthy, and the Union will face the full force of Cristian Roldan and his seemingly weekly Goal of the Week bangers, Nicolas Lodeiro, Jordan Morris, and Raul Ruidiaz.
Injury report: OUT – M Gustav Svennson, M Victor Rodriguez QUESTIONABLE – D Chad Marshall
Suspended: 
Scouting report: Philadelphia Union
If Toronto FC's Greg Vanney gets fired this week, it'll be because of Jim Curtin. Curtin's side have played so impressively of late that their wins have been the catalyst/final straw to the firing of FC Cinnincati's inaugural manager Alan Koch and New England Revolution's head man Brad Friedel. In the month of May, the team has three wins from three matches and has outscored opponents 10-2.
The Union are finally exhibiting that killer instinct the team has so long pined for, and expect the Union to go for the kill in this match too. That means that even though Jim Curtin has rotated his squad in 2019 more than any season prior, he'll stick with his current preferred XI, a 4-4-2 with a diamond in the midfield (at least to start), and Marco Fabian in the No. 10 spot.
Expect a combination of Brenden Aaronson, Ilsinho, and Sergio Santos coming off the bench and the stadium to be as electric as it's been in years.
Injury report: OUT – G Andre Blake, G Matt Freese
Suspended: 
Key matchup
Nicolas Lodeiro vs. Jamiro Monteiro
The Union's midfield motor, Jamiro Monteiro, may have scored the game-winner in Toronto last week, but his most significant contribution to the Union midfield has been in his defensive work. To summarize former PSP contributor Adam Cann, "Monteiro closes down space so quickly on defense… it's incredible to see professional players panic with the ball because of it."
While 'Miro (as he's affectionately known) is a surprising new addition, Lodeiro is a known quantity: an international-level attacker who has scored in MLS Cup Finals, Superclasicos, and Champions League ties. Monteiro will be charged, along with Alejandro Bedoya, with slowing him down, clogging his passing lanes, and countering from his turnovers. To the victor of this match up probably go the game's spoils.
Player to watch
Marco Fabian
Fabian is well-liked at The Wharf, a gregarious and charming player with a resume to boot. The Mexican star is yet to truly integrate himself so seamlessly on the field however, and his short stint in Toronto last weekend is a prime example: no key passes and no shots in 57 minutes of work saw him withdrawn for Brendan Aaronson. In the metaphor wherein the Union are a finished piece of IKEA Furniture, Fabian is the inexplicable extra piece: it obviously wouldn't have been included it if it weren't important, but the couch seems like it's holding together anyway…
There is real and honest talk of the Union contending for silverware this season (where the word silverware is plural). In order for that to happen, Fabian needs to get on track. The Union might have to take the metaphorical arm off their IKEA couch in order to identify the place for and insert this essential part, and the long-term stability of the whole piece depends on it.
Prediction
Philadelphia Union 3-2 Seattle Sounders FC

https://twitter.com/MLS/status/1128370699599532038?s=20
The Union and Sounders are two sides of the same coin right now: neck and neck in the Supporter's Shield standings, neck and neck in the Power Rankings (above), and equally as adept at converting their chances (in spite of the Sounders recent drought) as they are in preventing the other team from creating chances in the first place (below).
Something simple using @AnalysisEvolved: How teams this season are faring in regards to chance conversion for and against…it's easy to see why Colorado and New England are where they are. pic.twitter.com/ogVjrNyVU9

— Carl Carpenter (@C_Carpenter14) May 14, 2019
But home field advantage is real in MLS and particularly so in Chester, PA, as is the momentum the Union have and the confidence that goes with it. Beyond that, the Sounders only play one home game between now and July 14th (yes, you read that right) and will need to be mindful of rest and rotation during that stretch.
Thus, Brian Schmetzer should expect his pink slip on Monday on the heels of Saturday's thrashing, the latest in a line of managers to succumb to Jim Curtin's new role as (requisite Game of Thrones reference) The King of the Ashes.