Photo: Rob Simmons
There's an Argentinian playmaker who plies his trade in Major League Soccer, decimates defenses with his guile, guts, and grit, and scores a goal frankly every other time he takes the field.
No, not Chaco Maidana (sadly). No, not Federico Higuain (#SaveTheCrew). No, not Diego Valeri (though that's a good guess).
Ignacio Piatti is the aforementioned South American, and the Union have felt the force of his talent more than once. In his 7 matches played against the Boys in Blue over several years, Piatti has 4 goals and 3 assists. He's only been shut out twice in that stretch.
Looking to make the shutout streak three, enter rookie, Wake Forest Demon Deacon, and Union Academy alum, Mark McKenzie, in only his third professional appearance.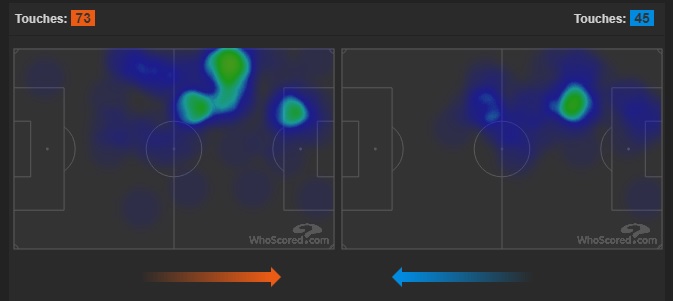 (Piatti's heatmap is on the left, McKenzie's is on the right. The reader will be forgiven for thinking the whole diagram looks, when squinting, like a screen capture from Lord of the Rings when Gandalf exclaimed to the Balrog, "You. Shall. Not. Pass!")
The center back didn't have a flashy performance. He was turned around several times defending Montreal's uneven but potent attack. His passing was good, but was mostly lateral. Nothing worth writing home about, except for the fact that the aforementioned Piatti was in his proverbial grill for 90 minutes and still had to settle for a goose egg on goals and assists… and that goose egg contributed to the Union's first road victory in almost exactly a year.
McKenzie recovered well, showed his strength (and more substantially his poise and patience, particularly when defending in the box), and generally succeeded in pushing Piatti wide. His game was tidy, the hallmark of a defender who realizes what his primary job is.
Because of this work, he is this week's Player of the Week.
Honorable Mention
Austin Trusty gets an honorable mention this week, and nearly got himself a co-Player of the Week nod.
As PSP contributor Jim O'Leary put it in this week's Player ratings:
An exceptional game from the Union homegrown. His ability to pick out the offense's next pass before they made it would be impressive from a player twice his age, and paired with excellent speed made him a key part of shutting down numerous Montreal drives. He would have scored higher too, were it not for a handful of sloppy and dangerous passes.