Photo: 215 pix

Who: Philadelphia Union (4th, 1-0-0) vs. Columbus Crew (1st, 2-0-0)
What: Week 2, Regular Season
Where: Talen Energy Stadium, Chester, PA
When: Saturday, March 17, 2pm
Watch: 6ABC, MLS Live
Whistle: Nima Saghafi, Peter Manikowski, Peter Balciunas, Marcos Deoliviera, Jorge Gonzalez
Major League Soccer just had the greatest week in its existence.
An open and exciting weekend of league games featured a 7-goal thriller in Chicago, expansion side LAFC (coached by only the best American coach of all time) winning their second straight conference road match by obliterating Real Salt Lake at Rio Tinto, and Atlanta United packing a cool 72,000 people under their dome in a win against D.C. United. Then, those rested Red Bulls starters put their 3rd, 4th, and 5th goals past Club Tijuana in the second leg of their CONCACAF Champions League quarterfinal, knocking out the defensively stout Xolos (who had only allowed 7 goals all season in Liga MX). Later Tuesday night, Toronto FC rode their away goal and some all-but-otherwordly Giovinco majesty to oust Tigres. At the time this article was written, Seattle Sounders had a one-goal advantage on their way to Guadalajara to try for the MLS continental trifecta.
The Union had a bye week because of the Sounders's midweek match and thus took a backseat to the league's narrative. They return on Saturday against the surprising Columbus Crew.
Scouting report: Columbus Crew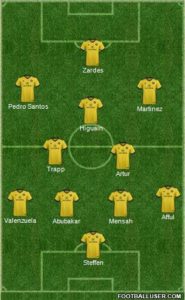 The Crew may be in their last year of existence, bound for the greener pastures of Austin, TX. If that's the case, the team are certainly kicking their final season in Ohio off with a bang. After nearly making the MLS Cup final last season, Columbus moved on from notable contributors Justin Meram, Ola Kamara, Kekuta Manneh, and Waylon Francis. Mike Grella, Ricardo Clark, and Gyasi Zardes took their places in the team's 4-2-3-1. Zardes in particular, formerly of the LA Galaxy and eternally of cringe-worthy first-touch compilations, has suddenly becoming the league's hottest striker.
Their opening weekend win in Toronto is worth all three of its points and its market value weight in gold. To follow that up with a come-from-ahead victory over visiting Montreal should put the Union and the rest of the Eastern Conference on notice.
Injury report: Mike Grella (OUT), Gaston Sauro (OUT), Josh Williams (Questionable.
Suspended: None.
Scouting report: Philadelphia Union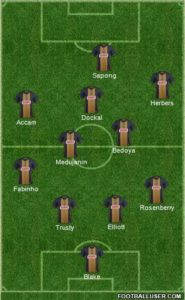 The Union's win against nine-man New England was a tidy victory made somewhat more impressive by the Revs's rebound win in Colorado last weekend. The story in Week 1 was all about the debuts of Academy products Auston Trusty and Anthony Fontana, the guile of new winger David Accam, and the bewildering and mouth-watering assertiveness of Bethlehem Steel product and Jamaican national, Corey Burke.
"You only get one chance to make a first impression," as the saying goes, and these men certainly made theirs.
This weekend's match will be all about another first impression: Borek Dockal. The difference in quality of their opposition will be substantial for the Boys in Blue, but so presumably will be the difference in attacking quality. For all that Fontana brings to the table, it doesn't yet match the international and Champions League pedigree of the new Union no. 10. C.J. Sapong will likely be under a slightly magnified lens, too, having signed a contract extension this week. For the first time in a long time, fans of the Union will be focusing on the capability of the team's attack more than that of its defense.
Injury report: Ilsinho (OUT)
Suspended: Fafa Picault (Language)
Key matchup: Gyasi Zardes v. Jack Elliott and Auston Trusty
The heart of the Union defense held strong in the season opener against New England. However, some of the credit this group is due belongs more to Andre Blake's go-go-gadget arms and the boundless fountain that is youthful hustle. Zardes, and more broadly the rest of the Crew's attacking players, will pose a much more significant and intellectual challenge this week. Young players have to prove themselves until they don't, and these two (particularly as a pair) are still in the former of those categories.
Player To Watch: Borek Dockal
Danny Mwanga. Roger Torres. Cristian Maidana. Tranquillo Barnetta. Roland Alberg. These are the players who've pulled on the Union's #10 shirt. Borek Dockal will join these ranks on Saturday.
Prediction: Philadelphia 3 – 2
The Union have attacking pieces with national team pedigree at five of their six midfield and offensive positions. They looked dangerous across the field with the keystone piece of that group missing against New England. Adding Dockal into the mix should only push the team's attack forward. However, missing Anthony Fontana's tendency to track deep will make for some open spaces and attacking lanes for Columbus. The Union were in rare form with their aggression in Week 1 and it worked. Much like that contest, expect an open affair.
Viewing Reminder
As part of MLS' broadcast deal, all MLS games will be available to watch on the yet-t0-be-launched ESPN+ streaming platform. Until that service launches however, all non-nationally televised MLS games will be available FOR FREE on MLSsoccer.com or through MLS apps on your smartphone, Apple TV, or Roku.
In addition, keep an eye on PSP Twitter for game coverage including pre- and post-game coverage.