Photo: Earl Gardner
Philadelphia Union
Some highlights from Jim Curtin's weekly press conference on Wednesday (full transcript here at PSP):
Cutin confirmed Ray Gaddis will start for Fabinho at left back.
Curtin credited his staff for convincing him to sub Gaddis in for Fabinho at the half during the win over NYCFC.
Curtin said that while Ken Tribbett is "in his own words, not a hundred percent yet," he nevertheless "he looks pretty darn good in training" and he will have "a tough choice" as to whether Tribbett or Josh Yaro starts against San Jose on Saturday.
Curtin said the only player on the roster not training now is Maurice Edu.
Curtin said he told NYCFC head coach Patrick Vieira after last weekends game, "You guys outplayed us today and probably deserved something from the game." he added, "It's a unique game, though, and I don't want to take anything away from my team. We scored two good goals — I thought we earned them — and we defended very well."
Asked what it would mean to him becoming the Union's all-time winningest coach, Curtin replied, "[N]othing, it doesn't do anything for me…we're a team that's trying to get better, we're a team that's trying to get back into the playoffs. I think the regular season is team based [and] at the end of the year we can reflect on individual accolades, whether the be from our staff, from our players when they get rewarded [with], hopefully, some Best XI or All-Stars, or different things like that, but the regular season is for team and the postseason, the offseason, is for individual recognition, or whatever comes along with different things like that."
Curtin said the strong start is critical for re-energizing a fan base that experienced too much disappointment in recent years. "We had to have a good start this year. I think that the guys felt that in the preseason…I think that establishing ourselves at home is critical, to start 3-0 here is good. We're hungry now, though, and want more…I think our fans have come out — especially in the New York City game — and they realize something's different, something is new. There is a buzz about the stadium, there's new players here, there's new things going on, and it's positive right now. But, again, 34 games, not 7, so we still have a lot of work to do. We like where we're at but still have margin for improvement, for sure, especially in our road games."
Curtin said of the team's renewed confidence in itself, "There's confidence here, there's belief here and, again, if you look around, we still play in the same stadium, there's a couple of different players mixed in but the main core is here. I think the big difference is, and the one piece that's new, is Earnie. Earnie has been a guy that's laid the foundation through the draft with young players, he has the players believing, knowing their role, their responsibility on the field in all the phases. That's the one difference."
More from the press conference at Philly Voice, Union Tally, and Philly.com.
San Jose will be without defender Andres Imperiale following his suspension for one game by the league's disciplinary committee for "serious foul play that endangered the safety of an opponent."
Speaking to FourFourTwo, CJ Sapong said of his team, "The talent has been here. The group cohesiveness has been missing. But not anymore. As the season goes on, we will continue to improve. We will surprise a lot of people…This organization is due for some hardware. I want to score a lot of goals and create opportunities."
SBI on Ray Gaddis stepping up to start for the suspended Fabinho.
At the Union website, Mihir Pandya has a post on Maurice Edu and what he's doing as he recovers from a stress fracture. Edu described,
Before every game, it's a little bit strange you know. I'm approaching the game from a completely different perspective. Being on the bench, it's almost like a fan's perspective. Before the game, I talk to the guys, motivate them, make sure they are ready for the game, wish them luck, encourage them, that kind of stuff.
So far as his recovery is going, Edu said,
The rehab process is out of my control, in terms of how my body heals. But I'm doing everything I can and as much as I can, to try to speed that process up, encourage that process, promote that process. And along the way, I'm trying to maintain my head because you know; it can be tough at times. Especially when it's an injury like this, a bone healing, the timetable can vary. I just try to keep my head, and take things day by day.
The Daily News on why this isn't the same old Union. Philly Soccer News on the Union closing out games. Philly Sports Network on the Union's improved play. Pattison Ave on what's changed for the Union. More on the Union's resurgence at Today's Cornerkick.
At Brotherly Game, Jared Young has the weekly player ratings comparison. Also at Brotherly Game, the good, the bad, and the ugly from last weekend's win and whether it is easier to be a fan of a perennial losing team or winning team.
From the Department of Not Cool, Not Cool at All, Lancaster Online reports, "Talen Energy has abruptly closed to the public 400 acres that include the Holtwood Park and Arboretum, as well as a trailhead for the popular Kelly's Run Trail, the county's only national recreational trail." Ticking off Mike Servedio is not a good idea, Talen Energy.
Bethlehem Steel FC
Unauthorized Bethlehem Steel FC Blog examines the paltry offensive production on Union players on loan to Bethlehem.
In USL news, the league has announced "the creation of USL Productions, a standalone division of the League that will be the exclusive and premier producer/provider of all USL content across all linear and digital platforms. USL Productions will serve as a one-stop shop in developing standardized, high-quality and broadcast network-level production values for USL content using the latest in media technology."
Philadelphia Union Academy
Union Academy Michael Pellegrino came on in the 36th minute in the US U-16 BNT's 2-2 draw with Slovenia at the Tournament Delle Nazioni on Tuesday. On Wednesday, the US team defeated Brazil, 2-1, to finish 1-1-1 in group play.
Local
Allentown's Danny Barbir played the full 90 in the US U-19 MNT's  2-1 win over Ukraine at the Slovakia Cup on Tuesday. The US will meet Russia in the final on April 29.
Rebecca Jarrett (World Class; Washington Township, N.J.) came on in the 36th minute of the US U-16 GNT's 6-0 win over Iran, scoring the final goal in stoppage time. The match was the first time a US women's team at any age level has played a team from the Middle East.
The Eastern Pennsylvania Youth Soccer Presidents Cup final will take place on Sunday, May 1, at Lehigh County Fields in Allentown. "A total of 178 boys and girls teams ranging from the under-12 to under-17 levels entered the competition, which started in March. Twenty-four teams emerged from group play to compete for a state title and a spot in the US Youth Soccer Region I tournament." Click here for the schedule of the final games.
MLS
In midweek play, Montreal (13 points, 4-3-1) moves into first place in the Eastern Conference after drawing 1-1 on the road with eighth place NYCFC (7 points, 1-3-4) thanks to a stoppage time equalizer from Dominic Oduro. Thanks to a late own goal, New England (9 points, 1-2-6) moves into sixth place after drawing 1-1 at home to Portland (9 points, 2-3-3), who are eighth place in the Western Conference. Also in the Western Conference, seventh place Vancouver (11 points, 3-4-2), down to ten men, drew 1-1 with sixth place Kansas City (13 points, 4-4-1).
The backers of the move to bring an MLS franchise to Detroit unveiled renderings of the 20,000-25,000 seat stadium that would be part of a $1 billion downtown redevelopment project with the possibility of beginning play in MLS by 2020. The problem? The proposed site is county-owned land on which is now located is an unfinished county jail, construction of which has been halted for two-and-a-half years because of cost overruns. Wayne County officials have said they plan to finish construction of the jail. Any other use of the land would have to mean local taxpayers would recoup the $150 million already spent on the jail.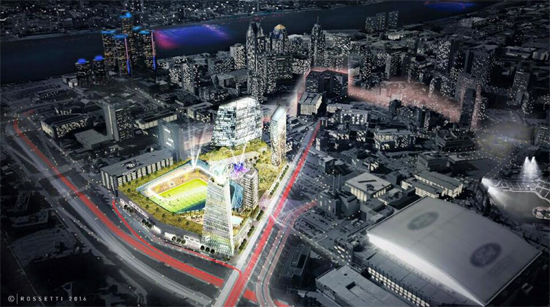 Don Garber said at a press conference in Detroit,
The stadium and the stadium location is a very important and key part of this plan…We need to get this right. We're going through what will likely be the last round of expansion in our league's history. These next four or five teams are really, really important. Dan made a great point. This is a 20-, 30-year decision that the public is going to make about the jail site. For us, it's similar. Because we're getting in the point we'll be fully expanded. You need to have great owners, you need to have great buildings, great markets. And you need to recognize it's a generational plan. So, I don't get distracted by what people are thinking today. Because I'm thinking about what this league will look like and what our country will look like as a soccer nation 20 years from now.
Reports on the announcement at Detroit Free Press (1, 2, 3), MLive, The Detroit News, Crain's Detroit Business, Curbed Detroit, Fox2Detroit, WDET, WXYZ, WZZM, MLSsoccer.com, SI, Reuters, and the AP. On the questions surrounding the proposed site of the stadium, reports at Detroit Free Press (1, 2, 3), MLive, Crain's Detroit Business, CBS Detroit, Deadline Detroit (1, 2), Soccer America, and Yahoo Sports.
New York Cosmos head coach Giovanni Savares has confirmed his club has been in contact with Francesco Totti. Cosmos COO Erik Stover admits of the possibility of signing the Italian legend, "The honest truth is I think it's really unlikely under the circumstances."
US
US U-20 MNT head coach on Christian Pulisic: "Will he play for our U-20 national team? Chances are he probably will not. But this is why I always want to keep him in the conversation about our team: Every young player has ups and downs. Sometimes it's two steps forward and one step back."
From SI: "One U.S. Soccer source says that not only does he expect Pulisic to be part of the U.S. Copa America squad, but he also would not be shocked at all if Pulisic is in the starting lineup."
Fox has announced its coverage of the Copa America Centenario: "FS1 is scheduled to carry 21 matches, with four airing on the FOX broadcast network. FX, FOX's widely distributed general entertainment channel, is slated to televise two quarterfinal matches and the Third Place match, with four group stage games appearing on FS2. Every contest is available on the recently updated FOX Sports GO and FOX Soccer 2Go mobile apps and on desktop computers via FOXSportsGO.com." The release says the US "concludes group play vs. Panama on FS1 (7 p.m. ET) at Lincoln Financial Field in Philadelphia, Pa." The US plays Paraguay at the Linc on June 11, not Panama.
Elsewhere
Club America defeated Tigres 2-1 on Wednesday night (4-1 on aggregate) to win the CONCACAF Champions League for the second year in a row.
FIFA president Gianni Infantino has called for men's and women's friendlies between North Korea and South Korea: "The message that football carries, which is beyond borders, beyond frontiers, which is inclusive, which can help and can bring people together as well…why not think also about a football match between North Korea and South Korea? Men and women? We should think about that and organise that. We should bring everyone together around the football pitch."
Reuters reports, "A federal judge has ordered two insurance companies to pay the legal fees for indicted FIFA soccer official Eduardo Li."