Photo: Courtesy of Philadelphia Union
Philadelphia Union
When Union press officer Chris Winkler tweeted on Wednesday that Vincent Nogueira had received his green card, thus opening up an international spot on the Union roster, fans who had been hoping for the signing of Ilsinho had good support for those hopes. And a few hours later, Ilsinho's signing to a two-year deal using Targeted Acquisition Money was officially announced by the club.
Expectation for Wednesday night's game against NYRB, already high given the opponent, could only grow given the Ilsinho signing, and it grew further when the midfielder was announced as part of the starting lineup. And then came the clunky challenges, all a part of a generally chippy first half, with Ilsinho getting a yellow card in the 29th minute, one followed ultimately by a red card in the 44th minute.
While the challenges were the sort one might expect from a player who hasn't played a competitive match since June 4 of 2015, it wasn't exactly the kind of performance one wants to see after a signing. Afterall, such indiscipline resulted in his team playing down a man for the final 45 minutes and presumably means he will be unavailable for the final match of the preseason on Saturday against Toronto.
Fans should take heart, though. According to transfermarkt.com, in 220 matches, Ilsinho has received 36 yellow cards, one red card from a second yellow (May 7, 2014), and one straight red (Nov. 3, 2007).
As for the Union's performance, it's hard to get past the magnificent showing from John McCarthy in the draw. Credit to the team for not only preventing NYRB from scoring after going down a man but also for creating some very promising chances. Lots to work on, nevertheless.
More on the Ilsinho signing at PSP, Philadelphia Union, MLSsoccer.com, Philly.com, Delco Times, CSN Philly, Philly Soccer News, Brotherly Game, and Vavel.
Reports from the draw with NYRB at PSP, Philadelphia Union, CSN Philly, Philly Soccer News, Brotherly Game, Vavel, Prost Amerika, New York Red Bulls, Empire of Soccer, and Big Apple Soccer. NYRB head coach Jesse Marsch talks about the game (video).
At MLSsoccer.com, Dave Zeitlin talks to Maurice Edu about his slower than expected recovery from sports hernia surgery. Edu says, "It's hard because I want to be out there playing, I want to be out there getting prepared for the season. But I have to be smart and trust the staff we have here, listen to them, and make sure I put myself in the best position possible to get out there and help this team."
While Edu only joined the team in Florida on Saturday, he likes what he's seeing: "It's very competitive but it's a healthy competition. You don't hear any complaining or stuff you would normally get in the preseason. It's been a hard preseason, which I think is very important for us, especially if we want to start the season off on the right foot."
Edu is clear that the Union have a chance to establish a new beginning:
It's a chance for us to take the club in a different direction. What's happened is in the past. This is a chance to start fresh, establish a new identity and bring this club to where we want to be…We've underachieved. We haven't lived up to what our potential should be. This is a chance for all of us, myself included, to go out there and really give our fans something to be proud of, give our city something to be proud of and, more importantly, show that we are a team that deserves to be competing for things, not just a team that's content to win a game here or there.
We want to establish a foundation to build on for future years. It starts here. It starts now. It starts this season.
Make it so.
At Goal.com, Seth Vertelney talks to Andre Blake about finally being the Union's No. 1 goalkeeper.
At Union Tally, Matthew De George has a look at the Union roster.
SBI has a season preview.
More from Jim Curtin's teleconference with reporters on Tuesday at CSN Philly.
Bethlehem Steel FC
PSP and Brotherly Game.
More on Ken Tribbett being signed from Bethlehem by the Union at Noise Nation.
Local
Looks like former Harrisburg City Islander and La Salle man Jason Plumhoff is signing with NASL side FC Edmonton.
The Temple men's team has announced James Gledhill as assistant coach.
The Temple women's team has announced nine new players ahead of the 2016 season.
MLS
Player moves:
Preseason games:
In CONCACAF Champions League play, Salt Lake lost 2-0 on the road in Mexico to Tigres. The Galaxy finished with a scoreless home draw against Santos Laguna.
Jozy Altidore could miss the start of the season with a hamstring strain.
Minnesota United released renderings of the stadium that will be built in St. Paul and it is quite lovely, even if much changes between presenting renderings and construction.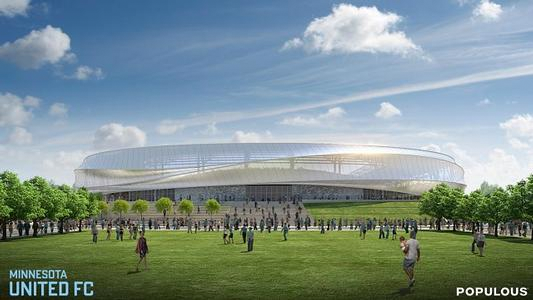 More at Minnesota United, MLSsoccer.com, Northern Pitch, Minneapolis Star Tribune, Pioneer Press, Minneapolis/St. Paul Business Journal, Politics in Minnesota, MPR, CBS Minnesota, KAAL, Fox 9, KARE, ESPN, and SI.
US
When a long overdue re-design of the US crest was leaked back in October, it was also leaked that the new US home kit would be black. Why the US would go with a black home kit after seemingly settling on white as the home color was as good a question as the new crest design was, at least in my view, at best a weak improvement over the terribly outdated crest that had been on US jerseys since the mid 1990s.
On Wednesday, Todo Sobre Camisetas published leaked images of the black US kit. The good news was that the black kit was now being referred to as the away kit. The bad news? Not only does it appear the leaked crest will be the new US crest, the black jersey is perhaps the ugliest US kit of all time. How bad is it? Hideously, abominably, ludicrously, outrageously bad.
If you can stand it, Footy Headlines has more images of the latest US kit disaster. Needless to say, I should have bought more than one of the Centennial jerseys back in 2013.
From Reuters: "Renowned U.S. soccer player Hope Solo said Thursday she was unlikely to join her teammates for the Rio Olympic Games without more information about Zika as she hoped to have children and was concerned about the virus' health effects."
The Guardian has a profile piece on the USWNT's Mallory Pugh.
At Soccer Wire, part two of an interview with US U-18 MNT head coach Omid Namazi.
US Club Soccer has released a statement on US Soccer's new Girls Development Academy, which will presumably compete with the USCS-sanctioned Elite Clubs National League.
Elsewhere
CONCACAF announced on Thursday morning the unanimous approval of by its members of "a comprehensive package of reforms" that address "term limits, independent members, governance reforms, greater financial transparency, and effective compliance processes." A statement from the confederation says, "The reforms to CONCACAF's statutes fundamentally change the governance structure of football in the region and set new standards for accountability and transparency within international sports organizations." As Soccer America makes clear, there is much bad history to overcome.
On Wednesday, FIFA's Appeal Committee announced the bans against Sepp Blatter and Michel Platini would be upheld but also reduced the length of the bans from eight years to six years: "Mr Platini's and Mr Blatter's activities and the services they had rendered to FIFA, UEFA and football in general over the years should deserve appropriate recognition as a mitigating factor."
Platini was not pleased, saying in a statement, "The decision is insulting, shameful and is a violation of rights…The charges against me are baseless, built from the ground up and surreal in view of the facts and the explanations I gave during the hearing." He added, "I am the victim of a system that had only one goal: To prevent me from becoming FIFA president in order to protect certain interests that I was about to bring into question." Platini says he will appeal his ban to the Court of Arbitration for Sport.
In related news, the AP reports, "FIFA ethics judges have formally opened cases against South American football officials Luis Bedoya and Sergio Jadue, who have made guilty pleas to U.S. prosecutors about taking bribes."
At The Guardian, Owen Gibson on how Sheikh Salman, the favorite to win Friday's election, "hardly looks a suitable candidate if football's much maligned governing body is serious about reform."
Goal.com explains how Friday's election process will work. The AP reports, "FIFA asked presidential candidates to provide details of their intended victory speeches ahead of Friday's election in a bid to keep them on message while the governing body tries to repair its scandal-tarnished image." The Extraordinary Congress and presidential election will be streamed live on FIFA's YouTube channel.
Inside World Football reports on rumors that Brazil and Argentina could break away from CONMEBOL's endorsement of Infantino and vote for Salman.
From ESPN: 'FIFA presidential candidate Jerome Champagne has warned against electing Gianni Infantino to the top job in world football."
SI talks to FIFA presidential candidate Prince Ali Bin Al-Hussein. For what it's worth, Jimmy Carter supports Prince Ali.
FIFA's executive committee is urging all FIFA members to approve the proposed reform package during Friday's Extraordinary Congress. More from Reuters.
At Goal.com, Transparency International's Gareth Sweeney explains what FIFA can do to regain the trust of soccer fans.
At The Guardian, Moya Dodd on how more women at FIFA is one key to reforming the organization.
At ESPN, some suggestions to FIFA on what fans would like to see in the way of change.
FIFA's new soccer museum in Zurich will open on Sunday. The Guardian describes it as "a nerds' nirvana untouched by its grubby reality."