Photo: Daniel Studio
Philadelphia Union
Jim Curtin's weekly press conference is scheduled for today at noon.
Brian Carroll speaks to Philly Soccer News about the season:
This has been a really hard season because we've lost some games in bizarre ways with bizarre circumstances. Just some hard losses. We've had bad breaks and guys go down with injuries. Some tough calls and cards handed out in games went against us. I feel like we've never stopped competing or working.
And his future? Carroll said,
I'm fortunate to still be able to compete at such a high level in this league. I've enjoyed all of it. I don't think I'll ever really reflect on it all until I retire. For now, I'm just pushing forward and going day by day and game by game to help the Philadelphia Union. I have a job to do and I'm going to do it to the best of my ability for as long as I can…
I'm really just focused on this season and everything else will take care of itself. We'll see what happens down the road. I've never worried about things out of my control. All I can do is handle what's in front of me.
Brotherly Game has five reasons why you should still watch the Union.
Local
Temple defeated Columbia 3-1 in their final non-conference game of the season. Penn fell 2-0 to Rutgers.
Villanova host VCU today at 4:05 pm (Big East Digital Network via Fox Sports Go). La Salle hosts VCU tonight at 7 pm. Drexel travels to face Delaware tonight at 7 pm (BlueHens.com), St. Joseph's is on the road to face Rhode Island.
MLS
Toronto host NYRB tonight (7 pm, MLS Live). A win or a draw will see them in the playoffs for the first time in club history. FC Dallas hosts Vancouver (9 pm, MLS Live) and Salt Lake hosts Portland (9:30 pm, MLS Live).
Orlando City has announced a press conference for Thursday to take place at Eastern Florida State College's Melbourne campus for what is assumed to be the official launch of the club's USL team.
Miami Today reports Miami-Dade County is being asked "to create a redevelopment agency enveloping Marlins Park and use the agency's tax proceeds to buy land next door for a soccer stadium that would also house University of Miami football games."
US
First, the good news.
On Tuesday night in Salt Lake, the US U-23s defeated 10-men Canada 2-0 off of late goals from Marc Pelosi and Jerome Kiesewetter (PK) to keep Olympic qualification hopes alive. The team now will face Colombia in a home and away series in March for a berth at the 2016 Olympic Games in Rio.
Former Union head coach and US assistant coach John Hackworth said, "We have four wins out of five. In a compact tournament like this, that's pretty impressive. Although, to be completely honest, we leave here a little disappointed that we didn't accomplish our goal of qualifying for Rio on Saturday. But, with the quality we have on that team, we do feel like we have enough to challenge Colombia in a home and away series. While we feel a little disappointed that we didn't accomplish goal No. 1; our dream is still alive to qualify for Rio."
Said forward Jordan Morris, "I think we'll pull it out in March. It's going to be the game of our lives."
Recaps and reports from US Soccer, CSA, CONCACAF, Salt Lake Tribune, MLSsoccer.com, SI, Yahoo Sports, Stars and Stripes FC, Goal.com, ProSoccerTalk, SBI, The Canadian Press, AFP, and the AP. Player ratings at Soccer America.
In case you're wondering, Mexico defeated Honduras 2-0 to take first place in the qualification tournament. The win means Mexico is the CONCACAF Gold Cup, U-22, U-20 and U-17 champion this year.
And now the bad news.
On Tuesday evening, a listless senior US side was defeated 1-0 by a clearly superior Costa Rica in front of a paltry announced crowd of 9,214 at Red Bull Arena, most of whom were there to support the visitors. It was the first time since 1997 the team has lost three home games in a row, the first time the team was shutout since the loss to Germany in the last World Cup, and the first time the US hasn't scored at home since the scoreless draw with Canada in January of 2013, and the first time in 50 years the US has been winless in four consecutive home games to CONCACAF sides.
Placing the blame for the team's lifeless showing on it still being affected by the loss to Mexico on Saturday, Jurgen Klinsmann said, "There are not only sunshine days. We had a lot of sunshine in 2012, 2013, 2014. Now it's raining a little bit. You've got to go through that. Maybe you have to go through a little bit of mud as well…Sooner or later, the clouds will pass by and we are going to find some sun again. It's definitely not part of my character to give up. . . . I am here to take the team also through tough times. I am not only here to take the sunshine."
Nevertheless, the doubts surrounding Klinsmann only deepen. The head coach said, "I leave that up to you to say where I'm standing. Obviously, you're disappointed with the summer [a disappointing fourth-place finish in the Gold Cup], you're disappointed with the Mexico game. There's a lot of criticism coming from fans and from you guys [media], and I totally understand that…With everything that goes not my way I get even hungrier to turn it around the other way."
The New York Post notes, "This is the unquestioned low-point in the Klinsmann era, which began in 2011 and — unless U.S. Soccer wants to eat more than $10 million and fire him — will continue through 2018, which his contract runs through." More at Soccer Wire, SI, Fox Soccer, The Guardian, MLSsoccer.com, American Soccer Analysis, although Northern Pitch comments on the "temper-tantrum histrionics" directed at Klinsmann.
Recaps and reports at PSP, New York Times, Washington Post, USA Today, Newsday, ESPN, ASN, MLSsoccer.com, Fox Soccer, CBS Sports, Yahoo Sports, ProSoccerTalk, Goal.com, SBI,  AFP, and the AP.
SI has three thoughts on the game, CBS Sports and ProSoccerTalk have three things.
Player ratings at ESPN, MLSsoccer.com, Soccer America, ProSoccerTalk, and Goal.com.
Oh yeah, and the Fabian Johnson thing? His German club Borussia Monchengladbach tweeted:
.@FabianJohnson23 is back at BORUSSIA-PARK and is being treated for a thigh injury. #fohlenelf pic.twitter.com/jI6nl2HzQV

— Gladbach (@borussia_en) October 13, 2015
Footy Headlines reports the 2016 USMNT jersey will be black, with "Blue and red accents" also "expected," and will feature the new crest design Footy Headlines reported back in August. "Made by long-term USA kit supplier Nike, the US Soccer 2016 Home Shirt will be launched ahead of the first 2016 matches and will subsequently be used at the 2016 Copa America Centenario, should it go through." Can we get a new kit/logo designer, please?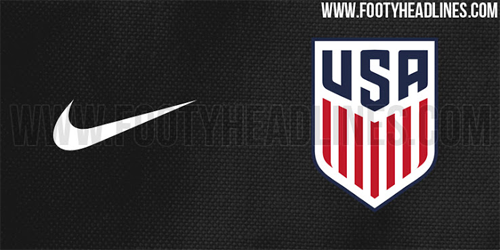 The final game of the USWNT Victory Tour will take place against China in New Orleans on Dec. 16. The US Soccer announcement notes, "The USWNT will have a total of four Victory Tour matches in December, and the three matches prior to New Orleans will be announced at a later date."
The press conference announcing renovations at FC Dallas' Toyota Stadium in Frisco to house the National Soccer Hall of Fame will be livestreamed today at 12:30 pm ET.
Elsewhere
FIFA has banned former South African soccer official Lindile Kika for six years in connection to a match-fixing investigation involving pre 2010 World Cup friendlies.
The AP reports, "Delaying the FIFA presidential election would further discredit the scandal-hit governing body and deepen the instability, contender Prince Ali bin al-Hussein said Wednesday."
After finishing third at the 2014 World Cup, the Netherlands has failed to qualify for Euro 2016. The Guardian's Jacob Steinberg writes,"What Holland need to remember is that football is cyclical. Their situation looks hopeless now but their collapse does not have to be terminal. They can regain their place among the elite as long as they accept their rehabilitation is unlikely to be a painless experience." Words of wisdom for USMNT fans, too.