Photo: Earl Gardner
Philadelphia Union
US Open Cup
The draw for the hosting priority for this year's US Open Cup final took place on Wednesday and the Union drew third priority. This means, if they defeat Chicago in next week's semifinal, they will need Kansas City to defeat Salt Lake in the other semi in order to host the final, which will take place Sept. 30. If the Union win and Kansas City loses, they will play the final in Salt Lake.
"Not perfect, but it's positive," Jim Curtin said of the draw. "We have a good opportunity if we take care of business against Chicago to host the game here at PPL again in the final." He added, "To go to Salt Lake is tough, no question."
Transfer window closes today at 5 pm ET
Asked at his weekly press conference (full transcript here at PSP) whether the team will make any further moves before the close of the transfer window today at 5 pm, Curtin said,
We're still looking, for sure. It always goes down to the wire, there's different trade scenarios come up, teams are very active right now, good foreign players are being signed, good American players are being looked at. So, we'll see what the next couple of days hold. But, yeah, we're still looking to upgrade our roster. Obviously, we're not happy with where we are in the table.
What kind of player are the Union looking for? Curtin explained,
[W]e know we have a good core, we have a good group that is committed and will fight, but we do need to add a little bit of quality, that extra bit that gets you, makes you special plays at the end of the game, the Sacha Kljestans where, you know, you keep them quiet on the day but then you look up and he has a goal and an assist. So, again, those are the difference makers. We'll look to see if we can add something like that.
Tick tock.
More Union news
Changes coming in the Union backline? Jim Curtin said on Wednesday that, given the way the team's been conceding goals, changes are likely. But one change may be due to injury.
Perhaps the biggest news to come out of Curtin's press conference is that Maurice Edu is suffering from Curtin described as "a little bit of a groin issue." Edu could be rested for this weekend's game in Orlando in order to have him ready to go for next Wednesday's US Open Cup semifinal against Chicago. "[W]e'll see if he's able to push through and play through," Curtin said. "But we do also have a big game on the following Wednesday as well against Chicago in the Open Cup semifinal too, so we have to be smart in how we manage it, and put [a] team on the field that can get points against Orlando and then, obviously, win in a game of consequence as they call where it's win or go home."
Curtin also confirmed Michael Lahoud and Richie Marquez are back to full training with the team and are available for selection, and that Steven Vitoria has been performing well in training. Brian Sylvestre is still dealing with the cut on his hand. If he is unable to go on Saturday, Curtin said John McCarthy will get the start.
Andre Blake says, "I feel like I'm 100 percent, but sometimes it's not really what you feel. I've just got to keep pushing and maybe if I think I'm 100 percent, maybe I need to push to 110, 120."
Curtin confirmed Andrew Wenger continues to experience concussion symptoms.
In happier news, Curtin indicated Tranquillo Barnetta could see more playing time on Saturday. "[W]e're not saving him," Curtin said. "To his credit, he was a guy who came here in a spot where he could've said, 'Coach, I'm not ready yet.' He wanted to help the team in any way possible. He's a guy who this is his preseason, though, you know, you have to manage that."
More from the press conference at Philadelphia Inquirer and Delco Times.
The league disciplinary committee has added an additional game to the automatic one-game suspension Chicago Fire midfielder Matt Watson received for a straight red card in the team's win over Dallas last weekend. That means Watson will be unavailable for Chicago when the Union host them in league play on Aug. 16.
An article at Orlando Sentinel on the league's desire to adopt video review technology notes that PPL Park is one of three stadiums MLS is using to run "trials with a low-tech version of video review." The article describes,
The video review, as it's been tested so far, would focus on plays that already include a stoppage: penalty kicks, goals and red cards. The league wants to avoid disrupting the flow of the game, so it has not considered replay on offside calls…
In the trials, one to two video officials are watching the game on two video monitors — one connected to a live feed and another to DVR. When a referee whistles for a penalty, red card or goal, the video officials can look at the play and confirm through the DVR while waiting for the live feed to queue up different angles.
The length of time before a restart, whether on a red card, penalty or goal, is around one minute. According to Agoos, decisions by video officials on those types of plays typically can be made in 20 seconds. That gives a minimum 40-second window in which the video officials could relay information to the referee.
The "two-year trials" have also been run in Vancouver and Salt Lake.
At CBS Philly, Kevin Kinkead has a video breakdown of the Union's loss to Red Bulls.
In former Union player news, Nick Zimmerman has announced his retirement as a player in order to become an assistant coach of Columbus State University women's soccer team.
Union Academy
Philadelphia Union Academy defenders Rayshaun McGann and Nykolas Sessock, and midfielder Brenden Aaronson, have been named to the 20-player roster for the US U-15 BNT training camp that will be held in England, Aug. 11-20, at the FA's St. George's Park national training center. The team will play England in friendlies on Aug. 16 and Aug. 19.
Local
The NSCAA has announced its watch list for the 2015 Hermann Trophy. Among those on the men's watch list with area connections University of Delaware's Guillermo Delgado, who was a 2014 NSCAA All-American.
Former players and friends gathered recently to honor retired George Washington High School coach John Hughes. He has an amazing history:
Hughes, a Kens­ing­ton nat­ive, began his ath­let­ic ca­reer at Light­house Boys Club…At North­east High School, he was a mem­ber of the soc­cer team that fin­ished un­defeated, un­tied and un­scored upon in 1943 and '44…
At Temple, he played three years on the soc­cer team and was a cap­tain and two-time All-Amer­ic­an. He gradu­ated in 1949 with a de­gree in phys­ic­al edu­ca­tion. Hughes played 15 years for vari­ous teams in the Amer­ic­an Pro­fes­sion­al Soc­cer League, win­ning two cham­pi­on­ships and be­ing named MVP of the cham­pi­on Phil­adelphia Amer­ic­ans in 1952. As a mem­ber of New York Hako­ah, he played in the United States Open Cup fi­nal.
Hughes coached col­lege and high school soc­cer for 48 years. He won three Pub­lic League cham­pi­on­ships in soc­cer and base­ball at Wash­ing­ton.
In 13 years at Delran, he pos­ted a 171-68-11 re­cord. He won nine league cham­pi­on­ships and two co-state titles.
Hughes also coached Phil­adelphia Tex­tile for three years.
Holy moley! No wonder he's a member of the "Phil­adelphia Soc­cer, Temple Uni­versity, New Jer­sey Soc­cer, Pennsylvania Sports, North­east High and Delran High" hall of fames.
MLS
In league play, sixth place Montreal (28 points) hosted second place NYRB (33 points) to a 1-1 draw on Wednesday night, finishing the game with ten men after Laurent Ciman received a second yellow card in the 79th minute. Third place Toronto (31 points) thumped visiting Orlando (seventh place, 27 points) 4-1 on the back of a Sebastian Giovinco hat trick.
In CONCACAF Champions League play, Vancouver hosted Seattle in a game that finished as a 1-1 draw. LA hosts Trinidad and Tobago side Central FC tonight at 10 pm (Fox Sports 2, Univision Deportes).
New York Red Bulls have signed Argentine winger Gonzalo Veron from Club Atletico San Lorenzo.
LA Galaxy have signed defender Dave Romney from LA Galaxy II.
Chicago Fire have confirmed a bid has been received from Hull City for DP and Scottish international Shaun Maloney.
Orlando have acquired forward Adam Bedell from Columbus in exchange for Orlando's highest second round pick in the 2016 draft. Columbus also waived rookie defender Kalen Ryden.
Orlando City and Martin Peterson have mutually agreed to terminate his contract. The Northern Ireland international forward joined Orlando on loan from Huddersfield Town in January.
Boston.com reports, "The Kraft family, which owns the New England Patriots and New England Revolution, is working with investment banking giant Goldman Sachs to finance a soccer stadium in Boston. Representatives of the Krafts most recently met with city officials in early July."
Is Cincinatti getting a new USL franchise?
US
It's official: Jill Ellis has signed a multi-year contract extension to remain head coach of the USWNT. With the Summer Olympic tournament beginning in one year, Ellis said of the team, "We are going to have some turnover on the National Team as we look towards the Olympics and the next Women's World Cup in France, but that's always part of the natural evolution. "It will be the job of the players and staff to keep up the world-class level of effort and intensity to meet the high expectations of this program. It's a challenge we are all looking forward to."
The Washington Post reports of the contract, "The length was not disclosed but widely expected to keep her under contract through the 2019 World Cup in France." More reaction from Fox Sports, ESPNW, and SI.
The US moves up five spots in the latest FIFA rankings to No. 29. Mexico moves up 14 spots to No. 26
Footy Headlines has released an image of what it says will be the new US Soccer crest beginning in 2016: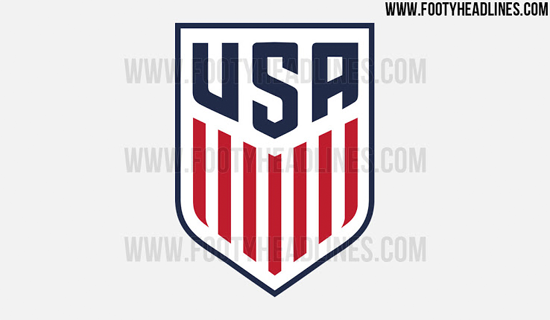 A new crest is most welcome given the current abomination of a crest has been in use since 1995 (and looks it). But, outside of the no-brainer return to red stripes, I can't say I'm much of a fan of the leaked crest design, the weight of which (for lack of a better word) seems to me to be somehow off and insubstantial. The font used for the "USA" also puts me off and — again, I'm struggling for the right words here — strikes me as vaguely fascistic. (Frankly, the first thing I thought when I saw the design was how it would look perfectly at home in Starship Troopers.) Does the design have a timeless feel about it? I don't think so. It looks to me like something that will appear dated in five years. I think we deserve better.
Like many fans, I've been very vocal about wanting US Soccer to permanently adopt the Centennial crest, variations of which have been on the jersey's of federation teams since the first international tour in 1916 and through the 1980s (with a few exceptions), including the peak at the top of the crest that is missing from the leaked design. Are Nike/US Soccer concerned that the stars and bars crest is so traditional and ubiquitous as to be uncopyrightable? If that is the case, at least we haven't seen evidence that they've tried to make it so by adding a snake or eagle — or, shudder to think, a soccer ball — to the thing.
Anyway, enough about me, what do you think of the leaked design?
Elsewhere
Reuters reports, "The African Football Confederation (CAF) has declined to back Liberia's Musa Bility in his bid to stand for the FIFA presidency."
The AP reports, "Russia has again cut its budget for the 2018 World Cup, in part by abandoning plans to build a new TV tower." The budget, which currently stands at $9.92 billion, has undergone cuts due to the effect declining oil prices have had on Russia's economy.
A judge in Germany gave two Munich 1860 supporters charged with tearing off the jacket, shirt, and hat of a Bayern Munich supporter of a choice: Go to jail for 15 months without parole, or buy the man they attacked a Bayern jersey, scarf, and a new hat. The accused decided to take the second choice, also paying the man they attacked about $1,000 in restitution. The judge, by the way, is a Munich 1860 supporter.