Photo: Courtesy of Nacional
Philadelphia Union
Carlos Valdes
Carlos Valdes and his Philadelphia Union-branded luggage arrived in Montevideo early this morning to sign a loan deal with Uruguayan club Nacional.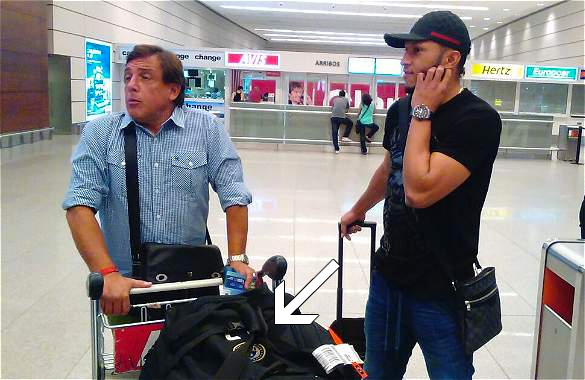 Futbol Red reported (crappy Google translation here) that if no issues arose from his physical that an official announcement of the signing would be made later today.
Later on Friday morning, Ovacion reported (crappy Google translation here) that Valdes had passed the physical and signed with Nacional.
Mercifully, Nacional confirmed the signing on Twitter soon after. As of this writing, the Union has not confirmed the deal.
Reports say (particularly crappy Google translation here) that the loan is for one year with an option for both Nacional and Valdes to end the deal after six months. I probably speak for many Union fans when I say I hope the six-month escape clause doesn't mean we'll have to deal with all of this again in July.
Speaking to reporters via conference call on Thursday, Jim Curtin said of the Valdes negotiations that the team had been trying to "do what is best for the Philadelphia Union and for the player. Both sides are kept in mind there, so we'll do what is best. And we do have things lined up for whatever scenario happens one way or the other with Carlos."
Curtin explained, "He's at the point of his career where now financially, he's looking to make his family comfortable, to be quite honest. I want to coach the guys that fully are going to be here, and that's kind of controlling what I can control. Our relationship is the same, but at the same time I have to move forward as a coach."
Curtin also indicated that the conclusion of the Valdes negotiations will allow the team to move forward on several signings that are in the works, saying, "We have targets and are actively pursuing them. It's by no means a finished product." That so much is contingent on Valdes is probably a good indicator of how little ownership has provided Curtin to work with for new acquisitions.
Union targeting Benfica center back
Soon after news out of Uruguay that Valdes had signed with Nacional, Kevin Kinkead tweeted,
Sources: Philadelphia Union is close to signing Benfica center back Steven Vitoria on loan @MLSTransfers @UnionRumors

— Kevin Kinkead (@KevinKCBS3) February 6, 2015
Vitoria is a 6'5" center half who was born in Toronto. Big guy, but very mobile, takes penalty kicks, scores goals, 28 years old

— Kevin Kinkead (@KevinKCBS3) February 6, 2015
Vitoria has played his entire career in Portugal, on loan to a couple of clubs from Porto, then a successful spell with Estoril Praia

— Kevin Kinkead (@KevinKCBS3) February 6, 2015
Stay tuned, folks.
Curtin on forward needs
Curtin said of the Union's needs at forward, "Conor is a target forward, CJ is a similar forward – a target-type guy – and Catic is a big body. We've discussed maybe getting a different type of striker, whether that's more of a speed guy, a taller guy. You want to find the right mix. You don't want three or four of the same types of forwards; you want that change of pace. That has affected the type of guy that we're targeting, for sure." More on Curtin's comments on forwards at Playing for 90.
More notes on the conference call at SBI. Look for our transcript of the call later this morning.
Camp notes
The Union play Jacksonville Armada on Sunday in their first preseason game. PSP understands that the game, which kicks off at 5 pm, will be available for viewing as a live stream but details are still being worked out.
The latest edition of the Daily Doop notes a new trialist is with the Union, University of Tampa goalkeeper Zak Downes. The trial should help area soccer fans who were wondering if there were any more possible diminutive spellings for Zachary other than Zac, Zach, and Zack out there.
The Daily Doop also notes Vincent Nogueira, Brian Carroll, and Michael Lahoud are all back to training after nursing minor injuries.
If you're on Twitter, CJ Sapong will be taking over the Union's account today between 1:30 pm-2:30 pm.
At Brotherly Game, Jared Young has a counterpoint to Thursday's post from Barry Evans that said now is not the time for Union fans to panic. Young says even with new signings, there is plenty of reason for concern.
The 700 Level notes the Union are in Florida and you are not.
Union Academy
At Philly.com, Jonathan Tannenwald highlights comments from Jim Curtin about how the Academy players in camp with the Union are impressing. Reading Curtin's comments, its seems very possible that Derrick Jones Amanimpong, Yosef Samuel, and/or Sebastian Elney could be given Homegrown contracts sooner than later.
More on the college commitments of Union Academy players.
MLS
Don Garber said of the current state of negotiations over the new CBA, "There is no doubt that neither the players, as they've told us, nor ownership, is interested in a work stoppage. We'll get help from federal mediation if that's necessary and we're hopeful that we'll be able to solve our differences." More from Garber at WFTV.com.
Robbie Keane will support a strike by the players if it comes to that:
I'm supportive of the guys. I spoke to [Galaxy teammate and MLSPU executive board member] Todd [Dunivant] about it and he asked my views and I said, 'I'm 100 percent behind this. We all have to be united together'…
If 90 percent of the players in the league want that, if 55 percent of the league wants that, it should be. It's a majority. If the majority wants it, I'm behind it.
Montreal Impact owner Joey Saputo has expressed concern about how big money signings could hurt the league. "Over time, only certain teams will keep spending, that is Los Angeles, Toronto and New York, and there will be those three teams and then all the rest. On one hand, it's good because it brings credibility to the league, but long term, I fear it may hurt the league." Yep.
Montreal has acquired German goalkeeper Kristian Nicht on loan from NASL club Indy Eleven until March 4. What the short loan spell? Impact technical director Adam Braz said, "We needed to add Kristian due to a unique circumstance. We needed another goalkeeper for the Champions League as Maxime Crepeau has a shoulder injury and Eric Kronberg is ineligible for the tournament after having played with Sporting KC."
FC Dallas has waived midfielder/forward Brian Span.
In preseason play, New York Red Bulls defeated Toronto 2-0 in the first game of a doubleheader — Sacha Kljestan scoring one of the goals — before losing 4-1 to Jacksonville Armada with a different lineup. Training in England, Chicago and Norwich City played to a 0-0 draw. Seattle defeated UCLA, 5-0.
Richmond Kickers will remain as DC United's USL PRO affiliate for the 2015 season.
Oregon Live talks with Mick Hoban who, in 1974, was the first-ever player to be signed by the Portland Timbers.
Soccer Gods concludes its three-part look at promotion-relegation.
US
Sunday will feature a US national team doubleheader, with the USWNT taking on France at noon (ESPN2, Watch ESPN), and the USMNT hosting Panama at 4 pm (ESPN, UniMás, Univision Deportes, Watch ESPN, Univision Deportes En Vivo).
Look for our previews of both games later this morning. In the meanwhile, previews of the USMNT game from MLSsoccer.com, Soccer America, and World Soccer Talk.
Jurgen Klinsmann is standing by his comments about a lack of fitness among some players who were called into the January camp. "My comments aren't meant to criticize anybody, it's just where we are right now. It's understandable. But I think it's important that the players are not getting away with it."
Goal.com says Klinsmann is placing blame for the team's shortcomings on everyone but himself. World Soccer Talk says don't blame Klinsmann for the team's shortcomings.
Soccer America on the reality behind Klinsmann's call to extend the MLS season to 11 months and how it might be achieved.
At ESPNW, Julie Foudy looks at the USWNT's goalkeeper depth chart, "Three very good keepers with one thing missing — they all lack big game experience…Let's hope the U.S. women do not pay the price for what should have been a very good return on investment: playing more goalkeepers when games mattered."
Fox Sports on how the USMNT and US U-23 team are coordinating efforts in preparation for Olympic qualifying.
Elsewhere
Sunday's Africa Cup of Nations final will feature Ivory Coast against Ghana (1:50 pm: beIN Sports, beIN Sports Connect). The semifinal match between Ghana and tournament host Equatorial Guinea on Thursday was halted for nearly 40 minutes with only ten minutes left in the game as local fans reacted angrily to their team going down 3-0. Riot police were called in to protect Ghana fans and players.
Vice Sports on Against Modern Football.
Checkout the latest Footy on the Telly for listings of the week's live soccer on TV, online, and on satellite radio.