Photo: Earl Gardner
Philadelphia Union
Well, ten-men Houston defeated Toronto 1-0 on the road on Wednesday evening, in the process moving into seventh place in the East. The Union, level at 39 points with the Dynamo, drop to eighth place. However, in addition to winning the last three games of the season, the Union need either one Toronto loss or one Toronto tie to reach the playoffs so who cares about the standings.
An update on playoff scenarios at the league website says the Union will be eliminated from reaching the postseason if they lose to Columbus on Saturday and New York defeats Toronto.
At MLSsoccer.com, Jim Curtin praised Amobi Okugo for his commitment in last Thursday's draw with Chicago. "He was a guy when you looked out on the field and everyone was kind of down and pressing and nervous, he was calm and still was vocalizing the fact that we can still do this. He was being positive and it's no coincidence he was the one who got rewarded with the goal."
Okugo said, "Everyone needs to step up. Whether I make or play or whoever else makes a play, it's going to take a group and that's what we're focusing on.
The Crew's Will Trapp said of Saturday's game, "I think the less secure you are with, only a few games left, you're going to feel a little bit more on edge. Like each game is that much more important but they're all important games. I think the 'every game's a final' still rings true."
Playing for 90 calls Rais Mbolhi the "$240,000 mistake."
Brotherly Game has the good, the bad, and the ugly from last week's Chicago game.
Also at Brotherly Game, an update on how Union Academy alum are faring with their college teams.
An article at US Soccer notes that the Union Academy U-15/16s "became the first Academy squad this season to get to six victories with a 3-0 win against NJCSA" last Saturday. The Union U-15/16s have outscored their opponents 19-1.
The Coats for Chester program, sponsored by the Southeastern Pennsylvania Soccer Hall of Fame, is underway. You can drop off coats at collection points at the Sons of Ben pregame tailgate at Saturday's game against Columbus, and at the game against Kansas City on Oct. 18. The Sons of Ben newsletter says,
As an added incentive, everybody who brings a coat to donate at our Sons of Ben tailgate (we will be collecting outside of the tailgate, so all are welcome to drop off even if you're not attending the tailgate), will be entered to win a one-of-a-kind Union/SoB themed skate deck. Every coat you bring will earn you a raffle ticket.
Local
Temple drew 1-1 with UCF on Wednesday. They host SMU on Saturday.
Drexel fell 1-0 on the road at Northeastern. On Saturday, they host College of Charleston for Alumni Day.
From Natrona Heights, just outside of Pittsburgh, The AP reports, "A Pennsylvania high school soccer coach and two players have been suspended for at least five days after an autistic teammate told police the two teens duct-taped him to a goalpost."
MLS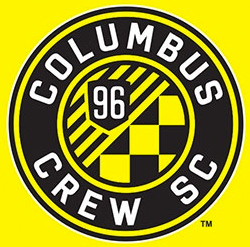 Columbus Crew unveiled their new logo on Wednesday. It's not bad — the addition of "Columbus" to the logo is long overdue — and certainly is better than San Jose's rebrand. Oh, and beginning in 2015, the team will be officially known as "Columbus Crew SC"  becasue, in case you didn't know, they're a soccer club. So, that's sorted, then.
Tim Leiweke says that Jermain Defoe, whose penalty kick against Houston on Wednesday night was saved, is committed to Toronto — for now:
Jermain understands the uniqueness of Major League Soccer, we have play-offs. That's the defining moment on the success of our clubs. Making the play-offs would be a huge step forward (for Toronto). Jermain now gets that and is totally focused on that. As to what happens during the next transfer window, we've all agreed we'll put it on hold and talk about that in December.
On secondary assists and Landon Donovan's league record for assists.
A study of ten top leagues by Mexican newspaper El Economista shows that coaches in MLS enjoy the longest tenures.
At SI, Brian Straus on rival bids for a MLS franchise in Minneapolis, one backed by the Minnesota Vikings, with support from the owner of Chicago Cubs and an investor in Vancouver Whitecaps and San Francisco Giants in and the other by NASL-side Minnesota United with backing from the owners of the Minnesota Twins and Minnesota Timberwolves. Minnesota United president Nick Rogers said,
You've seen a lot of teams out there, whether you're talking about Sacramento, who's probably the most vocal, or some other places, where they sort of fan the flames. We have made a point of staying away from all that. We've taken a very club-centric approach to what we're doing. We care about establishing a high level of pro soccer in this market and that's what we intend to be for a long time. I'm sort of agnostic about whether there's one true league you need to be in to succeed in pro soccer. We've tried to be the best team that we can be within the NASL, and that has enabled us to provide a high quality of soccer for fans everywhere.
More from MLS4MN.com.
A Princeton based "site selection consultant" tells Orlando Business Journal that Orlando "is set to become a top five market nationally for millennials," in part because of the construction of a downtown soccer stadium.
Bloomberg looks into objections over the use of public funds in the construction of the proposed soccer stadium in Las Vegas.
US
US Soccer has produced a Landon Donovan tribute video. What's that? No, I just have something in my eye.
Donovan tells USA Today he's prepared for life off the pitch.
At ESPN, Jeff Carlisle says Friday's friendly against Ecuador is an opportunity for the emerging pool of US midfielders to prove themselves.
Jozy Altidore is ready, if necessary, to move on from Sunderland:
I thought I've done everything I could this season to come in as fit as possible with the injury and try to make an impact when I've played. But like I said, this four years I want to be part of the national team. Jurgen makes his message very clear, nobody is different, so if it doesn't turn around then in January I'll be looking to start elsewhere and make sure that I'm in his plans.
At ESPN, Kate Fagan has a fascinating in-depth profile of Abby Wambach.
ASN talks to USWNT defender Meghan Klingenberg about her path to being named to the squad that will begin World Cup qualifiers next week and her World Cup aspirations. Klingenberg and Christen Press are easily two of my favorite USWNT players on the rise.
At the Inquirer, Bob Ford weighs in on the Hope Solo controversy.
The USWNT opens World Cup qualification against Trinidad & Tobago, winners of the inaugural Caribbean Women's Cup in August, on Tuesday. When T&T arrived in Houston to begin final preparations for the qualification tournament under the guidance of Houston Dash head coach Randy Waldrum, the team came without equipment, no transportation arrangements from the airport to the hotel, and with a total of $500 in funds for purchasing food and other necessities. This led Waldrum, who is coaching the team for free, to take to Twitter in an appeal for help. While the T&T federation later issued a statement saying that the $500 was just an "initial payment" and that more funds would be arriving later in the week, you can nevertheless donate to help the team.
Elsewhere
At the New York Times, more evidence that Sepp Blatter is a liar. The latest incident is his assertion that no executive committee called for the public release of the report on the investigation into corruption in the bids for the 2018 and 2022 World Cups. Sam Borden writes,
When told of Blatter's comments, several ExCo members were furious — because Blatter had misrepresented what had happened and there had been a loud debate about releasing the report. FIFA's director of communications assured those who complained that a public clarification would be made. No such clarification was issued.
US Soccer president Sunil Gulati said, "Numerous members of the ExCo, including me, have spoken passionately about the need for appropriate disclosure. So you can be sure there were plenty of strong views expressed."
Speaking at the Leaders in Sport Summit in London, CONCACAF president Jeffrey Webb said the confederation deserves a fourth World Cup spot (the confederation currently has 3.5), deserves to host the World Cup in 2026, and he additionally spoke about persistent racism in the game. All good stuff. Unfortunately, he then said he didn't view the use of artificial turf at the 2015 Women's World Cup as a gender discrimination issue. He lamely explained,
My view on this is that I'm not convinced that it's a gender situation. It's more from when you look at various places in the Caribbean, and Canada, and the weather… I believe a good artificial pitch is better than a poor natural one. I feel that artificial pitches are seen to be part of the future, and have been well-regarded. If you have the best there is in the world, that's much better than having a bad grass field.
More on Webb's comments from MLSsoccer.com, ProSoccerTalk, and Goal.com.
Reuters reports, "Any ideas England's Premier League might have of playing matches overseas would be unlikely to get any backing from UEFA, a top official of European soccer's governing body said on Thursday." UEFA general secretary Gianni Infantino said, "My personal opinion is that this is a very dangerous precedent and I am not in favour…I understand the reasons why they would like to do it, they are financial I suppose, but if you start doing that, where does it end?"
The Guardian reports, "The Football Association is considering taking some England games on the road again from 2018. The idea is part of a wider review of how best to use Wembley, which includes the targeting of an NFL franchise to help fill seats and coffers."
Four teams from Asia played in the last World Cup, and none won a game. Speaking at the Leaders in Sport Summit Asian Football Confederation general secretary Alex Soosay said that the Asian Cup tournament would be expanded from 16 teams to 24 in 2019 in an effort to improve teams competitive relevance on the international stage. Changes will also be made in the World Cup qualification format.