Photo: Courtesy of Philadelphia Union

Philadelphia Union
How big was Saturday's win?
To quote Conor Casey, "It's huge."
On Saturday, the Union defeated Toronto for the second time in four days, returning them to a playoff spot. After the completion of the weekend's games, the Union are now in fifth place in the Eastern Conference, tied with fourth place Columbus on 36 points.
Jim Curtin said after the win, "We knew Toronto, with the coaching change, would have a lot of energy in both games and they were missing some guys and so are we, we have three guys away with international duty as well, but we played very good today. I actually thought today we were better than on Wednesday to be honest. I'm happy with the guys' performance. Toronto is a very good team who are missing some pieces right now and we are a little bit fortunate to get them at the time we did."
Casey added, "We came in feeling good this week knowing that we wanted to win at home. We took care of business there. When you have the defense playing as well as they are, with two shutouts it gives the team a lot of confidence…We've had a good run of results and we've also been playing well. Sometimes you play well but don't get the results but we've had both. Every guy on our roster right now is pulling in the right direction and we just want to keep improving and getting points."
Andrew Wenger said, "Together we are confident. Every guy in the locker room is putting together good performances week-in and week-out. We're just trying to take it one game at a time."
More from Dave Zeitlin at MLSsoccer.com on the team's confidence.
Recaps from PSP, here at PSP. At USA Today, a photo gallery from the game.
After the weekend's round of games, SportsClubStats.com puts the Union's playoff chances at 65.7 percent.
Power rankings! At ESPN, the Union move up one spot to No. 6. "Credit for Philadelphia's revival must go to interim head coach Jim Curtin, who is make a strong push to be John Hackworth's permanent replacement."
The Union are now 6-2-3 under Jim Curtin in league play, 10-2-3 in all competitions. Taylor Twellman tweeted after Saturday's win:
Jim Curtin of @PhilaUnion just put his name in @MLS coach of the year running if NOT at the top!! #Turnaround

— Taylor Twellman (@TaylorTwellman) September 6, 2014
Asked in a Q&A on the Union website if the team is feeling extra pressure, Jim Curtin replied, "I don't think so. The guys, you can tell, are very upbeat. They're competing hard but they're competing hard the right way. There's competition at every spot. It's good and obviously winning is the ultimate cure. When you win, everyone is happy and no one is asking questions and that's good. Winning is the ultimate cure keeps everyone smiling. Right now, our training sessions are as intense as ever. The talent is here and now it's starting to rise."
Maurice Edu has been excellent at center back, though his preferred position is in midfield. Edu said, "I think if you go around the dressing room, everyone has a preferred position," Edu said. "At the end of the day, everybody is a professional, and you put your pride and ego aside, and it's about the team."
ProSoccerTalk compares how Andrew Wenger and Jack McInerney have done since the trade that saw McInerney go to Montreal and Wenger come to the Union.
Union internationals roundup
On Friday, Carlos Valdes and Colombia were defeated 1-0 by Brazil in a friendly in Miami (video highlights here). On Saturday, Rais Mbolhi and Algeria defeated Ethiopia 2-1 (video highlights here). Michael Lahoud played 43 second half minutes in Sierra Leone's 2-1 loss to the Ivory Coast (video highlights here). On Wednesday, Algeria hosts Mali, and Sierra Leone faces the Democratic Republic of Congo. On Tuesday, Andre Blake and Brian Brown will be with  Jamaica to face Canada in Toronto. Zach Pfeffer played 38 second half minutes as the US U-20s came from two goals down to defeat Defensa y Justicia Reserves 3-2  in Argentina. The US concludes its camp in South America on Tuesday when they face the Argentina U-20 team.
Union Academy
The 2014-15 US Soccer Development Academy season began over the weekend. The Union U-13/14s got off to to a tough start with a 3-1 loss to Met Oval. Vilbert Fortulus scored the lone Union goal. The Union U-15/16s trounced Baltimore Bays Chelsea 7-0. Colin Brezniak and Tiger Graham both had a brace, with single goals from Kurtis Orrson, Alexander Soto, and Auston Trusty. The Union U-17/18s defeated Baltimore Bays Chelsea 4-1 with goals from Derrick Amaniampong, Sebastian Elney, Brandon Levano, and Michael Swift.
River Cup

The fourth annual River Cup was played on Saturday and saw the Union front office defeat the Sons of Ben on penalty kicks. Look for our photo essay of the game later today (the Sons of Ben uniform is brilliant).
Etc.
Former Union man Freddy Adu is suing Brazilian club Bahia over unpaid wages.
Local
It took until the last game of the season, but the Harrisburg City Islanders are in the USL PRO playoffs for the for the fourth year in a row and the ninth time in 11 seasons. Playing the final two games of the season on the road, Harrisburg knew one win would clinch a playoff berth. On Friday, the opponent was Charleston Battery, and the result was a 2-1 loss, the City Islanders' lone goal being scored in the 89th minute by Garret Pettis, assisted by Union loanee Cristhian Hernandez. Match reports from Penn Live, Charleston Post and Courier, and USL PRO.
That set up a Saturday meeting with Charlotte Eagles who themselves needed a win to clinch a playoff spot. It would be Charlotte who opened the scoring in the ninth minute before Union loanee Jimmy McLaughlin equalized from the spot five minutes later. Former Union trialist Jose Baril put Harrisburg ahead for good in the 39th minute, scoring again in the 48th minute. Charlotte scored again from the penalty spot in the 71st minute before Union loanee Aaron Wheeler scored an insurance goal from the penalty spot in the 87th minute for the 4-2 win. Match reports from Penn Live, Charlotte Observer, and USL PRO.
In seventh place on Saturday games, Rochester Rhino's 2-0 win over Wilmington Hammerheads on Sunday means Harrisburg finished the regular season in eighth place, setting up  a playoff meeting on the road against first place Orlando on Saturday, Sept. 13 at 7:30 pm.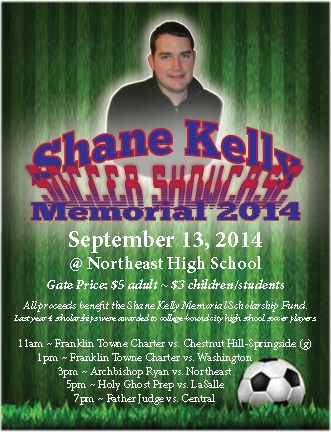 Penn topped Drexel 2-0 on Friday while Temple fell 1-0 to Penn State. St. Joseph's defeated LIU Brooklyn 4-3 in double overtime with junior forward Emmanuel Temeh scoring the equalizer 56.8 seconds remaining in regulation and the gamewinner in the 104th minute.
On Saturday, Sept. 13, the Shane Kelly Soccer Showcase Memorial will kickoff at Northeast High School to benefit the Shane Kelly Memorial Fund. Five games will be played beginning at 11 am. Admission for this very worthy cause is only $5 for adults, $3 for children and students.
MLS
In Eastern Conference play, first place DC (47 points) drew 0-0 with Vancouver. Second place Kansas City (42 points) fell 2-1 to sixth place New York (34 points), their fourth loss-in-a-row. Third place New England (39 points) came from behind to defeat ninth place Chicago (29 points), 2-1. Fourth place Columbus brushed aside Chivas USA, 3-0. Fifth place Philadelphia (36 points) defeated seventh place Toronto (33 points), 2-1, increasing Toronto's winless streak to five games. Eighth place Houston (31 points) came from behind to defeat last place Montreal (20 points), 3-2.
In the Western Conference, first place Seattle (51 points) had the weekend off after defeating Chivas USA 4-2 on Wednesday. Second place LA (49 points) thrashed seventh place Colorado (30 points), 6-0, after the Rapids goalkeeper Joe Nasco, making only his second start in MLS, was red carded after just 34 seconds of play. Third place Real Salt Lake (46 points) defeated fourth place Colorado (42 points), 2-1. Fifth place Portland (35 points) came from two goals down to draw 3-3 with eighth place San Jose (27 points). Sixth place Vancouver (34 points) drew 0-0 with DC. Last place Chivas USA (24 points) lost 3-0 on the road to Columbus.
Soccer America notes that another weekend of high scoring matches has pushed the league average to 2.90 goals per game, "putting it on course to finish with its highest average since 2002, the last year it topped the three-goals-per-game mark. Only two major leagues have averaged more goals per game this year."
DC United have signed Samuel Inkoom, a free agent midfielder/defender who has been a member of Ghana's last two World Cup teams.
Chicago Fire midfielder Logan Pause has announced he will retire at the end of the season.
At ASN, former Union man Andrew Jacobson talks about playing in Norway under Bob Bradley and how he's looking forward to playing with NYCFC.
Former Union man Danny Mwanga, on loan from Colorado to the New York Cosmos, scored a goal in his second game with the team, a 2-0 win over Fort Lauderdale Strikes on Saturday, and was named Man of the Match.
Speaking at last week's Bloomberg Sport Business Summit, Don Garber and Sunil Gulati said development of world class players will be key to the league and the national team reaching the next level. Uh huh.
Despite some chatter in June about the New England Revolution wanting to build a soccer stadium in Greater Boston, and Boston mayor Martin Walsh saying he was open to the idea, a public records search shows that there have been no discussions between the city and the team.
Here's a story on hopes in Charlotte, NC to land a MLS franchise.
US
The draw for the CONCACAF Women's World Cup qualifying tournament took place on Friday and the US was drawn in Group A along with Trinidad & Tobago, Guatemala, and Haiti. The semifinals and final of the tournament will take place at PPL Park, with the semifinal games being played at 4:30 pm and 7:30 pm on Oct. 24. On Sunday, Oct. 26, the third place game will be played at 3 pm with the final kicking off at 6 pm. I cannot wait!
At US Soccer, a look at the lessons learned from the last qualifying cycle when the team lost to Mexico in the semifinals, forcing the US to defeat Costa Rica in the third place game to earn a two-game playoff against Italy.
In related news, The AP reported last week, "The law firm that represents soccer players who object to playing on artificial turf at next year's Women's World Cup said Wednesday that a FIFA-commissioned survey of players shows that 77 per cent feel major tournaments should be played on grass."
Reuters reports, "Lawyers for over 40 top female players threatening to sue FIFA over the proposed use of artificial grass at the 2015 Women's World Cup are investigating reports that players are being pressured against taking legal action." The pressure is reported to be coming from players' national federations.
At Fox Sports, Kyle McCarthy on Jurgen Klinsmann's recent comments expressing displeasure with the fact that MLS schedules games during international breaks.
At ASN, Brian Sciaretta on the promising play of Alejandro Bedoya, Mix Diskerud, and Joe Corona in the win over the Czech Republic in last week's friendly.
Kyle Beckermann, Omar Gonzalez, Clint Dempsey, and DeAndre Yedlin talk to the LA Times about what it meant to play in the World Cup.
Fox Sports is launching Multimatch 90, a NFL Red Zone style channel for UEFA Champions League group play that will show up to 8 matches at a time.
Ferguson, MO is back in the news. On Saturday, a girls soccer match was thrown into chaos when a gunfight erupted nearby. All of the suspects in the shooting, which had nothing to do with the game, were arrested by police.
Elsewhere
On Friday, the ethics investigation group led by former US Attorney Michael Garcia submitted its report on  alleged malfeasance in the bidding for hosting rights to the 2018 and 2022 World Cups. FIFA said in a statement, "The report sets forth detailed factual findings; reaches conclusions concerning further action with respect to certain individuals; identifies issues to be referred to other FIFA committees; and makes recommendations for future bidding processes."
In case you forgot, the ethics report will not be made public — way to go FIFA!
In related FIFA-associated corruption news, Reuters reports, "FIFA faces more embarrassment after a member of its financial watchdog was arrested on suspicion of corruption and money-laundering in the Cayman Islands. Canover Watson, one of eight members of FIFA's Audit and Compliance Committee and a vice-president of the Caribbean Football Union, has denied the charges and been released on bail in the British overseas territory."
Sepp Blatter has confirmed he will run for a fifth term as FIFA president. In doing so, he talked up the possibility of the US hosting the 2026 World Cup.