Editor's note: This post is part of PSP's World Cup series, in which PSP's writers and a few honored guests make the case for which team you should root for in the World Cup after the United States. Read the full series here.
What do you think of when somebody mentions Colombia? Drugs, cartel violence, and coffee, for most people. Well, the country is finally on a rebound, and soon when somebody mentions Colombia, you'll think of exciting, free-flowing football as well. Here are a few reasons Colombia should be your second team in this year's World Cup.
I. The (Real) Dark Horse
At this point, the term "dark horse" has been bandied about for Colombia so much, it's almost lost its meaning. It's still accurate, however, because the inexperienced side is making their return to the World Cup for the first time since 1998, when they were defeated by the US and Romania and failed to make it out of their group. But the team's revival has paralleled that of their home country. Colombia qualified for the World Cup easily, placing second only to Argentina in the formidable CONMEBOL conference, with 27 goals and 13 allowed in 16 games. They've proven they can hang with the big dogs, most notably with a 0-0 draw against Argentina – in Buenos Aires – and defeating Belgium 2-0. In Brussels, I might add. (Eat that, Eli.)
How? Well, former Argentina coach José Pékerman has managed what all coaches aspire to: build a team of tremendous attacking talent around a stout, experienced defense. Up top, Colombia boasts one of the deepest and most versatile attacking forces in the world. While the brilliant but injured Radamel Falcao was unquestionably Colombia's best striker, Porto's Jackson Martinez, Sevilla's Carlos Bacca, River Plate's Teo Gutierrez and Dortmund-bound Adrian Ramos are all genuinely exciting strikers, and all differ in style too. For example, Gutierrez – although at times a comically immature individual (he once threatened his teammates with a paintball gun) – scored six goals in qualifying games, and Bacco, although not a great finisher, holds up the ball excellently for attacking midfielders.
James Rodriguez is a young but thrilling left midfielder who will be instrumental for starting Colombia's attack, and the side – often playing a loose 4-4-2 or a 4-2-2-2 reminiscent of Brazil – also features bombing fullbacks Pablo Armero and Juan Zuniga, who both play wingback for Napoli and will prove instrumental in attack through overlapping runs.
This propensity for forward movement from the fullbacks is why Pékerman often plays two defensive midfielders in front of the back line, but it has worked well. This is largely due to the aging but experienced 38-year-old Mario Yepes, who maintains the tightly structured defense for the side. As any center back will tell you, good defense comes from structure, structure comes from organization, and organization comes from experience. Make no mistake – although slower than Conor Casey on a cold day in January, Yepes is the reason the team gave up the fewest goals of any South American team during qualifying games.
Ah, but those injuries will hurt…
World class striker Falcao. Key midfielder Edwin Valencia. Veteran center back Luis Perea. These players were all instrumental in qualifying matches, and are all out due to injuries. The spine of Colombia's starting lineup is up for question. Surely this will hurt in the big games.
….but not really
Falcao is the most noticeable absence for Colombia, but while a brilliant goalscorer, Falcao wasn't particularly good at linking play and providing the attacking midfielders with service, and it's not too much of an exaggeration to suggest Colombia might play better without him – particularly with the wealth of forward talent at Pékerman's disposal.
In any case, Colombia's strength has normally been down the flanks. On paper, Rodriguez drifts inside from the left and becomes a playmaker while Armero bombs up the flank from the back line, and Carlos Carbonero, a direct winger on the right side, has become a cool, ruthless goalscorer at Fiorentina.
Without being overly harsh, the defense may also benefit from Perea's absence; while an excellent center back, playing a 35-year-old next to the aging, slow-as-molasses Yepes was always questionable on a side featuring attacking wingbacks. AC Milan's Cristian Zapata is an obvious replacement, but Pékerman seems down on him, as he only featured in two of the qualifying games. This opens the door to another dynamic center back named Carlos Valdes to start. Yes, that Carlos Valdes.
II. The Colombia Connection
Which brings me to the other reason to support Colombia in the World Cup, and really the only one that matters. Our own Philadelphia Union have had six players from Colombia on their roster since their inaugural year, more than any other nation outside of the US. Ok, it's true that some of these players turned out to be complete busts from the Dark Ages of the Nowak era (*cough Perlaza and Pajoy cough*), but Valdes and Faryd Mondragón in particular performed well, served as team captains and endeared themselves to the fans. More importantly, there are only three Union players – past and present – who are playing for any World Cup team in 2014. Guess who? Valdes, Mondragón, and David Myrie, the Costa Rica international who was cut by the club four days after starting in the team's inaugural game for a career total of 78 minutes with the Union.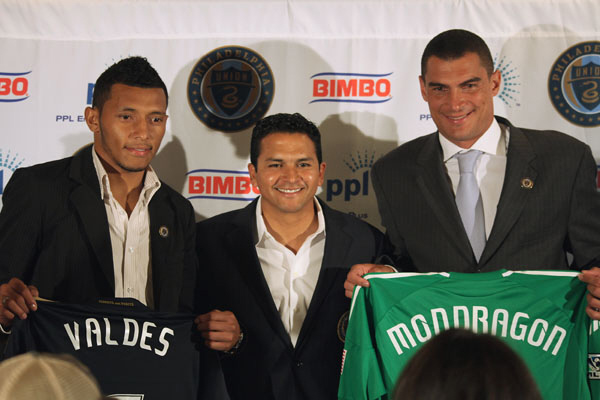 Mondragón came in to the Union in 2012, when he served as mentor to a young and shaky Zac McMath. He will be a backup keeper to David Ospera, who had a good season for a poor Nice side. But on the off-chance he is called upon to serve for his team, he will gain the distinction of the oldest player ever to play in a World Cup, having been a veteran of the 1994 Columbian side. Take a moment to think about that: Mondragón has played through six World Cup campaigns. And you thought Pirlo would never retire.
But it's Valdes who will be in the spotlight for Union fans. With a strong chance to start, he will be front and center for the Colombian defense. If a ball does get played through Colombia's well-organized defense, count on Valdes to be the one to run it down and make the tackle. (Which he'll make, because Valdes is the Best. Defensive Player. Ever. Of All Time. Or something like that…) If Colombia goes far and Valdes plays well, his stock will go up. And that means good things for the Union, who still own his contract rights.
And with Colombia's group, there's a good chance they will go far. Greece, Cote d'Ivoire, and Japan round out Group C, and Colombia is projected to win the group easily. If they do, they'll likely play Italy, Uruguay or England, all beatable teams. If they get past the round of 16, they'll probably face Brazil in the quarterfinals – and that's where an inexperienced Colombia will get a chance to prove that they are worthy of their #8 FIFA ranking.
But none of that – neither their chances of getting out of group play, nor the drama of a game against Brazil, nor the boost Philadelphia will get from a deep run and good play from Valdes – matter.
Why? Because I am a Union fan, no matter how badly they show up on the field. And that means when their players go on to play in the World Cup, past, present or future, I cheer those players on. It's just what you do. The rest doesn't matter. I bleed navy blue and gold. But I guess that means for this World Cup, I bleed a little red as well.