Photo: Paul Rudderow
A memorial fund has been established to honor the memory of Eric Shertz, the Union fan, Sons of Ben, and Bearfight Brigade member who passed away on Sunday. We'll have more information on Eric's funeral and wake later this morning.
Philadelphia Union
Given its recent form, is will come as no surprise that the Union continue to take a tumble on the power rankings front. At ESPN, they fall two spots to No. 14: "something seems to be missing." At SI, it's a one spot drop to No. 9: "a forward has yet to differentiate himself as the go-to man." At Soccer America, they hold steady at No. 10.
Maurice Edu was named as a sub in Goal.com's Team of the Week.
At MLSsoccer.com, Dave Zeitlin notes the frustration on the team with its wobbly form and how this is compounded by a daunting stretch of games ahead of the World Cup break. Amobi Okugo says, "It's disappointing because we have Montreal, Seattle away and next month is going to be a hard month. We just have to turn around and focus on Saturday."
In the latest Inside Doop, Zeitlin notes the Union have "gone 124 minutes without attempting an official shot on goal." He also notes that whether the Union like it or not, Jack McInerney will be the big story line when the the team travels to Montreal this weekend. Also, how long will Berry remain on the bench?"
In the three things you may not have noticed post at the Union website, Kerith Gabriel points to Sheanon Williams and Ray Gaddis getting involved in the attack against Houston, Brian Carroll providing defensive cover so Aaron Wheeler and Amobi Okugo could get involved in the attack, and Leo Fernandes' in-swinging corners.
Also at the Union website, Ray Gaddis talks about how keeping the mentality of hard work he had as a rookie continues to pay off.
Brotherly Game looks at the stats from Saturday's draw with Houston. Conor Casey is the stat zero and Amobi Okugo the stat hero.
MLS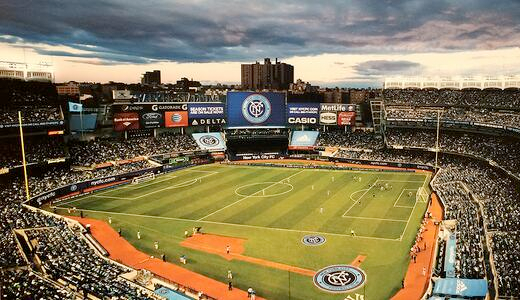 It's official: New York City FC will make its debut season in 2015 at Yankee Stadium. MLSsoccer.com has comments on the the fields smallish dimensions.
NYC FC Chief Business Officer Tim Pernetti said of the club's efforts to build its own stadium, "We're going to build a soccer-specific stadium in New York City. We're going to take whatever time is necessary to get it right…When we open the doors for a soccer-specific stadium for this club, it will be spectacular. But we're going to take the time we need to develop the right relationships and work in a productive way to get it to that point…Our goal is to be in a soccer-specific building as soon as possible. At the same time, we're not going to create artificial deadlines based on pressure that comes in different directions in order to do it the right way. We're only going to get one shot to do it, so we're going to take the time necessary to get it there."
Orlando City SC announced on Monday that it will not begin play in its new stadium until 2016 and will play its inaugural season in 2015 at a renovated Citrus Bowl. Orlando City executive Brett Lashbrook tells the Orlando Sentinel, "Due to unexpected delays in the city acquiring the final piece of the stadium land, we thought it best for our fans to enjoy the full season in one venue." More from Orlando Business Journal.
The Bradenton Herald reports that the MLS preseason at IMG Academy had low paid attendance. The preseason included eight friendlies with MLS and international clubs as part of Bradenton's efforts to become the East Coast preseason hub for the league.
US
This just in from the Department of We've Got That Going For Us, Bayern Munich's Karl-Heinz Rummenigge believes the US will make it out of its group in Brazil. "Two teams I'm seeing as favorites to qualify for the next round are Germany, and maybe this will surprise you, the States." The reason? "I believe they have an interesting team and I know Jurgen Klinsmann, who is totally motivated." What do you know, Klinsmann's even got Rummenigge saying "totally."
Luis Gill and Wil Trapp will miss the first U-21 MNT camp with injuries.
ASN has a look at the players who have been called up for the U-21 camp.
Stoke hopes to secure a UK work permit for Juan Agudelo, now on loan to Utrecht, this summer.
Elsewhere
David Moyes, former manager of Manchester United. Ryan Giggs will serve as interim manager through the rest of the season.
The UEFA Champions League seminal first legs begin today with Atlético Madrid vs Chelsea (2:45 pm: Fox Sports 1, Fox Deportes, Fox Soccer 2Go, Fox Sports GO, SiriusXM FC).
Bloomberg reports that, due to rising costs and delays, Qatar has reduced the number of stadiums it plans to build by four. Qatar will now go with eight stadiums rather than the 12 originally planned (which included nine new stadiums and 3 refurbishments). The report notes, "In addition to the stadiums, 92 training sites will be constructed."