Photo: Earl Gardner

Philadelphia Union
Well, after coming back to equalize — courtesy of Andrew Wenger in his Union debut — following an early penalty kick, the Union again gave up a late goal in Saturday's game at PPL Park against Real Salt Lake, an 85th minute finish from Kyle Beckerman. Only this time, the Union were able to fight back, courtesy of a 90th minute equalizer from Maurice Edu. While it was disappointing to see the second consecutive draw at PPL Park in this young season, at least in this one it was more about the Union fighting back than rolling over. And, it was a beautiful day.
Edu said when asked point-rescuing 90th minute goal, his second in as many games, "I would rather have two wins instead of two goals. We showed a lot of resilience today. We gave up a goal late in the game but we showed a lot of heart to stay in it, to fight back and get that second goal…It's about going that extra step, doing whatever it take. It's about fighting through whatever situation we're in and making sure at the end of games we're coming out with victories instead of drawing games."
John Hackworth said of the Union's day, "We had some moments where we played some really good soccer. Frustrating for me that we didn't put as many of those good moments together with some execution in front of goal."
Wenger said of scoring in his Union debut, "It was pretty exciting. It would have been a lot better if we could have gotten three points. But it's good to open the account early. …. I think there's pressure to score every game. When you're wearing the No. 9, that's the job."
Wenger's reception was a stark contrast to the one he received in his red card shortened PPL Park debut with Montreal only two weeks ago. He joked after the game, "That was pretty damn cool. Much better than the F-words they were giving me last week."
Wenger said of the pass from Vincent Nogueira that set up his goal. "That's a pretty damn good pass, and good vision to see the space."
John Hackworth said of Wenger's goal, "When you score a goal in your debut in front of your new home crowd, that's fantastic. It shows you the quality and how hard he works — that he can hold the ball up, get in the box and make a good run. That ball from Nogueira is sublime to get it to Andrew. It was a great run and a great finish."
Edu said of Wenger, "He showed a lot today. Not only did he score the goal but he worked his tail off, he was tracking back, making tackles and breaking up plays. He showed a lot of good traits today and we're pleased he got that goal. He's going to be a good asset for our team, we're happy for him."
Zac MacMath, who saved the Union's bacon with several great saves, said after the game, "[T]o know that we are able to play at that level and that I was able to keep us in the game when it was a bit against us. That gives the team and the defense a boost and hopefully we can continue to do better and win games now."
Hackworth said, "Zac was really good, he kept us in the game. It's unfortunate our guys don't react better on that penalty kick — which I'm not sure was a penalty kick. Zac was pretty good. He was good off his line, he cleared balls and made some really good saves."
The penalty kick. Austin Berry had a tough day and he knows it. "Four minutes into the game, I give up a penalty and then I'm not paying attention enough to block a second chance after Zac makes a save," Berry said. "It's hard to get into a game like that when they score like that and bring the game back. It's not a loss, but this one's kind of on me…It was tough to get back out there, and there were several plays where I felt I fell a step behind. I felt I was slower than normal. I still have to try to get out there and go the full 90, but I'm very upset with myself."
And again with no penalty calls for the Union. At MLSsoccer.com, Dave Zeitlin helpfully reminds us that it has been 41 games since the Union got a penalty call. Sheanon Williams says in the article that the lack of calls is "getting to be amazing." Amobi Okugo says, "We might have to flop like other teams. Who knows?"
Leo Fernandes said of the challenge that saw him down in RSL's box in the 71st minute, "I got to the ball first. I thought there was some contact. I felt like if he didn't foul me, I would've been into goal and probably would've scored."
Maurice Edu said of the hype about the fact that he and Kyle Beckeman, who are both looking for a trip to Brazil, would be facing one another on Saturday,
I knew a lot was going to be made out of that but I don't focus on that kind of stuff. In my mind, if I play with the mentality that I want to win, I want to help this team win, I'm going to be at my best. If I focus on small things, and individual match-ups, then you can get distracted from what's really important, which is this team being successful.
Having that competition from (Beckerman's) team, and him from my team, is going to bring out the best in him and me, and make for an enjoyable game, which I think it was for people watching.
Beckerman said, "I think we can both make the team.I look at him as an opponent today but a teammate with the national team. I want to see him do well. I don't wish any bad for him or anything…I just hope all the national team guys are healthy and in form for when the team comes together. That's just going to make us better."
Beckerman also joked after the game, "We always tie here. I don't know why we even play the game. We should just take the tie and go home. Or even better, not even make the trip."
At MLSsoccer.com, Armchair Analyst Matthew Doyle describes how the Union, who he calls "the most frustrating team in MLS," somehow manage to be "very,very good," and "very, very bad," in the span of 90 minutes. Doyle says of RSL's second goal, "Somebody on Philly has to call a players-only meeting and say 'we can give up goals, but we can't give up those kinds of goals. No more.'" He adds, "Philly fans should be frustrated, because nobody's left more points on the table than the Union thus far."
Recaps from PSP, Philadelphia Union, MLSsoccer.com, Philadelphia Inquirer, Delco Times, Delaware Online, CSN Philly, Philly Soccer News, Brotherly Game, Real Salt Lake, Salt Lake Tribune, Deseret News, RSL Soapbox, ProSoccerTalk, SBI, SI, Goal.com, The Sports Network, and The AP.
Video of John Hackworth's postgame press conference, and locker room interviews with and quote sheet here at PSP.
South Jersey Times has a photo gallery from the game.
Brotherly Game's stat hero for Saturday's game is Zac MacMath. The stat zero is Sebastien Le Toux.
The referee for Saturday's game, Alan Kelly, probably didn't win over any new fans at PPL Park. Kelly's first MLS refereeing assignment came in the season opening game between Seattle and Kansas City on March 8. That's right, Kelly's MLS debut came as a scab. The Irish Examiner talks to Kelly about his arrival at the Professional Referee Organization in January and his unexpectedly quick rise to calling games.
In case you missed it on Friday, Dave Zeitlin writes at The 700 Level that, while Jack McInerney may not have fit into the Union's long term plans, the team should do everything possible to ensure that Amobi Okugo continues to wear the blue and gold.
Looks like Keon Daniel may be with Arizona United. He's not listed on the team's website, though, and he didn't play in Arizona's inaugural game, a 4-0 loss to Oklahoma City Energy. By the way, former Union man Matt Kassel is Arizona's captain.
Union Academy
The Union Academy U-17s begin play in the Generation adidas Cup today in Frisco, Texas, when they face their FC Dallas counterparts. After that, they face Chivas de Guadalajara on Tuesday, and San Jose on Thursday. Click here for the schedule.
The Union Academy U-13/14s crushed Virginia Rush 6-0 on Saturday. Juan Infante had two goals and Kalil Elmedkhar, Anthony Fontana, Ryan Trapp, and Jalen Weatherspoon had a goal apiece. The U-17/18s cruised to a 6-1 win over their Virginia Rush counterparts. Doyle Tuvesson had a hat trick, Matthew Greer a brace, and Neicko Williams also scored. The U-15/16s had the weekend off.
Local
Former Union Academy goalkeeper Zack Steffen was between the pipes for the US U-20's 3-2 winner over the River Plate U-19s in their opening game at the Dallas Cup on Sunday. (I haven't been able to located a stat sheet for the game so I'm not sure if Zach Pfeffer saw time in the game but he didn't start.) The team faces the Eintrecht Frankfurt U-19s later today.
Penn mourns the passing of Charles R. Scott, who passed away on Wednesday at the age of 99. Scott grew up playing soccer in Logan before playing for Penn, where he was captain of the men's team in 1935 and an All American. He was the head coach of the freshmen team in 1939, becoming the head coach of the varsity team in 1943. In 1941, he was one of the founders of the National Soccer Coaches Association of America. Scott was inducted into the Big 5 Hall of Fame in 1981, the NSCAA Hall of Fame in 1993, and into the Penn Athletic Hall of Fame in 1996. More on Scott's illustrious career from the Inquirer.
Reading United has an alumni report.
DurhamRegion.com has a profile on Bayley Winkel, the five-foot-seven, 135-pound attacker from Whitby, NC who was awarded a scholarship to Drexel. Winkel, who had scholarship offers from several schools, says, "I loved the coach (Doug Hess), I loved the city, Philadelphia, and financially it was the best option, so I picked Drexel."
MLS
In Eastern Conference play, Columbus (10 points) is in first place after a 1-1 road draw with San Jose. In second place is Toronto (9 points), who lost 1-0 to Colorado. Third place Kansas City (8 points) had the weekend off. DC United moves into fourth place after their 1-0 win over New York (4 points), who are now in ninth place. New England (7 points) moves into fifth place with their 2-0 win over seventh place Houston (6 points). The Union (7 points) drop to sixth place with their 2-2 draw against Salt Lake. Eight place Chicago (5 points) drew 1-1 on the road with last place Montreal (3 points). Jack McInerney scored in his Montreal debut, assisted by Marco Di Vaio.
In the Western Conference, first place Dallas (13 points) lost for the first time this season, going down 3-2 to third place Seattle (10 points). Clint Dempsey scored a brace for the Sounders in the win, making him the first MLS player to score five or more goals in two games, and six or more in three games, since Thierry Henry back in March-April of 2012. Second place Colorado (10 points) defeated Toronto, 1-0, on the road. Fourth place Salt Lake (10 points) drew 2-2 with the Union. Fifth place Vancouver (8 points) lost 1-0 on the road to LA (7 points), who are now in sixth place. Seventh place Chivas USA (6 points) drew 1-1 on the road with eighth place Portland (4 points). San Jose (2 points) is in ninth place after their draw with Columbus.
Soccer America notes that a record five teams — Chicago, Montreal, New York, Portland, and San Jose (who, unlike the other teams, have only played four games) — are still winless after six weeks of play.
New York head coach Mike Petke said of his team's slow start after Saturday's loss to DC,
Now, it's starting to creep in a little bit. It's still far from pushing the panic button, far from anything like that. But now it's getting to the point – especially after a game like this, a game in Chicago, a second half with Chivas [USA], where we just couldn't finish them off – that [we're] going, 'What the hell is going on here?' But overall, we're a good team and we have good players and we showed that tonight. All we can do is put it behind us and get ready for the next game.
That next game is, of course, against the Union at Red Bull Arena, a game the MLS gods, in their infinite wisdom, have scheduled for a Wednesday night.
ProSoccerTalk compares Wenger and McInerney's goals.
League commissioner Don Garber will undergo treatment for prostate cancer.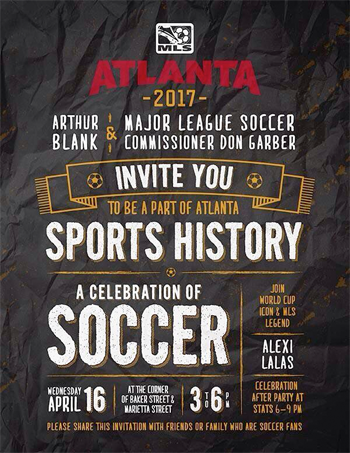 Looks like there will be an announcement in Atlanta on April 16. I wonder what it'll be about?
The Miami Herald reported on Friday, "Miami's Downtown Development Authority formally threw its support Friday behind David Beckham's proposal to build a Major League Soccer stadium on PortMiami's Dodge Island."
NWSL
The NWSL season opened over the weekend. On Saturday, new team Houston Dash was defeated 1-0 by reigning league champions Portland Thorns, and FC Kansas City and Sky Blue FC played to a 1-1 draw. Former Philadelphia Independence forward Amy Rodriguez scored in her Kansas City debut. On Sunday, Washington Spirit lost 3-1 to the visiting Western New York Flash and Seattle Reign brushed aside Boston Breakers, 3-0. Abby Wambach sat out the game after being diagnosed with a fractured orbital bone below her left eye that she received in last Thursday's 3-0 USWNT win over China. Chicago Red Stars play their first game of the season next weekend.
US
Sunil Gulati says not so fast on the report that the 2016 Copa America will take place in the US.
#CopaAmerica 2016 in U.S.? Interesting idea but nothing agreed to by @ussoccer yet.

— Sunil Gulati (@sunilgulati) April 11, 2014
The operative word seems to be "yet." More from ESPN ans SBI.
At SI, a Q&A with Tab Ramos about his new position as USMNT assistant coach.
Also at SI, the start of a new "Know Your Enemy" series on US World Cup opponents that focuses on less familiar key players begins with a look at Ghana midfielder Kwadwo Asamoah from Jonathan Wilson.
Elsewhere
The AP reports, "An Argentinian team named after pope Francis and meant to promote non-violence have played their first match in a regional league … a 2-2 draw in which four players were sent off."