Photo: Daniel Gajdamowicz
Philadelphia Union
Aaron Wheeler has been named to the MLS Best XI for Week Four at MLSsoccer.com and SI.
In the latest power rankings at SI, the Union fall three spots to No. 6. At Soccer America, the Union step down two spots to No. 9. At ESPN, the Union drop one spot to No. 10.
At the Union website, Kevin Kinkead looks at three things from Saturday's draw, including another fine performance from Vincent Nogueira, Aaron Wheelers strong outing at centerback, and how the Union once again had more shots on goal than their opponent, just not more goals. More precisely, the Union have four goals from 19 shots on target, their opponents have four goals from nine. Ugh.
At Brotherly Game, Barry Evans has four game-changing moments from the draw.
Maurice Edu is feeling good about his chances of making the US World Cup team. "I'm a confident player and a confident person. It's one thing to say it but another to go out and do it. I'm going into camp with the same focus I've had here. I'm feeling good, feeling confident about my play and I'm looking to go back up and enjoy it again."
Jack McInerney is included in the "'24 Under 24′ autograph subset" of the newly launched 2014 Topps MLS card set, "the most comprehensive and engaging soccer trading card product ever in North America." A press release says, "The product will showcase a unique combination of current MLS stars, American soccer legends and Mexican National Team players."
Late recaps from Saturday's draw with Montreal from Reading United, which focuses on Reading alumni, The Soccer Desk and Total MLS.
It's official: Kleberson has signed with new NASL side Indy Eleven. According to a report from indystar.com, Indy Eleven president and general manager Peter Wilt compared Kleberson to Peter Nowak, who Wilt signed when he was running the Chicago Fire. The report says, "Coincidentally, Nowak formerly coached MLS' Philadelphia Union, the team Kleberson represented last year. Of the games in which Kleberson appeared, he was their best player, Nowak told Wilt." So, Nowak is watching Union games, then? Not too closely, apparently.
MLS
Continuing an emerging trend for those who have scored against the Union this season, Marco Di Vaio is up for Goal of the Week.
DC United's John Thorington announced his retirement on Monday. As was announced in a press release on March 19, Thorington will now work with the Major League Soccer Players Union as a special assistant to executive director Bob Foose.
Sporting Kansas City have waived defender Mechack Jerome.
The Orlando City Council has unanimously approved the deal for a new $84 million stadium for Orlando City SC. Sky Sports looks at Orlando City's preparations to join MLS.
At the Washington Post, Steven Goff looks at how the DC mayoral primary could affect the proposed new DC United stadium.
You will recall the news two weeks ago that New York Yankees manager of professional scouting Will Kuntz had left baseball to become director of player relations for MLS. At MLSsoccer.com, Jeff Bradley talks to Kuntz about his decision to join MLS and more.
Brotherly Game looks at player salaries in MLS from a variety of different angles in the second part of a series examining background information ahead of the CBA negotiations.
US
US Soccer announced on Monday that Liga MX side Puebla FC has refused to release DeMarcus Beasley and Michael Orozco Fiscal for Wednesday's friendly against Mexico (11 pm: ESPN, WatchESPN, and UniMas).
Jurgen Klinsmann said in a statement,
We are very disappointed in the decision by Puebla. When the match was scheduled, it was with the spirit that both teams would have access to their domestic-based players for what is a very important game for those competing for spots in the World Cup. Both MLS and most clubs in Liga MX honored that idea. While we understand their position, it's a huge opportunity lost for DaMarcus and Michael and doesn't contribute to the continuation of this respected rivalry.
Speaking on Univision, Klinsmann said "we are very angry, very angry" about the decision by Puebla, "a team that doesn't play in the CONCACAF Champions League next week." Because the friendly doesn't fall on a FIFA international date, Puebla was not required to release players and the US had not called up players from Tijuana, who face Cruz Azul in CONCACAF Champions League play tonight. Klinsmann will not make any new additions to the roster, which now stands at 20 players, for Wednesday's friendly.
The Shin Guardian's preview of Wednesday's friendly includes advice on how to defend against Alan Pulido from Amobi Okugo, who says. "I've had the pleasure to play against him multiple times growing up with the youth national teams and ironically I was always playing centerback when we played each other."
Klinsmann says of the decision to bring in former Germany national team manager Berti Vogts as a special adviser and replacing assistant coach Martin Vasquez with Tab Ramos,
That's not a decision made overnight. It goes almost 10 years back, because I wanted [Vogts] as a technical director in Germany when I coached Germany at the 2006 World Cup…With Martin, it's simply a professional shift. I have to make decisions with my staff to put them into the spots where I think they are the best in order to hopefully do well this summer in Brazil. Sometimes it's a shift that doesn't please everybody. But this is part of the head coach's role. You are not there to please everybody, you are there to hopefully put people in the best positions to get a job done. The job is getting out of the group stage this summer.
Vasquez's new duties have not been officially announced but Klinsmann said, "I decided that his best role is in the scouting area, not on the field with the team."
Michael Bradley says the moves won't affect the team.
Look, we all have a great respect and great appreciation for what Martin brought to our team over the course of a few years. On that level, I think we're all sad and disappointed to kind of hear that he's moving on within U.S. Soccer. But having said that, if Jurgen feels that this is something that is going to put us in a better position come the summer and make our group that much stronger then we have total faith and total trust in that.
Things like this aren't really what's important. The foundations have been laid, the big work has been done, and now it's about making sure that come the first game of this World Cup, we're fit and we're sharp and we're in a good mindset to make sure that we're giving everything we have to do well.
At ASN, Michael Bradley talks about playing alongside Clint Dempsey and Landon Donovan for the first time in nearly two years, and much more.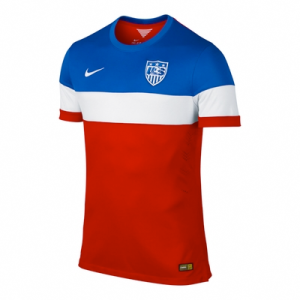 It's official: the US away kit for the World Cup, images of which have already been widely leaked, looks like a popsicle. As if this sorry followup to the golf shirt that is the US home kit wasn't bad enough, they've also managed to make the already terrible US Soccer crest even more terrible. On the plus side, I've saved somewhere between $90 to $300 in US national team jersey purchases this year.
At ASN, John Halloran considers whether the USWNT, in the wake of their terrible showing at the Algarve Cup, should move to a 4-3-3.
US Soccer announced it has created a Spotify profile so fans can listen to playlists from USMNT and USWNT players.
Elsewhere
At SI, storylines ahead of the beginning of UEFA Champions League quarterfinal play later today. Check out the latest Footy on the Telly for listings of today's games.
The entire leadership of Uruguay's FA resigned on Monday amid an ongoing crisis over fan violence. Last Wednesday, 40 police officers were injured in clashes with Nacional fans at a game on Wednesday, leading to Uruguay's president withdrawing police protection from the home stadiums of Nacional and Penarol. Matches were ordered to go ahead but players refused to play because of the lack of security and games scheduled for this week have been postponed. While concerns have been raised that the resignations could lead to Uruguay being suspended from the World Cup, so far such fears appear to be unfounded.
Michel D'Hooghe, a member of FIFA's executive committee, tells the Evening Standard that there will be no re-vote on the hosting rights for the 2022 World Cup, calling allegation in the British press about possible corruption in the voting process "sour grapes." D'Hooghe says the only error FIFA has made was voting on the hosting rights for two World Cups at the same time. "Why did we make the mistake? Under pressure of our marketing brothers who said, 'If we can sell our marketing products for two World Cups, we will have much better financial results.' I plead guilty like all my colleagues."
Work has been halted in the section of the Sao Paulo World Cup stadium where a worker was injured and later died from injuries after a fall on Saturday.
In happier World Cup news, there's this brilliant commercial from ESPN: