We'll be updating this post throughout SuperDraft Thursday. If you're on Twitter, follow @phillysoccerpg for more updates.

Union Draft Summary
Check out Eli's interview with Union and SuperDraft #1 pick Andre Blake, info on #15 pick Pedro Ribeiro, and info on second round choices Kevin Cope and Robbie Derschang.
Overall Draft Summary
3:15 pm: Adnan Gabeljic goes to Kansas City as Round 2 comes to a close. Check out Eli's interview with Union and SuperDraft #1 pick Andre Blake, info on #15 pick Pedro Ribeiro, and info on second round choices Kevin Cope and Robbie Derschang.
2:45 pm: Nick Sakiewicz spoke about Mo Edu: "We want him and he wants to be here."
2:28 pm: Well, Robbie Derschang was somewhere between a left middie and a left back coming out of Akron. It's a sure thing he'll be a left back in MLS. The Union select the athletic, skillful Derschang at #27. He has only been playing on the back line for a year, but he will certainly get the chance to make the left back spot his own in the preseason.
2:21 pm: At #25, the Union select Michigan State center back Kevin Cope. The 6'1″ defender has a great reputation for being a leader and hard worker. He's good in the air but not silky smooth with his feet. Cope can push Ethan White for playing time from day one, but he maxes out as a Jeff Parke type with more aerial upside.
2:17 pm: Clemson trickster Thomas McNamara goes to Chivas because oh-man a small midfielder that doesn't defend just seems perfect for that club. Louisville hardman defender Jimmy Ockford is headed to Seattle at #21. Ray Gaddis-type right back Chris Duvall from Wake Forest is headed to New York, and highly-rated New Mexico CB Kyle Venter is off to LA at #23. Toronto nabs Daniel Lovitz, a speedy winger with lots of potential but an injury history at #24.
2:15 pm: On to round two! The Union have the 6th pick (25th overall) and the 8th pick (27th overall).
2:09 pm: Dave Zeitlin quotes Hackworth saying he "knew for a fact" Blake wouldn't be around at #2, and that the UConn goalie and Ribeiro were the team's top two targets (coughNeumanncoughcough)
1:54 pm: Lots of action at the draft. Wisconsin CB AJ Cochran to Houston at #16, Maryland's potential-laden Schillo Tshuma at #17 to Portland (such a good fit), Cal defender Ryan Neil to RSL at #18, and Prince Humperdink's henchman Notre Dame defender Grant Van De Casteele rounds out the first round going to Colorado.
1:52 pm: John Hackworth told the media that other teams were looking to move up to grab Blake and that Ribeiro was a target from the get-go.
1:27 pm: The Union select Coastal Carolina's Pedro Ribeiro with the #15 pick of the draft. We wrote about Ribeiro here. Ribeiro is a big midfielder with average speed. He has advanced passing ability and relies heavily on his left foot. He seems to fit the Union's need for a deeper playmaker to sit with Brian Carroll (or Corben Bone, or Amobi Okugo (please)) in that famed empty bucket midfield.
1:23 pm: So Mullins goes #11, followed by uberathlete Marlon Hairston, from Louisville, at 12 to Colorado (great fit). RB/CB Marco Franco (he'll play RB in Chicago) goes to the Fire at #13 and the Crew poke the Union a bit by taking the only reasonable left back in the draft, Ben Sweat, at #14.
1:21 pm: Hoo boy. And there goes New England, looking like they've mastered the SuperDraft process for the second straight year. In 2013, the Revs moved up to #1 to take surefire starter Andrew Farrell. Worked out pretty well as far as top picks go. This year they trade up to #4 and take Steve Neumann, who Philly most certainly had their eye on. This leaves Patrick Mullins on the board. A big risk for New England, since he fits their system and Juan Agudelo is heading to England. But nobody else seemed to have a need for the two-time Hermann winner, so the Revs go for it. The Union immediately book a spot at #10, probably assuming Hartford defender Damion Lowe would be there. Seattle grabs Lowe at #8 and Philly once again hits the bargaining table, moving down to #15. Meanwhile, the Revs see Mullins fall into their lap at #11. Man, that's good draft in Boston.
1:08 pm: And the Union execute their third trade of the day! Apparently someone told the Union brass this was a model Wall Street/SuperDraft, so they've decided to swap as much cash as possible. Philly acquires the #15 pick and allocation money from Toronto for the #10 slot, which TFC uses to grab Nick Hagglund, the rugged defender from Xavier. Get ready to hear "…like Jay Demerit" out of Toronto.
1:06 pm: Speeding up now. Vancouver swoops for Andre Lewis, the Jamaican speedster who impressed scouts at the combine. Seattle probably caught the Union off guard by jumping at Hartford's Damion Lowe with the #8 pick. San Jose didn't hesitate in snatching up JJ Koval of Stanford, aka Future Brian Carroll.
12:54 pm: Whew! So a quick summary: The Union traded the #2 pick to DC for the #1 pick. Allocation money was involved but how much and which way it went is a bit unclear. Then the Union selected UConn goalie Andre Blake #1 overall, drafting a guy that plays one of the only positions the Union really seemed to have settled on the roster. Then New England surprised everyone (especially Patrick Mullins) by taking Steve Neumann at #4, possibly influencing the Union to trade their #6 pick to Dallas for the #10 pick, with more allocation money flowing. Dallas also traded up to take Creighton's do-it-all midfielder Eric Miller at #5 before grabbing combine superstar Tesho Akindele at #6. So the Union sit at #10, #25, and #27 with a goalie and allocation money added to the roster so far. Hopefully that allocation money can be used to buy titanium knee joints for Ethan White, because if he gets hurt it looks like the Union will become the first team to field two goalies behind a three-man back line.
12:48 pm: The Union trade the 6th pick in the draft to Dallas. The Union move down to the 10th slot. Dallas uses the pick to select Colorado School of Mines standout Tesho Akindele, who opened a lot of eyes at the combine.
12:37 pm: Montreal trades with Dallas to acquire the #5 pick, which they use to select Creighton's midfield engine Eric Miller. Montreal really needed that GA status/salary relief with this pick. Union on the clock. Vartughian on his horse to the Dallas table.
12:28 pm: In a surprise move, New England – which traded up for the #4 slot – takes Reading United alum Steve Neumann, leaving two-time Hermann winner Patrick Mullins on the board. Smells like the Revs thought Blake would fall to them and now they're grabbing a player the Union value.
12:26 pm: With the third pick in the draft, Vancouver selects Cal central defender Christian Dean, considered the most high ceiling field player available in the draft.
12:25 pm: With the second pick in the draft, DC United selects Cal central defender Steve Birnbaum, considered the most MLS-ready field player available.
12:23 pm: Union draft table a flurry of activity before making the move to move up and acquire Blake.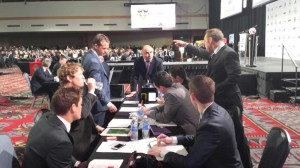 12:15 pm: Union trade up to #1, select UConn goalie Andre Blake (Generation Adidas player)
12:07 pm: DC on the clock, Union still talking… looking to move up?
12:01 pm: Hackworth talking to the DC contingent.
11:49 am: Brian Dunseth kicks us off after a long supercut of MLS action (including one Union highlight… Kleberson's match winner).
10:57 am: DJ is warming up. By MLS rules, as the hosting coach, John Hackworth will be judging the inevitable walk off.
10:35 am: Jim Curtin, Chris Albright and Brendan Burke are the first Union representatives at the table, which is in the front row, just left of the stage.
10:24 am: Front row seats acquired, electrical outlets acquired, PSP for the win!
10:13 am: Entire national media + 1 guy handing out credentials = MLS.
9:59 am: T-minus 60 seconds until media credentials should be available. Soccer press is getting very restless.
9:48 am: Ray Gaddis makes an appearance and is nearly ripped limb from limb by adoring fans. Brave move, Ray. Brave move.
9:35 am The crowd is beginning to swell as we interview the Sons of Ben Director of Tifo, Event Director and Vice President.
8:43 am: Arrived at Field House and was greeted by Kelly Delaney, SoB Travel Director. Immediately overheard comment, "Only in soccer culture is it OK to have beer at 8:30 after drinking on the train to get here."