Photo: Courtesy of Hoffenheim
Philadelphia Union
Two days…
Perhaps the most interesting theme of John Hackworth's weekly press conference was that the starting XI for Saturday's season opener at PPL Park against Kansas City still hasn't been finalized. Hackworth said,
Honestly, there's a couple spots open. I've been saying it earlier, but that means we have some good competition…I would have thought that the starting XI that we have up on our war room on a board in a perfect world, that same lineup would be the same lineup we'd be rolling out. I don't think that's going to be the case. So that means a couple things—maybe some guys aren't in the position that we thought they were in. Other guys stepped their games up. What it does mean is we feel like we're a team that has some good depth right now and that's a great thing for a coach to have.
Asked if he had a sense of which formation was the team's strongest, Hackworth said,
Yeah. I can't really divulge that in a press conference, but we do for sure. I would go back to saying that having the ability to play in a couple of different systems will be a strength of ours this year. That will mean teams have to adjust to us, that we won't be as predictable. But it does mean that maybe we won't be the same [as often]. That has its own challenges.
Hackworth also tried to ground the expectations of how the team will fare with some perspective.
I try not to look too far down the road and a lot of people said we have to make the playoffs this year. Of course, that's a given. If we put together the kind of games we did last year and are capable of this year, we feel we'll have a much better chance to be in the postseason…The unrealistic expectation is for us to be a power in the league right away. You don't go from seventh to first in our league without major shifts occurring. The expectation from all of us is that we will be better. If we can be consistent week-in and week-out, our performances will add up to something that will put us in position to be very competitive when the postseason rolls around.
More on the wide ranging press conference from the Daily Doop, CSN Philly, Delco Times, and this full transcript from the Goalkeeper.
SBI previews the 2013 Union.
Brian Carroll talks about his new role as the Union captain. "I think most of my career, I've shown up and done my job and that's been sort of the way it's been. I learned now that [being a captain means] mixing some more yelling in. It's just something to add." He adds that the presence of other veteran's on the team such as Chris Alright, Conor Casey, and Jeff Parke means the leadership role is not his alone.
Derek Meluzio, who writes the Harrisburg City Islanders blog The Upper 90, shares his thoughts on Sheanon Williams. "It is kind of funny. As a City Islander fan, I still think of Sheanon Williams as the HCI player who now plays for Philadelphia. Guess time really does fly when you're having fun because in all honesty that is a very dated statement. He is now a Union great… who used to be a City Islander!" The post includes video of Williams at the HCI season kickoff party in 2010.
Tickets are still available for the pregame Stache Bash tailgate part on Saturday. Also, Sons of Ben members are encouraged to bring the Jolly Franklin flags they received in this season's membership package. The latest SoB newsletter says that flag poles will be available at the section entrances to the River End. "If we get enough people to participate, the visual will be spectacular!"
Lehigh Valley's Express-Times is down with the new Bethlehem Steel FC-inspired Union 3rd kit.
More reaction to the new kit from Futbol Intellect includes this rather simplistic argument from Portland-based John Nyen that the kit represents "historical appropriation." Philly's Richard McGovern responds with a much more sophisticated argument in support of what the shirt is meant to represent that is based on an understanding of the Philadelphia area's history. "The trip from Bethlehem to Philadelphia is almost a literal journey through the soccer history of eastern Pennsylvania…Philadelphia has never been restricted to the boundaries between the Delaware and the Schuylkill laid out by William Penn. The entire region funnels along the rivers to the city, the coal of Carbon County, the produce of Lancaster and Reading, the steel of Bethlehem."
Big 3-0 win tonight against SC Freiburg! 8th straight win and now 1st place!! Scored the 1st goal of the game! #hoffenheim

— Zachary Pfeffer (@ZachPfeffer_27) February 27, 2013
Zach Pfeffer scored his first goal for Hoffenheim U-19s on Wednesday in a 3-0 win over Freiburg (crappy Google translation here).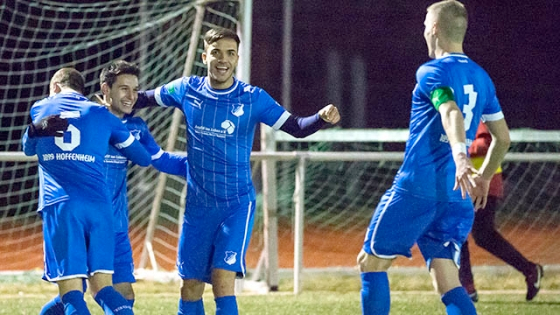 Union Dues asks, "Can Hack Do It?" Then answers with, "John Hackworth, at least from what I've seen of him since he was appointed, is a terrible manager…he is a massive bore…Hack isn't the best, and we know that…Hackworth doesn't know how to manage his players…on a whole, he doesn't seem to be able to get the most out of his players…" Is that a "no" then?
Local
Harrisburg City Islanders have announced a six-game preseason schedule that includes matches against two local teams. The schedule kicks off on Thursday, March 14, when the Islanders will be in town to play Drexel at 7pm. Villanova will face Harrisburg at In The Net, Palmyra on Thursday, April 4 at 7pm. The Islanders preseason training camp opens on March 11.
MLS
League commissioner Don Garber spoke on a number of topics in his annual pre-season address and press conference. More on his remarks here.
The headbutt that saw Dwayne De Rosario ejected from Saturday's preseason game against the Union could see him suspended for the first two games of the season.
Chicago Fire have traded a 2014 first round Supplemental Draft pick to Toronto FC for Quincy Amarikwa.
Toronto have brought in winger Hogan Ephraim on loan from Queens Park Rangers.
Chivas USA have signed midfielders Josue Soto and Emilio Orozco, two Mexican-American midfielders who were on trial with the club.
We said in Wednesday's roundup that the league had finally gotten around to releasing the 2013 roster rules. If you haven't gotten around to reading them yet, thrilling though they may be, the Seattle Times' Joshua Myers has a handy breakdown on what's new in the rules.
Speaking of new rules, the Washington Post's Stephen Goff reports that the league has instituted a new "mass confrontation" rule aimed at curbing those unsightly—and time-wasting—spectacles of a ref being surrounded by a gaggle of screaming, finger pointing players that sometimes occur after a foul. Should make the Union's series against DC United interesting for the Disciplinary Committee.
Part two of Grant Wahl's player survey at SI is out. It's a small pool of players—18 took part in the survey—but there are some interesting responses on a variety of questions even if there are no Union references.
Gay4Soccer points out that 17 of the 18 players anonymously surveyed said that their team's locker room would welcome a gay player.
Seattle's Matt Burch believes MLS will be the first pro league in the US to have an openly gay male player. "I think we'll be the first league to definitely accept it. I think it will come and go a lot easier than people think. It's going to happen, and I think this is a perfect league for it."
New kits from KC, LA, Montreal, and Seattle, and Vancouver.
The new MLS MatchDay 2013 app for iPhone, iPad, Android phone and Android tablet is available download.
Animation of the proposed New York Cosmos stadium. Impressive, yes. Will it actually be built?
US
US U-20 coach Tab Ramos said, "For us, I'd love to meet Mexico in the final. We have to play another rival before. But being the United States and being Mexico, we think we will meet in the final, it's almost normal. But the normal, normally doesn't happen." The US will play Cuba in the semifinals of the CONCACAF U-20 championship of Friday (6pm, FSC).
Jozy Altidore scored two goals in AZ's 3-0 win over Ajax to advance to the Dutch Cup final. He's now on 23 goals in all competitions for the season, tieing the record set by Clint Dempsey in 2011-12.
Elsewhere
Lazio will appeal UEFA's decision to order the team to play two closed-door matches after its fans engaged in racial abuse in a recent Europa League match against Borussia Monchengladbach. Lazio calls the punishment "absurd" and blames the behavior on "a small minority" of its fans.
FIFA has announced that match-fixing bans for 74 players from Italy and South Korea have been extended worldwide.