Photo: Courtesy of solejunkie.com

US
I'm as guilty as the next US supporter when it comes to games in Central America: We have the better team, why can't they just go down there and wipe the floor with these guys? Tim Howard says,
I keep saying, it's tough to understand how difficult these games are, because of everything that's involved. I don't think there's enough appreciation from the American public on that. You look at it on paper, see America vs. Honduras; America wins, done, finished, get on the plane and come home. It's never that simple…Nothing I can tell them [teammates] is going to prepare them. They have a skill set and that's why they're here, and they need to use it, and do it as simple as possible – keep the game really simple because it's going to be 100 miles an hour. There's going to be a lot going on and it's just about how quickly you can try and slow that down.
Michael Bradley says, "The main thing is, you'll never know exactly what to expect. From the time you get here to the time you leave, there will be 50 things that go on that you don't expect. It can be the hotel, it can be the field, it can be the referee. There are so many things that can go against you. That's where the team mentality comes in: You have to stick together and say, "We're going to do whatever we have to do to get this result." And at the end of the day, the guys who haven't been here will figure it out very quick."
Geoff Cameron says, "If we go out there with the attitude that we have had these last couple of months, especially with how we've played at home, if we bring that attitude and that determination that we've had down here, I think we'll be alright. It's a matter of matching their intensity [at the beginning of the game]."
Jurgen Klinsmann says of the absence of Landon Donovan, "We have plenty of options. We have 24 players in the camp, so plenty of options obviously for the coaches. And all of them are ready, all of them are hungry, all of them want to show a good game. So, I'm very positive about that challenge."
Previews of today's game from PSP, MLSsoccer.com, Washington Post, and SI.
SBI and ESPN says the USMNT is ready.
Steven Goff and Brian Straus set the scene in Honduras.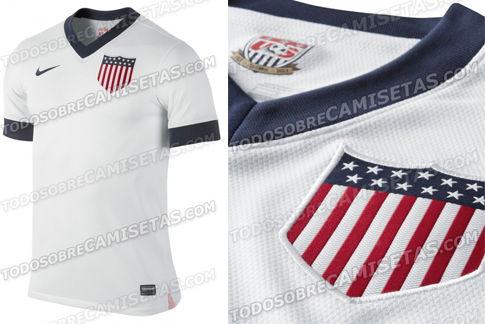 US Soccer has launched a new digital magazine and Facebook app. The magazine is called "Anthem" and the first issue, which is free, contains "an inside look at the U.S. roster for the opening qualifier, an interactive Hexagonal schedule, coaching staff bios, a gallery of photos and a look-back on the 2009 qualifier in Honduras and the historic day the United States qualified for the 2010 FIFA World Cup." Anthem is currently available for iPad and iPhone with an Android version to be available soon. Future issues will be available "for a small fee." The Facebook app is called ""Supporters XI" and allows users to "select the starters from Jurgen Klinsmann's roster of 24 players, putting them in one of 10 different formations, and share their lineup with friends on Facebook."
On Tuesday, photos were leaked of what looks to be the US centennial home kit. I love it and I especially love the crest.
Philadelphia Union
Back in 2009, the US went down to Honduras and won 3–2 courtesy of two Conor Casey goals and a Landon Donovan free kick.
Those goals were the only ones Casey scored in 20 USMNT appearances and they helped to clinch the team a spot in the 2010 World Cup. Casey talks about the game in this article from US Soccer. Soccer America looks back on that game.
New Union captain Brian Carroll, who believes leadership on the team is really more of a team effort, says, "A lot of good work has been done to put this club in the right direction." Carroll expects the club to start the season strong. "We don't want to be gradual, we want to start off and do as well as we can and jump as fast as we can out of the gates. If we are able to do that it would be tremendous as obviously everyone wants to do that after last season. It's going to very difficult, but it's all about keeping the peaks and valleys from being too high or too low. We do that and hopefully at the end of the year we'll be in the right position."
Dave Zeitlin notes that, with Carloz Valdes' loan to Santa Fe, Roger Torres is the only player on the roster from South America or Central America. Torres says of Valdes' departure, "We're still friends and we talk all the time. It's normal for soccer. Sometimes you're here. Sometimes you're on another team. But I think we have a great team right now."
Torres says he's feeling good after working hard in the offseason. "I feel great. I came from an injury but in this offseason I worked hard and that made me better. I'm in good fitness right now. I want to show everybody on the team that I'm trying to help them win. I want to give everything for Philadelphia."
At Delco Times, Matt De George reviews some of the changes John Hackworth has made in along the way to putting the Nowak era firmly in the rear view mirror.
The Daily Doop says the local TV broadcast schedule should be available later this week.
Local
PDA's director of coaching Gerry McKeown talks with Soccer America about the club's success and some of the key issues facing US youth soccer.
MLS
Portland edged past Seattle 1–0 on Tuesday at the Tuscon Friendlies with Mikaël Silvestre scoring the lone goal.
Jonathan Tannenwald has statements from MLS, USL president Tim Holt, and NASL president Bill Peterson about the recent Europol report on match-fixing in Europe and elsewhere.
NWSL
At the New York Times, Yael Averbuch provides a brief look at each of the new NWSL teams.
Elsewhere
A few weeks ago, Kevin Prince-Boateng led his AC Milan teammates of the field after suffering racial abuse from the stands during a friendly. Now, video has emerged of Paolo Berlusconi, the brother of AC Milan president and owner Silvio Berlusconi and himself VP of the club, addressing a right wing political rally before the game, "Okay, we are all off to see the family's little n—–. He's a crazy head. All the young ladies are invited as well — you can even have a chance to meet the president (Silvio Berlusconi)."
Today marks the 55th anniversary of the Munich air disaster. Sir Alex Ferguson talks about how the tragic event affected him as a teenager.
In addition to the Honduras v USA qualifier, the following qualifiers and friendlies are on tap today:
9:50am – Africa Cup of Nations Semifinal: Mali vs Nigeria – ESPN3
1:20pm – Africa Cup of Nations Semifinal: Burkina Faso vs Ghana – ESPN3
2:25pm – Netherlands vs Italy – ESPN Deportes, ESPN3
2:25pm – France vs Germany – ESPN3
2:30pm – England vs Brazil – FSC, Fox Deportes
3:55pm – Honduras vs USA – beIN Sport, beIN Sport en Español
8:55pm – Panama vs Costa Rica – beIN Sport, beIN Sport en Español
9:30pm – Mexico vs Jamaica – ESPN2, UniMás