Philadelphia Union
Peter Nowak says of Saturday's win, "It's a tribute to our boys. Even with two red cards, we didn't give up much. We deserved to win."
ProSoccerTalk says of the game, "Expect multiple suspensions for some late ugliness—and stupidity. Peter Nowak led the charge off his bench and onto the field as several players imposed themselves on a situation that referee Juan Guzman appeared to have in hand."
Philly Soccer News' Charles Cuttone says the Union's performance on Saturday night "was nothing short of disgraceful," and he isn't talking about there only being four shots on goal. Writing, "The Union looked like a bunch of thugs," Cuttone then criticizes Nowak for getting involved in the kerfuffle that followed the straight red to Gabriel Farfan. "At no time should a manager or coach ever set foot on the field during the game, regardless of what happens. But then, Nowak's judgment has been questionable all year."
Kerith Gabriel describes Saturday's game as "a match where first-half discipline was replaced by second-half lunacy."
MLSsoccer.com reports that the Garfan challenge on James Riley that resulted in a red card "split the shin guard of the veteran defender in half."
In view of their inability to score goals, Chris Vito says the key to the Union staying the course will be Zac MacMath.
Much was made of the time needed for several of the newest Union players to settle in to their new lives in Philadelphia. Things may go more smoothly for Kai Herdling. "We brought him here, he likes it," says Peter Nowak. "He came with his wife. His wife was here in Philadelphia last year, for eight months, so they are very familiar with the environment and the city."
The Guardian says the Union are channeling their inner Rocky.
Match report from Philly Union Talk.
Section 133 says the Union are all bark and no bite.
Local
Harrisburg City Islanders kicked off the 2012 season with a 2–1 win over Charlotte Battery with goals from Andrew Welker and and former Union midfielder JT Noone. Antoine Hoppenot started for the Islanders and played 83 minutes with Chandler Hoffman coming on in the 63rd minute. Harrisburg then played Wilmington Hammerheads to a 0–0 draw on Saturday night, with Chandler Hoffman starting, as did Noone and former Union midfielder Morgan Langley. Tom Brandt, the Union 2012 Supplemental Draft pick, went the full 90.
This report describes how Starfinder Foundation uses soccer as a vehicle to provide kids with opportunities to enrich their lives.
MLS
The Union moved up to sixth place in the East with their 1–0 win over Chivas USA. First place Kansas City, who extended their winning streak to seven games with a 3–1 win over Vancouver last Wednesday, saw that streak end when they lost to Portland 1–0 on Saturday thanks to an own goal. A Chris Pontius hat trick helped power DC United to a 4–1 win over New York and propel them into second place with the Red Bulls dropping to third. Fourth place Chicago defeated last place and still winless Toronto 3–2. Fifth place Houston drew 2–2 with seventh place Columbus. Eighth place New England had the week off while Montreal all is in ninth place after drawing 1–1 with DC last Wednesday.
San Jose Earthquakes, who come to PPL Park this weekend, are top of the Western Conference following a 3–1 win over 9-man Real Salt Lake, who are now in second place.
With Kevin Hartman out with back spasms, Chris Seitz got his second start since joining Dallas last season. Dallas lost 1–0 to Vancouver.
While MLS is surely interested in his services, Goal.com thinks Raul may head to Qatar.
What can I say, this is simply hilarious.

Women's Soccer
The Women's Professional SuperGroup, the elite training program organized by former Philadelphia Independence coach Paul Riley that features several former Indy players, won its first two games in the Headers for Hope charity tournament, defeating Villanova 1–0 and crushing WPSL side Maryland Capitols 8–0. On Sunday they lost 3–2 to University of Virginia.

The Headers for Hope tournament was organized by former Independence GM Louise Waxler.
Former Independence striker Danesha Adams talks about playing in Sweden for Vittsjö GIK.
The W-League's New Jersey Wildcats have announced an affiliation with former WPS club Sky Blue FC.
US
The New York Times looks at the possibilities the USMNT has on hand for forwards.
Jozy Altidore continues to be on fire, scoring the second half gamewinner for AZ on Sunday to make if five goals in five games. He hit the post twice in the first half.
Elsewhere
Patrice Muamba speaks about his collapse, saying, "I had no pain whatsoever."
Brazilian club Vasco de Gama has been ordered by a judge to immediately suspend all activities at its youth training facilities after investigators found that youth players were being kept in "slave-like" conditions. More on the news from a personal perspective here.
Their team facing relegation and down 4–0 early in the second half half against Siena, Genoa ultras invaded the family section of the stadium and began throwing flares onto the pitch. The Siena manager took his players back to the dressing room. Genoa players and officials tried to negotiate with the ultras, who demanded that the players hand over their jerseys, as they were deemed unfit to wear them. Most of the players complied. Play finally resumed after a 45 minute delay. One Italian press report described the scene, "A chilling spectacle … right out of the dark ages." Genoa lost 4–1.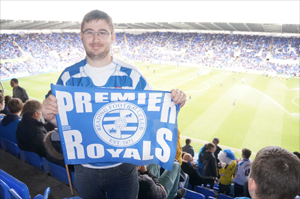 Finally, Reading FC, who gained automatic promotion to the Premiership on last Tuesday, captured the Championship title on Saturday. PSP writer Mike Servedio was at the 2–2 draw with Crystal Palace that proved to be enough to finish in first. I received a couple of texts but haven't heard from him since the news that Middlesborough defeated Southampton to assure Reading the title. Frankly, you wouldn't hear from me for a while either if I was in Reading under the same circumstances.