Photo: Paul Rudderow
[Update: A few hours after this post was published, Peter Nowak re-activated his Twitter account, although it is now a protected account. His first tweet appears to be a response to a message sent to him on March 31 asking him to keep tweeting: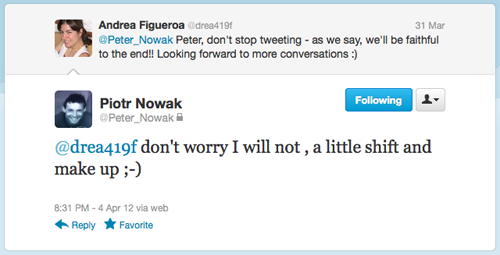 To which we are happy to say, "Welcome back!"]
"Even old dogs can learn new tricks. Looking forward to interacting with the best fans in @MLS. Be gentle on me! #Doop"
So began Philadelphia Union head coach Peter Nowak's foray into the world of Twitter last August.
Unfortunately, such interaction appears to have come to an end because @Peter_Nowak no longer exists on Twitter.
It is unclear when the account was deleted but one commentator on Twitter said that it was active as recently as last Friday.
Equally unclear at this point is why the decision was made to delete the account.
After PSP contacted the club on Tuesday afternoon about the apparent deletion, a Union spokesperson told PSP that evening that they were unaware of the deletion. On Wednesday afternoon the spokesperson would only confirm that the account had been taken down, adding, "we don't really have any further comment about it."
First MLS coach on Twitter
Describing Nowak as "one of MLS' toughest, all-business personalities" and the first MLS coach confirmed to be on Twitter, the league's website featured the news of his joining the twitterati and noted that "In a little more than 24 hours, Nowak has thrown out 58 tweets and nabbed 2,400 followers." The story was soon a topic of discussion and widely applauded across the American soccer media landscape.
Nowak was quoted in an article on the club's website a few days later as saying, "It's something new for me and for the team. We always felt like, when the time is right, we need to [get closer] to our fans."
At the inaugural Supporters Summit that took place a few days after Nowak joined Twitter, Union CEO Nick Sakiewicz said, "Part of Peter joining the world of Twitter is along that theme of being inclusive and bringing fans and media closer to us. It's a little bit of a different sports team mentality than what currently exists. And we're really proud of it."
Nowak said further, "The more we do toward the fans, the culture we're trying to create – let's continue to do that. Let's expand it. Let's make it better." At the time, Nowak apparently valued the benefits of using Twitter enough to convince Sebastien Le Toux to join in on the fun.
The benefits of Nowak's presence on Twitter extended beyond simply expanding fan culture. While it resulted in some very funny tweets and memorable debates—various exchanges with @FakePeterNowak and a memorable back-and-forth with fans that took place over two days about comments made by USMNT coach Jurgen Klinsamann come to mind—Nowak also demonstrating an ability to laugh at himself that many of us had never seen before. But the social media tool Twitter would also prove to be useful as an instrument of damage control.
With the good comes the bad
In the fallout after the Le Toux transfer, Nowak used Twitter to address growing fan frustration, some of which was strongly directed to him via his Twitter account, frustration that had been exacerbated by his own comment during a press conference that "feelings are not included in my job description."
After expressing his understanding that fans were upset and asking them to have faith in what he and the club were trying to do, he also asked Union supporters for a favor.
"I do ask that you please stop sending curses to my Twitter account," Nowak tweeted. "My daughters and family read them and it is crossing a line. Thank you."
While fans continued to send him tweets, Nowak's activity on Twitter soon largely ceased. But with the disappointing start to the new season, fans continued to send messages to his account, with some being not at all gentle in their criticism of the coach, while others tweeted him their support. (See the collection of recent tweets below.)
It can be argued that his joining Twitter in the first place was itself an inspired exercise in damage control, coming as it did shortly after the negative reaction from fans that resulted when Nowak seemed to suggest that "pre-bias" and "bad comments" from Union fans had become "tiring" for the team and played a part in Carlos Ruiz leaving the club. Whatever the reasoning, it is undeniable that his exchanges with fans through Twitter went someway toward softening perceptions of the Union coach. Whatever the reason for the deletion of the account, Nowak's presence on Twitter will be missed.
Whether the time will be right once again to use Twitter to get closer to the fans remains to be seen.