Photo: Paul Rudderow
Editor's note: At the end of the 2010 season, we posted a series of season reviews of every Philadelphia Union player. Over the next several weeks PSP continues with a review of the 2011 season.
The Freddy Adu redemption narrative began this year the same way such stories typically begin: At rock bottom. Adu's disastrous Benfica career had resulted in four loans, the final one to a club in Turkey's second division. The second divisions in England and Germany may impress, but Turkey? Not so much.
But then Adu got minutes, played well, and earned a surprise call-up to the U.S. national team for the Gold Cup. The line was that Adu had been humbled, that his willingness to play in Turkey's second division showed a maturation and a swallowing of ego. (The other line was that he was desperate and nobody else wanted him.) Whatever the narrative, Adu made the most of it when he got into a game against Panama in the second half and set up the game-winning goal with an absolute beauty of a pass.
Cue the mass media's prodigal son stories.
Philadelphia Union swooped in a bit more than a month later after Carlos Ruiz's departure opened salary space for a big signing. The sequence of events looked brilliant, both on and off the field. Off the field, the Union parted with a divisive player whose presence marginalized two of the Union's most important players, Sebastien Le Toux and Danny Mwanga. In Ruiz's place, they signed a guy who had once been the most famous American player in the world. And of all the coaches to have, his coach would be Peter Nowak, the same coach he'd clashed with as a teenager at D.C. United. It was a marketing coup that brought tons of attention to Philadelphia. Everybody likes a redemption tale. On the field, the Union eliminated a cancer on the offense and replaced him with the sort of player they sorely needed, a central creator.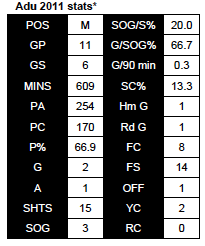 It looked like a bold and visionary move.
And then the soccer started.
Adu looked out of form and position. There were moments of greatness, like the second half of that wild 4-4 draw against New England. But there were more worth forgetting, like the first half against New England. He drifted in and (mostly) out of games, struggling to fit in with a new team's flow. He spent much of his time on the left midfield flank, rather than his preferred central role, and his lack of speed showed against athletic clubs. Injuries dogged him. His passes often went nowhere. (His 67 percent passing rate was the second worst among Union outfield players.) Fans got down on him very quickly, as they tend to do in Philadelphia, particularly after Adu told ESPN he wanted to be back in Europe within three years.
But far-sighted observers were patient. Mid-season MLS signings often don't pan out until season 2, they said. Give him time. Two years of Adu greatness would be OK.
Then the Union left him unprotected in the expansion draft. In many ways, it made sense, because Adu's high salary would likely drive off Montreal (and eventually did). On the other hand, it raised the question: Were the Union better off without Adu? Did the great play of Roger Torres show Adu's high salary could be better spent elsewhere?
And so began a critical off-season for Freddy Adu.
High point
For the Union: Adu's goal in the huge 2-0 road win over Seattle. Adu was pressured all game, but when Gabriel Farfan seized the moment and handed it to Adu, Adu answered with a goal that cemented a huge win before the toughest road crowd in MLS.
Overall: That sweet pass that set up the U.S. national team's game-winning goal against Panama. (See video below.) This put Adu back on the radar for the American soccer audience and probably gave the Union the popular support necessary to sign Adu to a big contract, a move that otherwise would've been controversial.
Low point
The 1-0 win over Columbus. It was bad enough that Adu was largely invisible and seemed to play like he didn't want to be there. Even worse was that the player who's probably his most direct competition on the Union, Roger Torres, had a monster game that was part of a torrid season-ending string of performances.
Strengths
Free kicks and creativity.
Free kicks have been a major weakness for the Union. There is much to love about Sebastien Le Toux, but his consistently short free kicks are not on that list. If Adu can nail down a regular starting job, he can resolve this problem. Adu's free kicks are regularly on the mark and give players in the box a legitimate chance to do something with the ball. The only other Union players who have shown they're capable of this are Torres and Kyle Nakazawa, and like Adu, they haven't locked down a starting position yet either. Someone has to.
As for Adu's creativity, it's what brought him to the Union. When deployed centrally with time and space to see the field, Adu slips into a comfort zone that allows him to find players making runs.
Weaknesses
Adu has trouble with pressure. Whether it's defensive pressure on the field or an altogether different kind of pressure off the field, Adu hasn't thrived in those situations. Each can change with time.
Adu spent his European odyssey largely as a bench-warmer and rarely got the minutes that a playmaker needs to settle down at higher intensities of game speed. That showed. In many ways, Adu effectively lost nearly four years. The athleticism of MLS could push him in ways that he wasn't pushed on the training grounds of Europe (though admittedly, the weaknesses of MLS could balance that out).
As for the off-field pressures, Adu often said just the right things to a largely pliable and welcoming media who too often tried to turn his stateside return into a prodigal-son-returns-home-and-grows-up narrative that tied the bow just a bit too neatly. But then there was that ESPN interview …
Outlook
Right now, it's not even clear Adu will even be in Philadelphia come opening day. His 12-day trial with Spanish club Rayo Vallecano was described last week as "the first step" by club sporting director Felipe Minambres. "He'll come and train and we'll see how he gets on and then we'll make a decision of whether or not he stays," Minambres told The Associated Press. Considering Adu has already indicated his future plans, it wouldn't surprise if he leaves during this month's transfer window. If he doesn't move abroad this month, one could cynically view the MLS season's first months as simply a shop window for Adu to impress for a summer transfer to Europe.
But that's the cynical view. Let's say Adu stays. Where does he fit?
That depends largely on Peter Nowak's tactical decisions, which have often made it difficult for some players to find a comfort zone. If Nowak deploys formations that play more toward his players' strengths, that could help Adu, who isn't fast enough to play wide but is deft and creative enough to flourish centrally.
For many, the ideal situation would be having Adu and Torres split time in a central attacking midfield role. They're similar players, and it's not yet clear whether they compliment or hurt each other by duplicating the other's play.
But they're both interesting players. That's one thing Adu has going for him: He draws interest.
If Adu stays with the Union, training camp will be key. For the first time perhaps ever, he has a legitimate opportunity to fit into a team and do something that isn't just about him, but rather about a team as a whole. The question is what he'll do with it.
Stat chart legend:
POS: Position; GP: Games Played; GS: Games Started; MINS: Minutes; PA: Passes Attempted; PC: Passes Completed; P%: Passing Accuracy Percentage; SHTS: Shots Faced; SV: Saves; GA: Goals Allowed; GAA: Goals Allowed Average; PKG/A: Penalty Goals/Attempted; W; Wins; L: Losses; T: Ties; ShO: Shutouts; W%: Win Percentage; SV%: Save Percentage; FC: Fouls Committed; FS: Fouls Suffered; YC: Yellow Cards; RC: Red Cards