Philadelphia Union
Kerith Gabriel reports that the Philadelphia Union will announce a "blockbuster deal" with Panamanian international Gabriel Gomez. Gabriel says that Gomez is the "the same box-to-box defender/midfielder that was a beast in Panama's 2-1 win over the United States in the group stage of this summer's Gold Cup…It's believed that Gomez will be the perfect fit to complete Nowak's four-man back line playing on the left side of the pitch…Gomez has speed and fits well for Nowak's penchant to attack the flanks with his outside defenders. Though listed as a defender for country, the roster on Indios website lists Gomez as a midfielder, most likely a holding midfielder similar to that of current Union mid Brian Carroll."
Gabriel says, "According to sources, the contract has been approved by Major League Soccer and is only awaiting Gomez signature."
Here are highlights from the Gold Cup game, in which Gomez scored a PK.
Panamanian news outlet prensa.com first reported that the 27-year-old defensive midfielder was close to signing a deal with the Philadelphia Union. Nicknamed "The Hawk," Gomez has played with nine different clubs since 2002 scoring 12 goals, including three years in Portugal with Belenenses. According to Wikipedia, Belenenses paid €300,000 to Independiente de Santa Fe for Gomez, which would have been approximately $390,000 at the time. He has 70 caps with the Panamanian national team, scoring eight goals. You can read a crappy translation of the report here.
Carlos Valdes is fourth on Soccer America's list of the top 12 central backs in 2012.
Tweet from adidas International Training Program following the Generation adidas team's 2–0 loss to Dutch second-division side Almere City FC: "@PhilaUnion 's Okugo again featured in the middle of the pitch, winning balls, retaining possession and showing flashes of creativity."
Amobi Okugo and Jack McInerney co-host another fantastic video blog from the Generation adidas tour in the Netherlands. The blog follows the GA's 3-2 win over coach Peter Vermes' old team FC Volendam (You can see highlights of the win here. Amobi has a sweet assist on the second goal.). Tell you what, this appears to be a fantastic group of young men.
Zac MacMath, Jack McInerney, Danny Mwanga and Amobi Okugo all started in Wednesday's game against Almere City (you can see highlights of the game here), which took place less than 24 hours after the Volendam game. MacMath and McInerney were subbed out at the start of the second half while Mwanga and Okugo went the full 90. McInerney's replacement was local lad Corey Hertzog. Local lad Zarek Valentin also went the distance. The GAs, due back in the States today, finished the tour with a 1–2–0 record.
USMNT U-23 coach Caleb Porter says he expects Freddy Adu to play "a major role" in the team's quest for Olympic gold.
Youth Technical Director Alecko Eskandarian writes on the Union website that the signing of Jimmy McLaughlin highlights the club's unique academy structure.
The Union website has a wide-ranging interview with former Union broadcast colorman Taylor Twellman.
September's comeback draw with New England made Bleacher Report's list of the 50 greatest soccer games in the world in 2011.
Joe Tait has been nominated for Les Rosbifs 2011 Young Player of the Year award. Les Rosbifs follows "the fortunes of of English players in foreign lands."
Local
Upper 90 has a offseason chat with Andrew Marshall of the Harrisburg City Islanders.
Penn State forward Maya Hayes was named to Soccer America's Women's MVP first team.
MLS
San Jose city planners have approved the permit needed to start construction of anew $50 million stadium  for the Earthquakes.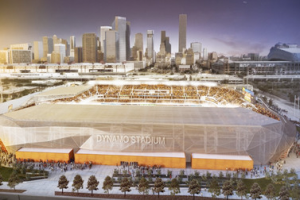 In more stadium news, BBVA Compass have purchased the naming rights for Houston's new stadium in a deal reportedly worth $20 million over 10 years. BBVA Compass is a subsidiary of Spanish banking giant Banco Bilbao Vizcaya Argentaria, which happens to be the title sponsor La Liga. Houston's new 22,000 seat stadium is set to open in May, 2012.
In more Houston news, team co-owner the Anschutz Entertainment Group will begin to look for a buyer of its share of the club. AEG also owns LA Galaxy and the recent MLS Cup final featuring the two teams underscored the conflict of interest. "This team needs local ownership," said Tim Leiweke, president and CEO of AEG. "We get that. That is going to be easy to do once we open up the stadium and we have the financial strength and wherewithal, where they begin to understand it's no longer about funding the team, it's just about buying the team and watching the asset grow."
Sacramento-area politician and US Soccer board member Fabian Nunez has thrown his community's hat into the ring of hopeful cities that won't be getting an MLS franchise anytime soon.
Dwayne "One-Two-Three-And-One-Tw0-Three-And-Cha-Cha-Cha" De Rosario has been named Canada's men's soccer player of the year.
Goal.com reports that Brek Shea could go to Europe in next summer's transfer window.
Elsewhere
A goal from Clint Dempsey opened up the scoring for Fulham but the team blew a 2–0 lead when they allowed an equalizer three minutes into stoppage time to crash out of the Europa League.
Sacha Kljestan scored in Anderlecht's 5–3 win over Lokomotiv Moscow.
David Villa broke his left tibia in Barcelon'a 4–0 win over Al-Sadd in the Club World Cup. In addition to being out for the rest of the season, Villa will also miss Euro 2012.
England's FA is expected to announce a verdict on the Luis Suarez racism allegations on Friday.