Photo: Nicolae Stoian

Editor's note: At the end of the 2010 season, we posted a series of season reviews of every Philadelphia Union player. Over the next several weeks PSP continues with a review of the 2011 season.
Gabriel Farfan was the "get one (almost) free" part that came after "buy one," and he turned out to be quite a steal for Philadelphia Union.
For the league minimum salary of $42,000, the Union got a starting-caliber player, in part because his twin brother, Michael, paved the way when he signed with Philadelphia as a second-round pick in Major League Soccer's amateur draft. Gabriel Farfan, now known to many Union fans as "Garfan," had been playing with Club America in Mexico, where he'd signed after leaving Cal State Fullerton after two years in school. He never appeared in a game with the senior team, however, so Philadelphia was a fresh start.
He made his first appearance on opening day but was in and out of the lineup the first part of the season, moving between midfield and the occasional appearance at fullback. After starting left back Jordan Harvey was traded to Vancouver, Farfan became the new starting left back. Critics questioned why Union manager Peter Nowak would break up the back line on the league's stingiest defense, and it put Farfan in a situation where every bump in the road was noticed. The defense tailed off a bit, and Farfan's inexperience was noticeable, as center back Danny Califf covered for his errors a few too many times.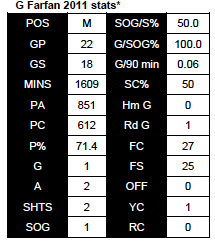 But Farfan brought a dimension to the position that Harvey, for all his defensive skills, did not. Farfan was an attacker, a creative player who could do things moving forward that Harvey simply didn't have in his skill set. It was a different type of fullback, more of the wingback type that has become popular in the international game. Farfan's left foot proved about as good as his right, and the team changed with his presence, some for good, some not. Either way, it was interesting, and it became clear that whatever his position was, Farfan had talent.
High point
The upset road win over Seattle. Farfan shut down Seattle's wide attacks on his side to help secure the clean sheet, which would have been a good night for him in its own right.
But then he created one of the most creative Union goals of the year. It started with him outrunning James Riley down the left flank for a cross-field pass. He then tried to beat Riley down his left side to the end line, but Riley cut him off to shield the ball. Farfan juked right to round him, then went back left, recovered the ball, and found Freddy Adu for the goal. It capped a big game for Farfan in what was probably the Union's most surprising win of the year.
Low point
That wild draw with New England. His foul led to the free kick that set up the first goal. Then his poor positioning on a perfect Chris Tierney cross let Moncef Zerka nod on another goal. Farfan was subbed off at halftime with the Union down 3-1, and he had to watch from the sideline as the Union made a spectacular comeback without him to even the game at 4-4. The match highlighted two Farfan weaknesses: His tendency to lose his cool at times—the foul came after a bad no-call on what should've been a New England foul against Sebastien Le Toux—and his inexperience at left back.
Strengths
Farfan has good ball skills and excellent attacking instincts, and he moves well off the ball to find space. The problem is he doesn't get to use these abilities enough when playing left back. His best game of the year may have been his performance at right midfield in a 1-1 draw at Colorado, when he showed just what he can do with those attacking talents of his. That said, he's also a pretty hard-nosed player, which is probably part of why Nowak tried him at fullback to begin with, but there also times this can work against him, as seen in his sometimes reckless challenges.
Weaknesses
Simply put, Farfan doesn't have enough experience at left back to have the position down yet. He gets caught out of position too often and gives away bad fouls as a result. It's nothing you wouldn't expect from a midfielder asked to play fullback. But it is the reality.
Outlook
Nobody outside the Union knows yet what position Farfan will play next year, but he deserves to be on the field somewhere. Justin Mapp's departure and Keon Daniel's uncertain visa situation mean there could be more time available on the midfield flanks, but unless the Union sign a left back, Farfan is the logical starter there, simply by virtue of there being no one else.  If he stays at fullback, he'll be the only Nowak position experiment to actually pay off, as every other one (Sebastien Le Toux, Michael Orozco, Michael Farfan, etc.) has resulted in the player returning to his original position and playing better there.
Given time, Farfan will likely develop into a solid starting left back in MLS, should he stay there. He's simply too good an overall soccer player not to. Whether he'll ever be good enough at the position to go to a higher level, or even be one of the best in MLS, is hard to say. He'd probably fare better on the right, but with Sheanon Williams already entrenched there, there's no prospect of Farfan flipping to that side any time soon.
As a midfielder, Farfan has the ability to be one of the better wide players in the league. His ceiling may be higher at fullback, however, which might be what Nowak saw, but his mentality is clearly still that of a midfielder, and it's where most of his talents lie. Even at left back, he's more a wingback than true fullback. Farfan could end up as just the latest of far too many Union players played out of position for way too long, to his detriment. Or he could blossom into a top-line fullback. Your guess is as good as mine.
Stat chart legend:
POS: Position; GP: Games Played; GS: Games Started; MINS: Minutes; PA: Passes Attempted; PC: Passes Completed; P%: Passing Accuracy Percentage; SHTS: Shots Faced; SV: Saves; GA: Goals Allowed; GAA: Goals Allowed Average; PKG/A: Penalty Goals/Attempted; W; Wins; L: Losses; T: Ties; ShO: Shutouts; W%: Win Percentage; SV%: Save Percentage; FC: Fouls Committed; FS: Fouls Suffered; YC: Yellow Cards; RC: Red Cards