Philadelphia Union
John Hackworth explains what the Union is looking for going into the 2012 season. "When you're retooling, you have to make sure you're managing the roster and the salary cap. We're not necessarily trying to get younger; we're trying to get better. And we're going to look at every avenue do that."
Despite making them available in the Re-Entry Draft, Hackworth also says the Union hopes to re-sign both Stefani Miglioranzi and Chase Harrison: "Stefani has been such an important part of our team on and off the field, and we don't want to lose him."
With the Union's  MacMath, McInerney, Mwanga, and Okugo with the Generation adidas squad training at Ajax, as well as Pfeffer off to Germany, Freddy Adu is doing the same down in Brandenton.
In addition to reportedly fielding interest from the Union and Vancouver, Michael Thurk is reportedly receiving interest from second division Bundesliga clubs, including his hometown club FSV Frankfurt.
The Union and Philadelphia Independence are supporting in the fifth annual Toyota Tundra Food Drive in support of Philabundance. Nonperishable food items can be dropped off at at the Wells Fargo Center or any of the 25 Tri-State Toyota dealerships from Thursday, Dec. 8 through Saturday, Dec. 17.
MLS
After efforts such as billboards in Seattle mocking the Sounders, not to mention a lumberjack-themed billboard campaign featuring its fans, as well as a fan contest to design the exterior of an Alaska Airlines jet, Portland Timbers showed on Tuesday that they retain the title of the craftiest marketers in MLS when, coinciding with the announcement that they will open the 2012 season by hosting the Union on March 12, they unveiled their new third kit. Inspired by the history of the team's NASL origins in the 1970s, shirt sponsor Alaska Airlines even got behind the retro idea by allowing the use of their old logo from the era. Also available is a limited edition of 2,012 collectable boxed sets containing the new jersey, a special scarf made of 100% recycled materials and a photo collage of Timbers history. Very smart stuff.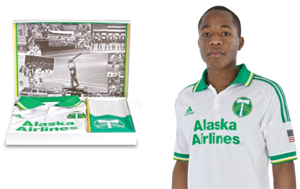 The Portland v Union Monday night game rounds out a First Kick weekend on national TV that starts with Vancouver v Montreal on Saturday (if by national TV you mean Canadian TV), March 10, followed by Dallas c New York and Chivas USA v Houston on Sunday, March 11.
MLSsoccer.com rounds up the top 25 2012 SuperDraft prospects. Six Reading United alumni are among those listed.
Following their 6–1 win over Philippine Azkals, the Galaxy needed two contentious penalty calls to draw even with Melbourne Victory before going on to win on penalty kicks in what may have been David Beckham's final game in a Galaxy uniform.
In related news from the Department of Whatever, David Beckham has ruled out going into coaching when his playing days are finally over.
Landon Donovan tells Fox Sports Australia that he's always thought about playing in Australia. "I love it here."
WPS
A delegation from WPS traveled to the Chicago headquarters of US Soccer on Tuesday to make the case for sanctioning the league as Division1 for the women's professional game.
All White Kit reviews recent developments in the women's game. Token Female does the same.
US
The US is drawn with Canada, Cuba and El Salvador in Group A for CONCACAF 2012 Olympic qualification. The teams will play their group matches from March 22-26 at LP Field in Nashville. USMNT U-23 coach Caleb Porter will soon announce his roster for the Dec. 15-23 training camp in Sarasota.
Paul Gardner weighs in on US Youth Soccer's "official response" to the recent study linking headers to brain trauma.
Elsewhere
Sepp Blatter says goal line technology—which he describes as "accurate, fast and uncomplicated"—could be in place for the 2012–13 season.
The scheduled release of legal documents naming FIFA officials who are alleged to have taken bribes, scheduled for Dec. 17, has been delayed by third party appeals. Which is to say that someone who is named doesn't want the document to go public.