Photo: Paul Rudderow

As noted in a recent post on the Philadelphia Union website, "Over the course of 34 games, opposing teams averaged a mere 3.05 shots on goal this season, an all-time league record."
Over the course of the 2011 season, the Union held opponents to zero shots on goal twice, one shot on goal 5 times, two shots on goal six times and three shots on goal 11 times. In other words, the Union's opponents were held to three or fewer shots on goal in 70 percent of their games. The Union's record over those 24 games was 9–5–10 and every one of the losses was by one goal.
The Union allowed four or more shots on goal in ten games for a 2–3–5 record. Only the 2–0 loss away to Dallas was by more than one goal.
Shots on Target by back line
In an earlier piece during the regular season looking at the Union defense, we noted that in trying to understand the performance of the defense we could make three general distinctions: the backline of regular starters (Danny Califf, Carlos Valdes, Sheanon Williams) with Jordan Harvey, the backline of regular starters with Gabriel Farfan, and makeshift backlines that were missing one or more of the regular starters due to illness, injury or suspension.
The back line with Harvey allowed an average of 2.7 shots on target over 16 games played, a very impressive number. It may therefore come as a surprise to those who continue to rue the loss of Harvey that the regular back line with Garfan allowed an average of 2.9 shots on target over 13 games, just .2 more than the Harvey average.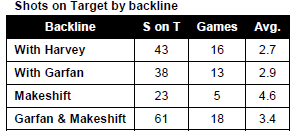 It seems obvious that, rather than the departure of Harvey in particular, the bigger issue was simply the lack of defensive depth on the Union roster. While Garfan is not a natural defender yet, remarkably, the shots on goal allowed average for his games with the back line of regular starters was nearly equal to that of Harvey. The lack of depth becomes more apparent when we look at the makeshift back line. As was the case with Garfan taking over at left back, in every back line featuring a non-regular starter, the replacement was a non natural defender playing out of position, be it Marfan, Miglioranzi or Nakazawa (and Nakazawa lasted about five minutes at right back before he was switched with Marfan in the midfield against Kansas City). When you also consider the fact that every game featuring a makeshift back line took place on the road, there should be little surprise that the shots on target allowed average is a comparatively high 4.6.
'The Union had to use a makeshift back line featuring non regular starters five times in 2011 and two of those games featured two replacement defenders: against Portland when Harvey was suspended and Danny Califf was ill (3 SOT); against San Jose when Valdes was ill, which was also the game that marked Garfan's start as Harvey's replacement at left back (2 SOT); against Chicago when Williams was suspended (6 SOT); against Real Salt Lake when Valdes was suspended and Michael Farfan started in place of Gabriel (8 SOT); and against Kansas City when Williams was out with a concussion (4 SOT). The record of the makeshift back line was 0–2–3. None of the losses were by more than one goal, and two of the draws were scoreless.
In the end, that the Union did so well defensively with players who are not natural defenders is nearly as impressive as their record-setting shots-on-goal allowed average.